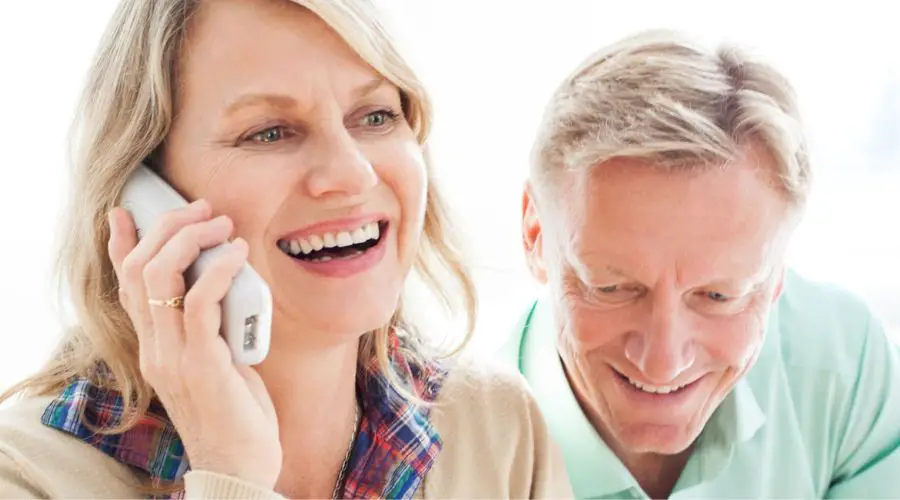 Technological advancements have made communication more accessible and convenient. We can now freely communicate with our families, relatives, friends, and even colleagues from work without physically visiting them.
However, have you realized that not all phones available in the market can be of the same effectiveness, especially considering the users' age differences, the screen displays, convenience, and ease of use? Yes. This can be the case, especially when your purported users are elderly.
Your parents or grandparents need the phone units to reach you and their care providers or personal nurses if there is an emergency and there is no one around them. This means the phones should be easy to operate and characterized by features that support ease of use for people in their age bracket.
However, do you know how to choose the right phone for your aging parent or grandparents? Do you know what to look for when selecting the best cordless phone for seniors? You mustn't fret because we have done the leg work for you, tested and reviewed the top 10 cordless phones for elderly people.
We have also attached a comprehensive buyers' guide to help you make quick and correct purchase decisions.
Let's dive in!
Best Cordless Phones for Seniors at a Glance 
Also Read:
Best Cordless Phones for Seniors Reviews 2023
Regarding cordless phones' convenience and effectiveness, the Panasonic DECT 6.0 Expandable tops the must-have phone models list. This unit has been designed to simplify the calling process from either of the two handsets, as the model aims to make phone use easy and convenient for seniors.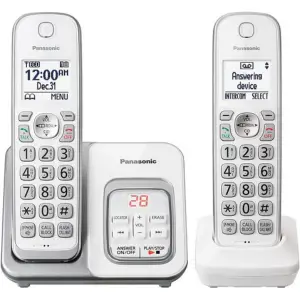 Panasonic DECT 6.0 has high-contrast displays and keyboards to show the call functions in any light, and this is an exclusive addition, especially for seniors. Thanks to the unit's soft-touch amber backlit keypads, seniors can enjoy enhanced readability with this unit.
You will also enjoy more talk time of up to 10 hours with this model with a single charge and a standby time of up to 5 days. What's more? Thanks to its quick message counter, you can instantly know how many phone messages you have received.
Moreover, Panasonic DECT 6.0 Expandable is fitted with a telephone ringer ID. The feature ensures that when corresponding caller ID numbers are received from incoming telephone calls, the assigned pre-programmed ringtones will sound on your cordless handset base unit. The Bi-Lingual Caller ID makes this unit more effective for you regarding calls. The talking caller ID audibly announces the caller's information in either English or Spanish from the base of the telephone and the cordless handsets when you cannot view the screen.
Pros
Bilingual Caller ID that helps in the announcement of caller information
The model is equipped with a quick-read message counter that enables you to determine the number or amount of messages received
The telephone ringer IDs with pre-programmed ringtones characterize it.
One-touch telephone call block that helps block unwanted callers with a visible dedicated call block button.
Cons
The Recorded sound quality may not be up to the mark
Buy On Amazon
When you need versatility and a model that guarantees that the voices will get transmitted through numerous channels, VTech CS6114 DECT 6.0 is probably the most effective model you must consider. The phone type comes in two forms, with and without an answering machine; your needs will determine your choice.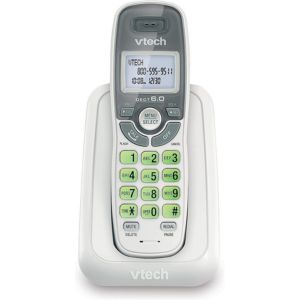 Quality sound transmission is a guarantee with the DECT cordless phones. DECT itself means Digitally Enhanced Cordless Communication. The company name implies that their phones can transmit the voice across multiple channels, making it easy to wiretap the phones.
In addition, VTech DECT has a phone book directory that can store up to 30 names and numbers. If you do not have saved numbers and want to use one of the last calls, this model gives you the luxury of retrieving up to 30 previous caller IDs. The phone has an established system that lets you view up to 30 missed calls. You can easily retrieve calls for your parents or grandparents that they missed.
Moreover, even in the dim light, your grandparents can still effectively make and view calls, which is of great importance, especially for those losing sight, thanks to the phone's backlit keypad and display. The display unit guarantees that its keypad and LCD screen offer enough illumination for viewing and making calls.
You can also set up your menu in English and French, meaning that even if you are not English-speaking, you can still set it to French or your desired language. What makes this unit even more impressive is its crystal-clear conversations. When using this cordless phone, you can be assured that the wireless network will not interfere with other devices.
Pros
VTech DECT comes with or without an answering machine. You are free to choose the mode in which you need it.
It can easily be mounted on a wall.
You can see up to 30 missed calls from its display and retrieve up to 30 last caller IDs.
Its backlit keyboard display can enable you to use the phone even in dim light, and this is a plus for seniors who cannot see well at night or in the dark.
Cons
It only comes with one handset.
Buy On Amazon
If you need a model that you can entirely rely on based on durability, and versatility, and that will be perfect for the seniors due to exceptional functionality, the AT&T DECT 6.0 Expandable phone is the go-to unit to give you just that.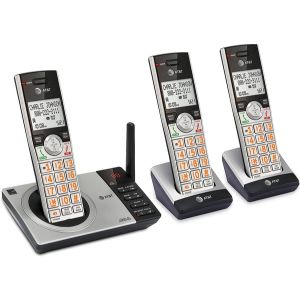 Perhaps the most impressive feature of this unit is its intelligent call-blocking system. You can block or lock any number with a single press of the call-blocking button. With this feature, your parents and grandparents can enjoy their calls anytime without telemarketers causing any form of interference.
Moreover, AT&T DECT 6.0 has an advanced antenna design and impressive noise-filtering technology that allows for broad coverage and guarantees that seniors can enjoy voice clarity.
Your seniors also need not worry about disturbing calls from robots or unwanted calls. The unit has an intelligent call-blocking function that automatically detects and blocks such calls. Besides, the unit can block up to 1000 numbers without hassle by pressing a single button.
AT&T DECT 6.0 Expandable is more suited for seniors because its calling function reveals the name and the number of the caller from its base unit, and this will ensure your seniors do not find it hard to identify the callers or get duped by the caller in case their handsets go missing. Thus, the call not only supports easy communication but also guarantees your callers' security.
Unlike most models whose caller ID records 30 names and numbers or less, this unit can record up to 50 names and numbers, making it outstanding when retrieving previous caller IDs. What's more? This unit can be expanded up to 12 handsets. Quite Impressive.
Pros
It is equipped with HD audio with an Equalizer for customized audio.
Its caller ID records past 50 names and numbers.
It has an intelligent caller blocker that can save up to 1000 names and numbers.
The phone model features a digital answering system with a voice guide that records up to 22 minutes.
The unit can be expanded to 12 handsets
Cons
Buy On Amazon
The beauty of VTech CS6719-2 is the luxury it gives you to choose whether you want a model with one handset, two handsets, or even an accessory handset. Such versatility makes this unit more appropriate for seniors due to its ease of use.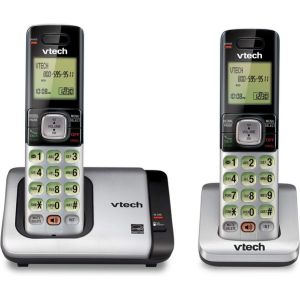 This model's unique element is that the two handsets can be used simultaneously, thanks to its duplex speakerphone feature. Additionally, the feature guarantees you can converse with numerous individuals within the house.
Like most cordless phones, this unit also comes with a caller ID and a phone waiting function. Its display function is effective as it helps display the time, date, number, and name in the incoming calls. Also, when you do not want noise in your room or the middle of an important meeting, you can use the phone's quiet mode to silence the phone.
You can realize the phone's battery's maximum performance and reduce the battery from getting drained faster by putting the phone in an eco-mode, which has improved the efficiency of the phone. The unit also has installed a directory to save up to 50 numbers and names in the phonebook.
Another feature you will love about this unit is its DECT 6.0 digital technology. This feature is an excellent addition, allowing for enhanced phone coverage without much power. You can improve the range of the phone while still using the same amount of energy as that used within shorter radii. The technology also ensures that the phone displays superior sound quality. Thus, regardless of coverage area, you can still be assured that there will be no sound interference from wireless networks such as radio, wireless routers, and cellular networks. Quite Impressive!
Pros
With this phone, you can use less battery energy due to its eco-mode
Quiet mode permits interruption-free seep
DECT 6.0 technology for enhanced coverage and improved sound quality
Caller ID and waiting function
Duplex speakerphone for two handset use
Cons
The customer service can sometimes be poor, but this has nothing to do with the phone's quality
Buy On Amazon
When discussing technological advancement in networking and communication, we believe Panasonic KX-TG7875S defines just that. This cordless phone comes with up to 5 handsets, and the most impressive element of the handsets is that you can link them via Bluetooth to your smartphone and each other. This gives you the luxury of receiving calls from any point in your house, regardless of your phone's point location.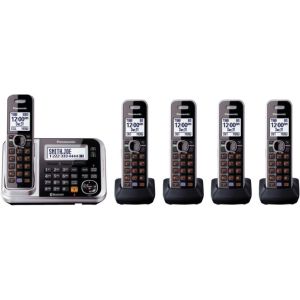 Your seniors will like and enjoy having this phone with them. As we grow and even whichever the age, noise is a nuisance to the ear at some point in life. The model is fitted with noise reduction technology to help seniors use the phone without a hitch if they have a hearing problem. The technology filters the noise to ensure the needed signal reaches the phone user. Impressive!
Also, this unit addresses the challenges of sudden power blackouts. The phone comes with a USB charge and Power Back up Feature. The phone's system will charge your smartphone with convenient USB input to guarantee that your seniors are connected even when the power goes out.
What's more? The phone system includes a talking caller ID. The feature guarantees that your seniors can virtually hear the person calling regardless of where they are in the room. The talking caller ID applies text-to-speech technology, and through this technique, the phone announces the information about the caller in between the rings. With this, you can decide whether to answer the call once you have all the caller's details.
Pros
Equipped with USB Charge and Power Back up feature that helps when there is a power breakout
Noise Reduction Technology to help filter unnecessary noise
Talking caller ID that announces the information of the caller from anywhere in the room
It comes with an answering machine with message forwarding
Enhanced technology range
Cons
Intermittent voice challenges
Buy On Amazon
This is another model with an easy-to-read cordless phone display, an appropriate unit for seniors, especially those on the verge of losing their eyesight. The phone's display lets you see an individual calling at a glance on its wide, 1.6-inch Amber Backlit LED screen on the phone base and a cordless handset.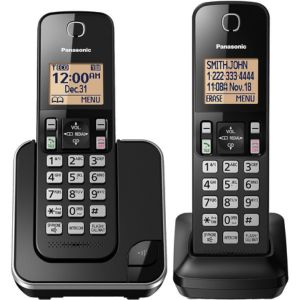 Also, with this phone, your parents or grandparents should not get worried about unwanted calls. The unit is fitted with a call Block technique that helps eliminate the call block capability's unwanted calls. The unit is also caller ID compatible and can register up to 30 numbers by entering the caller ID information into the call block memory.
You can also control your calls with this handset. The cordless phone features a silent mode that allows you to choose when the telephone base unit does not ring for outside calls. Thus, if it is a period of sleep or in the middle of a meeting, you can have your phone on silent mode, but you will still retrieve up to 30 missed calls from its memory.
An intelligent eco-mode also characterizes the phone. The eco-mode is vital as it helps save energy and boost the phone's battery life. The aspect implies that even if the phone's range or coverage is increased, it will still use the same electrical energy from the battery while in eco-mode.
Pros
It has illuminated keypad systems that ensure you can use the phone even in dimly lit places.
The eco-mode that aids in energy conservation
The caller ID alerts help determine the caller
Call blocking unit to eliminate unwanted calls
Cons
Can only store 30 numbers in the memory
Buy On Amazon
AT&T EL52313-3 handset is another perfect unit for your small office or home. With this handset, your seniors will appreciate its value as it enhances participation from both ends of the call, allowing the individuals from both ends to speak.  The unit comes with a speakerphone that helps keep up with your seniors' calls.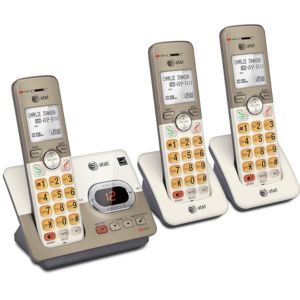 The display is easy to read. The cordless handset is equipped with an easy-to-read LCD due to a high-contrast black text installed on a white background that enhances the writings' visibility. This allows your seniors to view the incoming caller ID and the call history.
Moreover, you will not need to worry about using this handset in a dark room as it comes with a lighted keypad that allows for easy dialing, even in those dimly lit places. The lighted keypads also guarantee that even seniors who are losing their sight due to old age can still see the keypads vividly and make calls or read messages from the handset. The enlarged backlit keys also make the keypads easy to use.
What's more? The unit comes with several other auxiliary features, including 4 minutes of recording time, message retrieval handset, Call screening, and message time stamp, all aiming to enhance the use of the handset. The unit will also permit you to add up to 5 handsets by utilizing only one jack. This makes the handset a perfect fit for use in your home or office.
Pros
You can add up to 5 handsets just from one jack.
It has an enlarged front and extra-enlarged backlit keys for easy keypad usage.
The LCD is easy to read
It comes with a speakerphone that aids in keeping up with your calls
Cons
The EL50003 accessory handsets are sold separately
Buy On Amazon
The Panasonic DECT 6.0 handset is one of the most popular cordless phones. With its bilingual caller ID, this unit gives you the luxury of choosing between English and Spanish as preferred languages to announce the caller information depending on the one you are comfortable with. How convenient can this be? Exemplary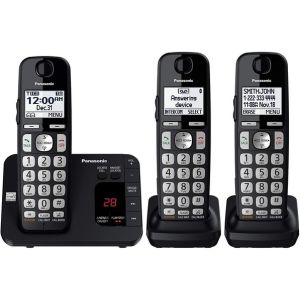 Thanks to its One Touch Telephone Call Block Technology, the handset can record up to 250 numbers with a single touch call block on the cordless phone base unit and the cordless handset. This unit is also compatible with the Hearing Aid T Coil, perfect for seniors with hearing problems.
With a single charge, you will enjoy a call time of up to 12 hours with this handset. Its voice paging makes it an excellent choice as the paging technique allows you to send clear simultaneous announcements to all the cordless handsets in your room simultaneously.
Noise is effectively reduced with this handset. The unit is characterized by an improved cordless phone sound quality that suppresses the background's interference while promoting the voice tones to guarantee that your seniors have more explicit conversations on the base units. The sound quality technique filters the callers' chat and minimizes the background noise; hence, clear communication is guaranteed.
Convenience and long-range coverage are outstanding driving points when considering the Panasonic DECT 6.0 handset. The unit is fitted with wireless technology that supports its extended range coverage, making it perfect for homes and even apartments with thick walls. The wireless technology guarantees that the thick walls do not inhibit the signals, thanks to its secure long-range phone signal DECT 6. o wireless technology.
Pros
Panasonic Voice paging that sends simultaneous announcements to cordless phones at once
Secure long-range phone signal DECT 6.0 wireless technology for long-range calls
It can store up to 250 numbers with a one-touch call block
It is compatible with the hearing Aid T Coil, hence vital for seniors with hearing problems
Bilingual Caller ID, therefore, can be set both in Spanish and English
Cons
The low voice on recorded messages
Buy On Amazon
One notable feature of the VTech CS6529-4 DECT 6.0 model is its power management technology. The feature enables you to manage energy consumption for the battery's optimal performance. For instance, you can silence the ringer on the handset and base immediately to improve the unit's period of use. The energy conservation technology also ensures the battery does not use more power, even if the coverage is enhanced.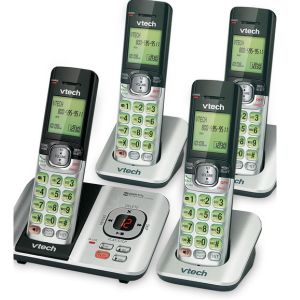 Interestingly, this unit is compatible with the hearing aid to ensure that even seniors with hearing issues still use the model. What's more? The entire keypad system of this unit illuminates along with the LCD screen, which will ensure that you can use the cordless handset even in a dimly lit area.
Convenience and ease of use is a true definition of this model. The cordless handset is characterized by speakerphones that simplify hands-free conversations with a button touch. Additionally, at a glance, you can know the details of an individual calling as the handset displays the number, time, date, and the caller's name.
Pros
The handset displays the name, number, date, and time of the incoming calls.
LCD screen for easy viewing of the messages in dim light
Power-conserving technology for extended usage
Hearing Aid compatibility hence allows for usage with individuals with hearing problems
It comes with a user manual for guidance on usage
Cons
Volume low on recorded messages
Buy On Amazon
AT&T EL51203 DECT 6.0 is another top-rated cordless handset that you must envy having for your seniors, mainly due to its ease of use and convenience. This unit comes with full-duplex simulated speakerphones that let you have the callers from both ends in the same call from different handsets. The speakerphone can also include numerous other people, making your conversation lifelike and feeling like you are talking with one another in the same room.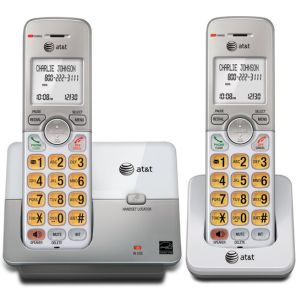 This cordless handset also displays the names, numbers, dates, and times of incoming calls, a feature that lets you know all the caller's details at a glance. This unit also allows you to add up to 5 handsets using a single jack, which is ideal for your small office or home use.
Moreover, this unit is equipped with an easy-to-read screen that lets you view incoming calls at a glance, thanks to its easy-to-read LCD. The seniors who are hard on sight also benefit from the large buttons and a more prominent front in the handset. Like the other phones with the DECT 6.0 technology, this cordless handset is compatible with the T coil hearing aid, making it perfect for individuals with hearing difficulties.
Pros
Compatible with the hearing aid
It can be expanded to 5 handsets
Easy-to-read LCD screen
Backlit keypad that ensures you can use the model even in dimly lit places
Cons
The quality of sound reduces over time
Buy On Amazon
Best Cordless Phones for Seniors Buyers' Guide 2023
How exhilarating is it to know that there is a communication option that includes all age groups, especially the seniors around you? For most seniors, smartphones are perceived as communication means that are a bit complex to use and manipulate. Smartphones pose a headache for many seniors when trying to navigate through.
The best cordless phones for seniors provide a cut-above alternative that is much more favorable for use by seniors. The ineptitude of these units for usage by seniors is non-existent as they brag about superlatively senior-friendly features.
Procuring the best cordless phones for seniors enables you to net multiple merits. In the context of senior users, what are some of the attributes that make them so befitting for seniors? What are the advantages you bag from acquiring these germane units?
Below are some pointers illumining the upsides and important features accompanying these units.
Handset multiplicity – by availing of more than one handset, the convenience of having a handset in each of your rooms is actualized, eliminating the hassle of having to move to one particular room to receive a call.
Call answering assistant – when you are not around to receive a call, this merit comes in handy as it allows customization to receive calls on your behalf.
Audible alerts of notifications – this is a super convenient boon, especially for seniors, as it saves them from scrambling to check out who is calling as details of the incoming caller are audibly announced.
Remarkable power – after a single charge, most deals provide more than eight hours of talk time and even more than two days if in standby mode.
Convenient displays and keys – the screens on these units are large and bear enlarged fonts with contrasted texts for heightened readability, complemented by lighted keypads.
Elucidated above are just a few boons attached to owning this exquisite unit. With you acquainted with some of the advantages of this deal, you can now purchase one for yourself.
However, settling on the first product you come across instantly is not recommended. Adopt a system that will help you scrutinize a product in-depth to ensure you land yourself an ideal unit. Further discussed below are factors to be considered that you can bring into play when making a purchase decision.
What to consider when choosing the best cordless phones for seniors
Talk and standby time
Talk time refers to the period that you can consistently remain on a call, all favorable factors in play on a single charge. Standby time refers to when a unit can remain turned on without going off per charge.
This is an essential factor to consider as a deal providing a talk time of eight hours or more or a standby time of up to three days and more translates to matchless convenience, putting you in business even during power outages. On the upside, these factors save seniors the hassle of frequent charging.
Call announcements
Fortunately, most deals featured in this review include the vital Call ID attribute. It plays the crucial role of audibly announcing the caller's details by name and number. This can be very beneficial to seniors as they will not encounter the bother of manually checking out the caller's details.
Additionally, some brands have customized their products to offer more than one language, which is an extra advantage. This then provides options for you to select a language you prefer most, and the caller ID will announce the details in the chosen language.
Displays and keypad
For easy readability, a high-caliber unit should have a large handset screen size supplemented by an enlarged font and highly contrasted text. Some units bear display panels on the base unit that exhibit the number of notifications you have. Deals with such panels should be highly regarded.
The keypad should have enlarged keys, bragging a soft touch for easy manipulation. The keypad should be lighted to allow unchallenged usage in any light condition.
Sound quality
Over-the-phone communication requires verbal interactions. It is, therefore, of dire essence to tout for units that convey the best sound quality. Various brands have implemented different means to ensure proper quality is boosted.
Some deals are crafted with the DECT 6.0 technology that improves the coverage range. Others have distinguished antenna designs for better signal receptivity and enhanced sound quality.
Others have adopted a noise-suppressing technology that enables smooth conversations, even in noisy environments. On the same factor, other units are fitted with full-duplex speakerphone that facilitates an enjoyable and straightforward two-way conversation.
Even better, the speakerphone can allow hands-free conversations, which ushers in the convenience of multitasking. A unit featuring the highlighted sound-improving mechanisms should be highly regarded.
Conclusion
The intricacy that accompanies smartphone use for older people tends to trouble them. The best cordless phones for seniors provide a preferable alternative for the elderly. These germane cordless phones tower over routine smartphones because of their ease of usage, making them more favorable for seniors.
These units' multiplicity feature and outstanding capability of being expanded augment their convenience by allowing you to enjoy their services from any room in your house. Another marked feature contributing to suitability for older people is the large screens displaying high-contrast texts complemented by enlarged keys on a backlit keypad.
Such features incorporated in the best cordless phones for seniors have made their use more straightforward and convenient. High text readability, easy button pressing, and the ability to be located in several rooms boost the appropriateness of these models for seniors. We hope you find this article of great benefit to you.