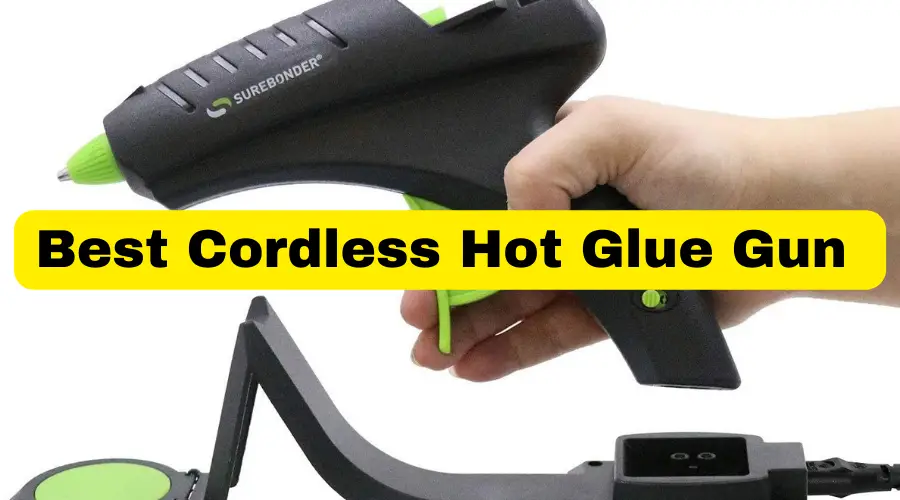 Hot glue guns help achieve the accuracy and precision you need when gluing objects, especially with modeling materials. The cordless types offer an added advantage as they don't restrict your work area.
However, choosing the best cordless hot glue gun can be challenging due to the numerous models available today.
We have done the leg work for you and reviewed the 11 best cordless hot glue guns in the market today. We have also described the necessary features when purchasing any hot glue gun model.
Let's delve into it.
Best Cordless Hot Glue Gun at a Glance
Also Read:
 Best Cordless Hot Glue Gun Reviews 2023
Surebonder CL-800F 60-Watt produces the highest glue temperature,  making it suitable for porous and non-porous surfaces. This model is highly efficient as it melts the glue sticks quickly and precisely.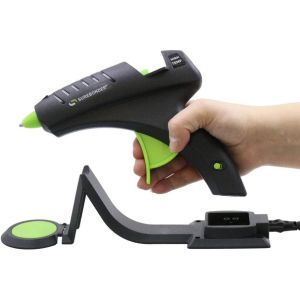 The model is simple and convenient to use. It has an ON/OFF switch placed in its handle, and you can quickly turn it off once you are through with gluing. Besides, it is integrated with an LED indicator that helps you know when the device is on or off, promoting safety.
The high temperature produced by this model enhances its efficiency in melting the glue sticks fast. Also, you do not need to wait long for the machine to cool. The tool quickly gets hot and cold, almost at the same rate. This allows you to progress faster on another project.
What's more? Surebonder operates at 380 degrees Fahrenheit, 60 watts to ensure faster glue melting for quick execution of your projects. Despite the excellent features, the charger and the battery are not included, so you must purchase them separately.
Pros
It melts the glue faster
It has a shorter cooling time
It is easier to use
It has an ergonomic design for easy usage and storage
It is heavy-duty, hence efficient for more significant projects
Cons
Battery and charger not included
Buy On Amazon
Ryobi has the best machine design with equal weight distribution. With the tool, you will enjoy maximum control as its trigger is large enough to support your two fingers sufficiently, enhancing comfort.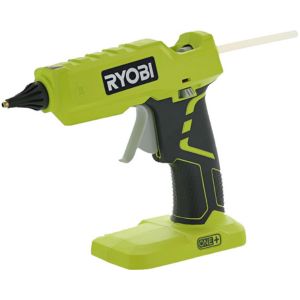 It has embedded LED lights to help you know when the gun is on or off and promotes working in dimly lit areas. This ensures your safety so that you do not touch the hot Nozzle. The lights help illuminate your work surfaces, improving the visibility of your work environment.
A well-built nozzle eliminates the leakage that results in the wastage of the glue in the device. The Nozzle adds to the precision and accuracy you need when gluing the objects and other substance materials.
The machine boasts an ergonomic rubber grip that will allow you not to lose the grasp even when your hands are slippery. The rubberized grip enhances comfort on your hands, allowing for extended use.
Since this model is compatible with NiCad and Lithium-ion batteries, it has a long run time of over three and a half hours before recharging. However, when you realize that the glue oozing from the Nozzle has become lighter with time due to longer run time, you should allow it to cool for a few minutes before you start working again.
Pros
It has an LED light indicator that ensures safety
An ergonomic design to support ease of use and storage
Well-built Nozzle for accuracy and precision
It is compatible with two different types of batteries, hence a longer run time.
Cons 
Buy On Amazon
Topelek is safe and easy to use. The model is integrated with an ON/OFF switch that enhances ease of use. It has an LED indicator that helps show when it is on or off. The LED and the switching unit help improve your safety when using the machine.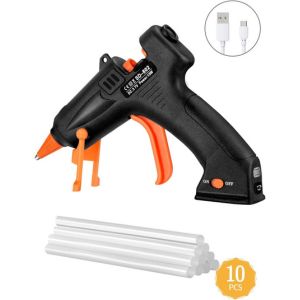 The tool boasts an ergonomic design, and it is lightweight. Its mini-sized and portable designs make it suitable for adults and kids. You can effectively move around with the tool while executing different projects without fatigue.
The tool allows for smooth and comfortable operation. It comes with a flexible stand and ergonomic handle that helps relieve stress or fatigue from your hands, even for extended use. When charging, turn the switch off. You can ensure the machine is off when the indicator light is red.
Besides the numerous benefits associated with this model, the model is fair in price and thus afforded compared to most of the cordless hot glue guns available in the market.
The versatility of this model is unquestionable. You can effectively use the tool at home, school, and office for DIY crafts, artistic creations, or repairs. The tool works on paper, glass, fabric, metal, ceramic, and even plastic. We believe this is an excellent choice for multi-purpose usage.
The only drawback with this model is that it is small and can only produce small quantities of glue per hour.
Pros
It has an ergonomic design
The model is versatile
Embedded LED light to indicate when it is on and off
It is easy to use
Cons
Low-pressure unit hence dispense a low quantity of hot glue per unit hour
Buy On Amazon
PROkleber is a universal tool that is perfect for home and office use. Regardless of your experience with the machine or gender, the device can still serve everyone just right, whether an amateur, a professional, a woman, or a man.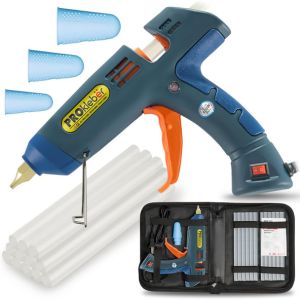 With a 100-watt power and high heating temperature, you will benefit from fast melting when you use it. The machine melts glue within 2-3 minutes, facilitating fast gluing. The molten glue has high adhesive forces that offer quick and reliable operations.
This tool's ergonomic design and convenient size make it easy for both men and women to use. It is easy to hold due to its rubberized handle and trigger that will perfectly fit your hand.
PROkleber boasts the highest level of versatility as it can glue different materials, for instance, metals, plastics, glass, paper, and wood. This is added to the fact that the tool is durable and efficient.
On the contrary, sometimes the machine hits up faster, melting the glue, and this causes some to drip in the process, resulting in wastage.
Pros
It melts glue fast
It has an ergonomic design
It is durable and efficient
It comes with glue sticks
Cons 
Glue drips that can result in wastage
Buy On Amazon
If you have experience with the hot glue guns, you must agree that they continuously fall over for the models that do not have supportive features.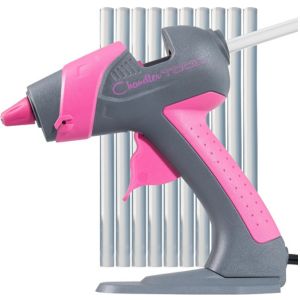 Chandler mini glue gun is integrated with a stand-up base that makes it convenient. The patented stand-up base keeps this unit upright and ready for action.
This unit boasts a well-built heating chamber that reduces the dripping between uses. The feature will help you save wasted glue and ensure you work cleanly when executing your DIY projects and craftsmanship.
Most market models boast top quality, but Chandler has done it in style. The organization has ensured that its model has a lifetime warranty. The implication is that the firm has no doubt about its product, and you do not need to worry about manufacturing defects.
If you get any defective product from this company, you need to send them a message immediately, and it will be replaced for free. This makes this unit top of any product regarding the security of usage and trust in the quality.
Pros
Lifetime warranty
The well-built inner chamber that reduces dripping
A supportive stand-up base that ensures the model is always upright
UL-Certified.
Cons 
Min-size, hence less dispensation per hour
Buy On Amazon
Aonokoy is the simplest model to use as you need to insert the glue stick and turn it on using the ON/OFF switch. The tool will only take 3-5 minutes to heat up and be ready. You can then pull the trigger and begin working on your project.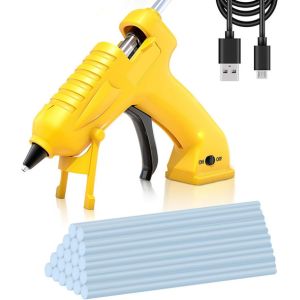 The machine has a long run time. The device will give you up to 100 minutes of active performance with a single charge. Besides, the model is safe, convenient, and easy to carry, as you put it to different applications.
Aonokoy has an ergonomic handle that features an insulation material. The rubberized grip helps comfort your hands while in use, while the insulating material is a high-temperature cover that protects your hands from heat. This offers the convenience you need when working with efficient machines.
The tool guarantees unquestionable durability as it is made of aluminum and plastic. Its dual-temperature variation makes it a versatile tool and adds to its suitability in various materials with different temperature ratings.
The fact that the model comes with over 20 glue sticks makes it worth your investment, as it will give you value for your money.
The place of charge is no concern when you purchase this device. The machine has a USB port for charging, implying you do not have to look for a socket plug to charge. You can use a personal or desktop computer when working in an office to charge it when it gets low.
Aonokoy is efficient, and its leak-proof rubber ring minimizes wastage through leaks. The Nozzle is also well-designed to help enhance efficiency.
The aesthetics of this module are also quite impressive. Aonokoy is fused with detachable support that helps keep the gun stable and upright and allows you to use it from any angle. This, in addition to the safety and comfortable power switch with the LED light mode, enhances safety while the machine is in use.
Pros
Durable due to the plastic and aluminum materials
LED light mode for safety
Comfortable handle grip
The non-leak-proof rubber ring prevents wastage
The USB port for easy and convenient charging
Cons
Slow heating of the glue to the needed temperature
Buy On Amazon
Elmer's Craft Bond is a dual-temperature glue gun ideal for home projects and crafts. This hot glue gun unit has numerous additional features to ensure your safety. For instance, the tool is fused with an insulated nozzle to protect you from burns.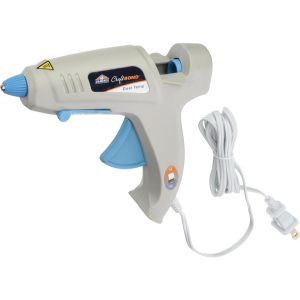 Your security is also boosted by a safety fuse that shuts off the machine when there is an internal failure.
This unit employs a high level of versatility due to its dual temperature. The temperature variation ensures that you can use it on different materials that withstand different temperatures, such as plastics, ceramics, wood, and metals. You can thus use low temperatures in delicate materials such as foam, lace, and soft fabrics and high temperatures in other materials such as metals.
However, since the machines' efficiency is never 100%, this unit also has certain demerits. For instance, it slowly attains the ideal temperature to melt the glue stick effectively. The machine only features one 40-watt hot glue gun, which explains the slow heating.
Pros
It has numerous safety features
Insulated Nozzle and ergonomic design
Dual-temperature for versatility
Cons
It slowly attains the high temperature for melting glue guns.
Buy On Amazon
This model boasts an intelligent temperature control design and produces the hottest temperature that promises to preheat the glue within 2-5 minutes. The model is, however, suited for small projects and crafts and not the specialized hefty applications.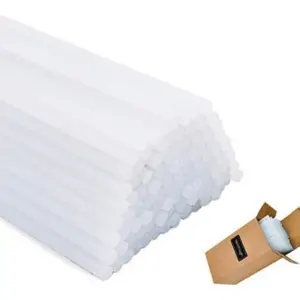 The fascinating element of this model is the integrated LED battery indicator that helps inform you when the battery is due for recharge and a silicon cap that helps protect you from burns from the heat.
However, the demerits to this model are that its nozzle drips and leaks, which enhances the glue's wastage if other measures are not set in place. It also loses its consistency in performance after only a few minutes and is thus inappropriate for extended use. It is, however, excellent for small tasks.
Pros
Silicone caps that help prevent burning
LED battery indicators that help show when the batteries are due for a recharge
It is suited for home and small office projects
Cons 
Buy On Amazon
This model is a low-temperature tool that can efficiently be applied to delicate projects. The unit is fitted with a broad base to rest it on when not in use, and together with the ergonomic handle, you will enjoy enhanced safety using this machine.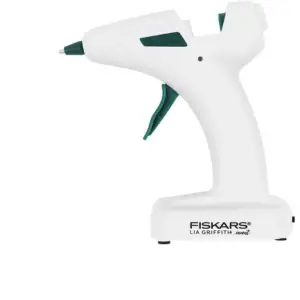 Fiskars Lia Griffith features a smooth trigger that allows you to control the glue flow for enhanced precision. The unit facilitates fast refills as you can easily access the glue stick.
The model boasts an excellent anesthetic value as its signature Lia Griffith color, and the design forms an additional style to your tool collection.
The company provides a one-year warranty on this model, which enhances your trust and eliminates manufacturing defects.
On the flip side, the battery of this model does not last long and may require constant replacement. Also, the battery is not included, so you must spend an extra amount to purchase the batteries.
Pros
It has a broad base for stability
It is easy to use
It boasts an ergonomic design that enhances safety
One-year warranty
Cons 
Buy On Amazon
Rapid Heating Mini Glue gun is excellent with a standard micro USB cable that facilitates a code-free operation. The unit thus promotes portable operation and convenience, which is crucial for any tool you would love to use in your tool collection.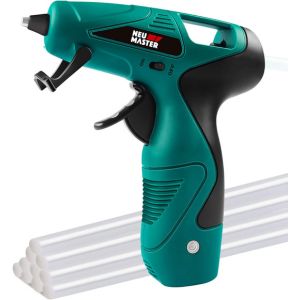 This unit features a high-tech electronic PTC heating technology that takes up to 400 degrees Fahrenheit for preheating and takes about three minutes for the glue stick to melt. Once the model has achieved the melting temperature, depending on the material you are working on, it maintains it to complete your projects. It thus facilitates extended use.
The rapid gun is integrated with a secure ON/OFF power switch on the handle, plus LED battery indicators that help enhance the convenience of its use. With the ON/OFF switches, you can quickly start the machine and stop it after work; hence, it is easy to use.
The LED lights help determine the charge level, and you can effectively determine when the batteries are due for a recharge.
You do not need to worry about safety when using this unit. Its heat-resistant silicone nozzle protects you from burns, mishaps, and wastes through leakages.
The ergonomic rubber handle and the detachable support base help enhance comfort for use. In contrast, the two-finger trigger propulsion helps control the glue's flow and saves more glue sticks, which is economical.
Pros
USB charging port for convenience. '
Rubberized handle for comfort
ON/OFF switch and LED light system to enhance ease of use
Silicone cap in the Nozzle to protect against burns and leakages
Cons
Not suitable for heavy-duty tasks
Buy On Amazon
BSTPOWER is a high-temperature model that heats the glue stick to melting in 3-5 minutes. This unit heats the units faster and maintains a constant temperature to the completion of your execution.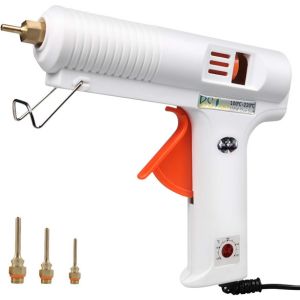 This model is highly user-friendly as it features an ON/OFF power switch and LED light mode to help you determine when the unit is on or off. The power switch is conveniently placed in the handle, where you can effectively stop the gluing when you are done so the machine can cool for the next project.
BSTPOWER features a patented technology that helps in the protection against overheating. It is integrated with an anti-overheating ceramic PTC thermistor and an energy-saving automatic thermostat.
Moreover, at its tail, there are embedded cooling holes and heat insulation devices that ensure a longer lifespan without burning out the thermal mechanism, and this helps protect against overheating.
The dual-temperature control exhibited by this machine makes it a multi-purpose glue gun. It is appropriate for both DIY small craft projects and quick home repairs. You can effectively use this unit on craft projects like household appliances, furniture, shoes, circuit boards, and even glass fish tanks.
It has an 18-month warranty, and you will enjoy a refund or replaceable service. The warranty also ensures that you trust the company and eliminates the fears of manufacturing defects.
Pros
Multi-purpose unit
User-friendly
18-months warranty
Patented technology that protects against overheating
Cons
Not mini; hence, you must regulate the temperature to low for small projects
Buy On Amazon
Ccbetter cordless hot glue gun is another top-rated model among the best cordless hot glue gun units. Most DIYers and woodworkers are always worried about the adhesive from the gun drying before executing the role or getting applied in the right area. However, this unit beats this limitation as it heats up to 3-5 minutes, ensuring you can use it to the desired area before it dries out.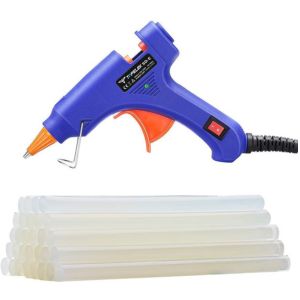 Moreover, the model gives you maximum control of its temperature. The unit's intelligent temperature control design minimizes temperature variation, which will guarantee that you maintain a constant temperature throughout your working time.
The manufacturers of this unit have also fully considered your safety. The unit has an anti-hot cover, and a safe power switch protects you from burns from the hot gun or heating elements. Added to this is the secure power switch with an LED light mode that will let you know when the glue is powered on or off, making it more user-friendly.
What's more? You can use this unit at any given angle. This is made possible by its flexible support that can keep the unit upright and stable when used.
As the world strives to promote a green economy and enhance environmental sustainability, you must be interested in getting a unit whose usage will enable the environment's sustainability. The model comes with 30 pcs of environmentally friendly and strong-adhesive glue sticks that minimize environmental pollution and protect your health and other items. This makes this unit perfect for wooden, glass, metal, ceramic, fabric, and even plastic surfaces. It is, thus, versatile.
Pros
User-friendly
Promotes the sustainability of the environment
Flexible support that ensures you can use the tool at any angle
It can heat up to 3-5 minutes; hence, you can effectively apply it in the desired areas before the adhesive dries out.
The anti-hot cover and safety power ensure your safety when using the machine.
Cons
Buy On Amazon
Best Cordless Hot Glue Gun Buyers' Guide 2023
Choosing the best cordless hot glue gun for your applications can be daunting, especially when you have materials with varied melting points.
This guide has researched and listed the primary features you must consider when buying a hot glue gun. You can quickly identify the models you can use for delicate materials, those that require high temperatures, and those with the temperatures for the execution of low and high-temperature materials.
What to Consider when choosing best cordless hot glue gun 
Temperature 
Perhaps it is the essential element of consideration when buying a hot glue gun. Most glue guns have a high-temperature system, while some have low temperatures. Interestingly, other models, such as the Aonokoy cordless glue gun, have dual-temperature systems and can be used on delicate and high melting point materials.
You must determine the nature of the material to your application. Suppose you are working on delicate materials like foam, lace, and soft fabrics; you should consider either low-temperature models such as Fiskars Lia Griffith or a model with dual-temperature that will allow you to vary it based on the material you are working on.
Moreover, when working only on materials with high melting points, such as metals, you should consider purchasing high-temperature models such as Surebonder CL-800F 60-Watt Cordless High-Temperature Glue Gun or Aonokoy model with a dual-temperature variation.
It would be best to determine the purpose of purchasing the glue gun before you decide or choose the model that will best work for you.
Size 
The hot glue guns come in two sizes: mini and large size. The mini-sized glue guns dispense small amounts of glue per hour. This makes them appropriate for use on small projects. On the other hand, the large models dispense more glue through their nozzles per hour and can be used in large projects.
Before you finally buy any model, you must determine whether your project requires high hourly glue dispensation or less to meet your needs.
One precaution you must consider when buying large-sized models that produce large amounts of hot glue is that the Nozzle must be insulated to protect you from burns.
Nozzle 
The most important part of a hot glue gun is the Nozzle. The Nozzle is essential to the quality of your work and is an economical tool. The Nozzle must be designed to be efficient and enhance your user safety. Check whether the Nozzle has an insulation cover to protect you from the burns.
Moreover, you should check if the Nozzle has a leak-proof rubber ring to help minimize the glue leakages that will result in the wastage of the glue.
Glue stick size
Every gun model is designed to work with a particular size of glue stick that ranges from 12mm to 15mm (thinner to more giant glue sticks). Before buying the best cordless glue gun, you must consider whether it's compatible with the glue stick size, as this will help you avoid mismatched components.
Heater wattage 
The heating power of the glue is determined by paying attention to its wattage. For the small glue guns, the heater wattage ranges from 20 to 60. Such models are appropriate for delicate materials whose melting points are not very high.
However, for heavy-duty projects, you should pay attention to wattage units ranging from 60 to 220 watts. Such models are more versatile and can be applied to different executions for household appliances or industrial use. Such models heat the glue sticks quickly and cool faster after the work is completed and ready for another project.
Below is a video that compares some of the best Cordless Hot Glue Guns I have reviewed in this guide based on the vital features of consideration.
How to operate a cordless hot glue gun/the working of a hot glue gun
Glue gun models can be electrically or battery-powered. The advantage of going cordless is that you are not limited to entangled cords that limit your movements within your workstation. As such, you must choose a lightweight model to help you maneuver your work area and reach various sections without fatigue.
The units look like a pistol, and the power source (whether battery or electrical) helps melt and release the hot glue that you can effectively direct and apply on the preferred surface of work or joint.
Using a hot glue gun unit is not complex. The first step in using the model is to load the feed with a glue stick. However, it is essential to ensure that the glue stick is the same diameter as the sticking area and appropriate length.
After loading the glue stick into the feed area, the second procedure is to pull the trigger to ensure that the stick moves downwards towards the glue gun's tip and into the heating element to ensure that the glue stick is melted into hot sticky glue.
The hot glue is also made to ooze out of the Nozzle from the glue gun by the feed pushing the glue stick into the heater. You can aim to apply the adhesive (hot glue) from the Nozzle to the desired surface or joint, guaranteeing that you have effectively operated the glue gun with immense precaution.
However, when using the model, you should note that the hot glue always dries faster, and thus, you must guarantee that the correct amount is applied to the appropriate area before the adhesive gets hardened. If not, return the unit to the heating element to melt the glue and form the adhesive.
The below video illustrates how to use a hot glue gun.
Conclusion 
Best hot glue guns have desirable features that you must identify for convenient and efficient work output. The temperature produced by a given model and the nozzle design are essential considerations when buying any unit. The units with dual temperatures, such as Aonokoy and Ryobi, are a great choice since you can use them for delicate materials, such as soft fabrics and metals with high melting points.
We hope you find the reviews helpful to help you make the best purchase decision.
Regards