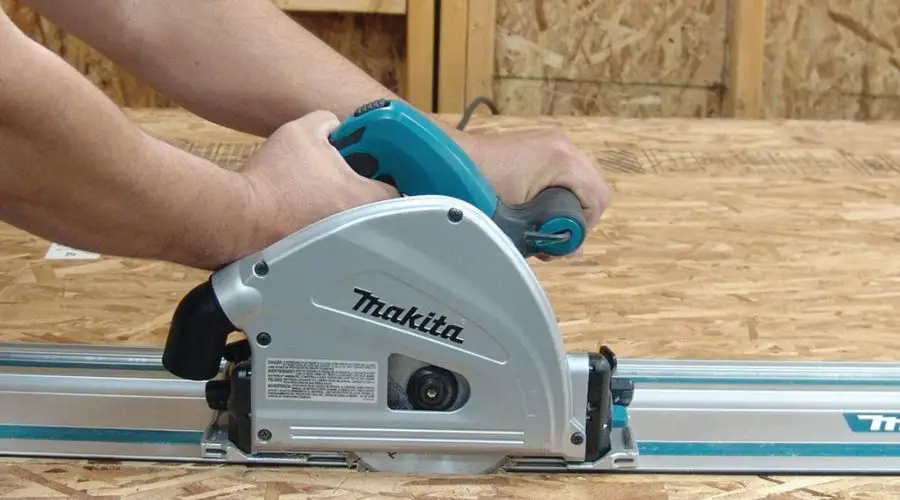 Cordless appliances are rapidly becoming the new norm. Track saws have joined the trend as manufacturers strive to make them more efficient. The units provide versatile, precise, accurate, and excellent performance when cutting large sheets.
In addition, the cordless track saw models come with special guide rails that firmly accommodate the saw base on the material, giving you enough field to cut.
Unlike a table or miter saw, the best cordless track saw models have an unlimited cutting angle. All you have to do is lay the track across the workpiece and start cutting. But with the ever-growing and competitive manufacturing industries, getting the best cordless track saws you can trust can be challenging.
Refer to this article to verify as we have reviewed the tested and best cordless track saw units in the market and attached a comprehensive buyer's guide to help you make the perfect and informed purchase decision.
Best Cordless Track Saw  of 2023 at a Glance 
Also Read:
Best Cordless Track Saw Review
DEWALT DCS520T1 Flexvolt 60V MAX 6-1/2 has a dual-edge truck system to cut straight lines in both directions, making our top pick. It features a riving knife and a continuous anti-kick tool that prevents kickback when the saw is engaged. Its straight plunge mechanism provides you with an optimal ergonomic environment for safe and efficient use.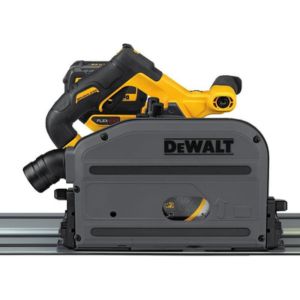 Furthermore, this saw is fitted with an enclosed low-profile guard that has a 90% capability of dust extraction. Being a cordless and convenient tool, it convoys with one lithium-ion battery with a maximum initial voltage of 20V when unloaded and 18V when primed- This powers the brushless motor that easily surmounts through hardwood of up to 2⅛ inches.
Also, its 6½ inch-diameter blade has an on-track depth of 2⅛" at 90 degrees and 1⅝" at 45 degrees, which accurately accounts for the thickness of the track. Furthermore, it has a zero clearance cutting system enabling you to make straight, precise, and splinter-free cuts.
Pros
The saw has a bevel capacity of 47 degrees.
It has a no-load speed ranging between 1750 – 4000 rpm.
It comes with DEWALT T – stack kit box.
It also comes with one DCB606 60V MAX FLEXVOLT 6.0Ah battery.
You're assured of a 3-year limited warranty, 1-year free service, and a 90-day money-back guarantee.
Cons
It has a low battery voltage.
Buy On Amazon
This design allows you to work faster and fancier with the new technology. All the credit is to its auto-start wireless Bluetooth system that allows communication between the optional dust extractor and the tool.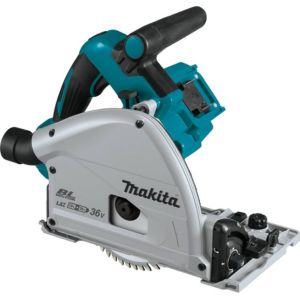 The machine is swayed by two 5.0Ah LXT batteries, which nurture the brushless motor delivering 6300rpm- This combination has more potency and, thus, enhances a good performance and 50% longer fade-free run-time per charge. On top of that, this machine can cut your 4 x 8 sheets of ½" plywood in up to 125 cuts per charge.
Furthermore, for excellent performance, you can use this saw by varying its speed using the speed control dial from 2500 – 6300 rotations per minute. This machine also has a built-in depth stop that provides a first cut before cutting through your workpiece of  5/84″(2mm) to 7/64″(3mm) for an immaculate and shiver-free cutting.
Its saw base and the slide lever are designed to provide stability by engaging the optional guide rail when bevel cutting.
Pros
It has an automatic speed change for adjusting speed and torque.
You can perform close-to-wall cutting operations of up to 11/16".
It's ideal for cutting other materials like melamine, aluminum, MDF, and Corian.
It comes with specific blades for optional materials.
Cons
Batteries and optional blades aren't included.
Buy On Amazon
Makita SP6oooJ1 is an ideal tool to rip and cross-cut a wide variety of materials, thanks to its powerful 12.0 AMP motor that remits precision and accuracy for easy and hard-to-cut materials. The machines' versatility and accurate performance deliver splitter-free mirror finishing cuts.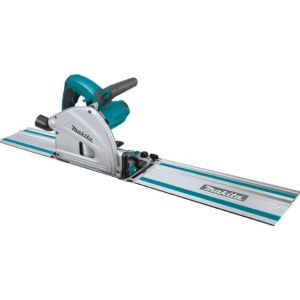 The track saw is fitted with a precision cutting system, including bevel support to help keep the machine squared to the material. Besides, with a 1 – 48 degrees cutting capacity and positive stops at 22.5 and 45 degrees, you can still put the cut line in an exact position without considering the angle.
In addition to the precision cutting system, there is a quick depth stop feature. When activated, the stop feature helps get accurate cuts while setting the depth to a sixteenth inch. You can maneuver the unit by scoring on the material and releasing the button to make a final cut.
Moreover, its base is stowed with an optional but durable aluminum guide rail available in 55″ and 118″, adding to its strength and longevity. With this unit, you can enjoy a soft, smooth, and silent start-up. In addition, with its speed control dial, you can vary the speed to optimum performance in hard and soft materials. The speed variation ensures that you do not damage or break the soft materials that require slow speed.
Pros 
With only 9.3 lbs, it's the lightest saw in its class.
It has an ergonomic rubberized grip handle.
It comes in a storage case that protects it and is easy to carry.
The saw also has a soft start feature.
It has a variable speed control dial.
The machine makes close-to-wall cuts of only 11/16″.
Cons
Its guide rail is only available in 55″ and 118″.
Buy On Amazon
The flexibility that comes with this unit is unsurpassed. You can conveniently use this model both as a circular and track saw. Added to its flexibility, this unit delivers high-quality cuts and is constructed from durable materials to improve its longevity.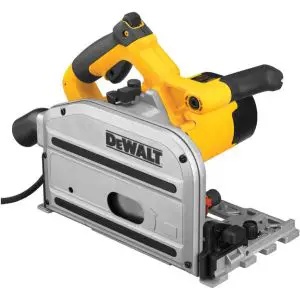 Besides, the track saw is characterized by a zero-clearance track that allows for accurate, smooth, and precise cuts. Thanks to the unit's low-profile blade guard, you can conveniently work in tight places.
This track saw can effortlessly go through hardwoods up to 2-1/8 inches thick, thanks to its 1300W, 12A motor. Besides its power, its riving knife prevents king-back when it is engaged. The model's dual-edge tracks allow you to make straight cuts in both directions with this model.
Pros
Reliable and durable
Low-profile blade guard
Zero clearance track saw cutting system allows for precise, straight, and smooth cuts.
Powerful motor
Cons
Buy On Amazon
If you are looking for an accurate cutting solution, Festool TS 55 REQ is your best bet. This track saw model features a splitter as a spring-loaded riving knife that helps keep the cut kerf open to prevent the material from pinching the blade, thus reducing the chances of a kickback.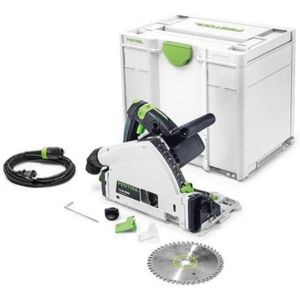 This design provides perfect, straight, chip-free cuts with a Festool guide rail. Additionally, you can safely change the blades using the FastFix system that locks the switch and the arbor simultaneously, letting you remove the arbor bolt easily.
You can ideally use this design for flush cutting on adjacent surfaces or even against walls. This mechanism is achievable due to the flat housing design.
Pros
Blade changing is easier and safe.
It has a flat casing design.
It comes with a splinter guard.
Portable because of its lightweight and compact nature.
It has an incapable probability and is unbelievably easy to use.
Cons
It does not come with an additional set of blades.
Buy On Amazon
The shop fox track saw has an added advantage over the traditional track saws. It can be used without the guide rails but remains accurate and safe. For instance, it facets a riving knife and a plunge-cutting ability, enhancing safety over conventional circular saws.
This track saw has a motor that produces up to 120 volts, 9A, and a 1.1 kW of steady power that drives its blade of diameter 160mm and a 20mm arbor, with 5500 rotations per minute, producing a potent cutting speed of up to 9070 feet per minute.
The tool is an excellent option for making plunges in panel centers that can be used for electric boxes and windows- This saw is also perfect for trimming door bottoms.
Pros 
Usable without a guide rail.
It has unparalleled safety over other circular saws.
This saw can cut full sheets of plywood down to size.
It has a high blade rim speed.
It only weighs s 0.001 Ounces.
The machine comes with a 1½" dust port.
Cons
Its D4363 accessory pack is not included in the marked price.
Buy On Amazon
The Festool TS design starts its precision with an innovative rail system that simplifies the measurements by ensuring a straight cut at any angle. To reduce the chances of kickback, this track saw features a spring-loaded riving knife that acts as a splitter keeping the kerf open to prevent the material from cramping the blade.
Moreover, it also contains a slip clutch that minimizes the chances of a kickback and lessens the wear on the blade, motor, and gear case. In this design, the arbor removal and blade changes have been made easier using the FastFix system that simultaneously makes the lock and arbor switch.
This machine is as well-engineered with the MMC electronic system that protects it from thermal and current overload. Furthermore, it also provides a soft start, constant speed, and variable speed under load.
In addition to that, it delivers the panel, miter, and table saw mechanism in a compact portable system.
Pros
It's outsmart, easy to use, and fast.
It marks a cutline without chips or splinters.
Rail guides can combine for any cut.
Blade designed to eliminate tooth marks and burns.
It has splinter guards on both sides of the blade.
The dust control system captures up to 96% of the dust.
Cons 
It's expensive and weighs more.
Buy On Amazon
The Grizzly Industry has done a remarkable job on the T10687 6¼" design. The tool has an infinitely fickle cutting depth of up to 2-5/32″, making it suitable for a variety of materials like wood, countertop and double-coated MDF boards.
Also, the tool is integrated with a nested riving knife and a plunge-cutting action that protects it from any chances of pinching a kickback. Its optional guide rail is imperative for cutting vast planes.
However, it's only sold as a saw, you can check the T24872 for the guide rail and T25094 for the accessory kit, but if you want to buy all three as a single package, you can check for the T25552 master pack.
Pros
It has a continuous cutting depth limit.
It's ingrained with anti-kickback protection.
It comes with a dust port for a shop vacuum.
It redefines the circular saw.
Cons
It's sold as a saw alone.
Buy On Amazon
The triton  TTS1400 track saw will help you in all your cutting jobs. It works precisely with a maximum depth adjustment of up to 54mm/2⅛". Besides that, it has a width cut indicator that will help you precisely position your blade on the workpiece.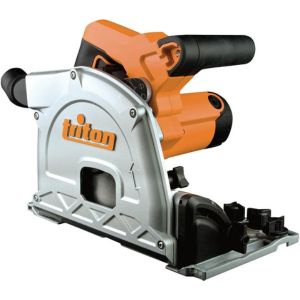 The blade of this machine can be easily replaced since you can quickly access it through the blade guard. The change and power mode of the blade switch locks out for easy change.
For safety purposes, the saw has an anti-kick system that prevents the machine from jointing when performing plunge cuts. On top of that, it also has a plunge lock that helps secure the blade inside the guard when it's not in use and a guide rail track that helps ballast the workpiece when executing bevel cuts.
Into the bargain, it also has a dust extractor with a universal vacuum system adaptor that releases the dust through 360 degrees rotating outlet. Supplementarily, its electric system is optimized to provide a soft start, variable speed, and constant speed for the required cutting condition of every material.
Pros
It has ascribed mode that eliminates tear-out and splintering.
Effortless to change carbon brushes.
It has a bevel cut adjustment ranging from 0 – 48 degrees.
The saw has dual alignment cams that fine-tune the fit between the track and saw for rigorous cuts.
It also has a non-slip rubber that offers support.
It is compatible with other Triton accessories.
Cons 
Its optional accessories are sold separately.
Buy On Amazon
Best Cordless Track Saw 2023 Buyers' Guide
Different types of saws, in particular regarding the table, miter, and plane saws, have customarily been in use by the vast majority for various cutting activities. But when it comes to straight, accurate, and precise cuts, it can only be consummated by the cordless track saw.
This design has fought to be the best among all the circular saws, thanks to its incredible unerring meticulous cuts. However, it also comes with diverse designs and capabilities. That's why I have researched and prepared for you the uses and the factors to consider while choosing the best track saw.
Uses of a track saw
The track saw, also called the rail saw, forms one of the primary power tools used in the construction and woodworking industry. The power tool is designed to make straight and precise cuts and is valuable for various cutting tasks.
As a result, the track saw can be used differently, including jointing, trimming, scribing, cutting panels, and customizing floors. More essentially, a track saw can be used to make different cuts, including;
Track saws can rip large panels or sheets of materials, including melamine or plywood, depending on your project's needs. In rip cutting, the track saw ensures you can get desired width and accurate cuts, limiting the extra need for the table saw.
Perhaps, the primary role of track saws is to make straight and precise cuts on different materials like plywood, MDF, solid wood, laminate, and even metal sheets. The track saws are equipped with a guide rail to ensure accuracy in cutting and reduce the risks of kickbacks while cutting.
You can use track saws to make angled cuts other than 90 degrees. You can use most of the track saw models we reviewed in the article to make bevel cuts. The feature helps in tasks like cutting beveled edges or fitting pieces together at non-standard angles.
If you are working on different wood pieces and intend to make precise angles on your workpiece, the track saw will serve you right. The power tools are ideal for making cross cuts, hence can be used on different wood pieces to make clean and accurate cuts.
Ensure you have chosen the right blade for your power tool to make dodo cuts on your wood piece. The dodo or groove cuts are essential for creating channels or joinery for shelving or other fixtures. Thus, the track saws can also be used for trimming or finishing work. Since the power tool makes clean and accurate cuts, it is an ideal option for fine-tuning pieces and finishing touches in woodworking projects.
Benefits of Track Saws
Track saws do not require clamps. Instead, the units are fitted with sticky rubber strips at the bottom to prevent slipping. Thus, in most cases, you won't need clamps even when trimming doors. The practice saves you the money you would have otherwise used to acquire clamps. 
An efficient dust collection system
Track saws have dust collection systems to enhance their efficiency when trimming or cutting through different materials. The system (shroud) doubles as a blade protection unit, improving your safety when using the units.
Track saws are perfect for small spaces due to their ergonomic design. You can use track saws to make big cuts, even in small areas. Unlike the table saw, you will not need an outfeed or infeed space. Besides, if you are to travel to another hardware or workshop, track saws are lightweight and take up small spaces in your van.
Produces smooth and clean cuts
Whether you are working on plywood, MDF, or solid wood, the track saw produces clean, smooth, and accurate cuts, independent of the material type.
What to Consider when Buying a Cordless Track Saw
Anti-kick mechanism
Among most power tools used for cutting, like circular saws, table saws, and track saws, the anti-kickback mechanism is probably the most crucial feature, and the best track saw models are no exemption.
A kickback results when the rotating blade binds with the material cut, causing the saw to jack back toward the operator. The sudden movement can be dangerous and cause massive injuries and accidents, especially since it moves toward the operator.
A track saw works with a very high-speed blade that might cause a severe accident or even destroy the entire machine if not well protected. All this happens if the kerf closes while the machine operates, causing a solemn kickback.
The ant-kickback feature prevents or reduces the risk of kickback by stopping the force driving the saw backward. Hence, it is essential to consider before you decide on any of the best cordless track saw models.
The anti-kick mechanism has numerous features that help with its job. For instance, the mechanism is integrated with a riving knife, a safety device behind the saw blade. The riving knife prevents the material from pinching the blade and causing a kickback.
Besides, the mechanism is integrated with a blade guard. The guard protects or covers the exposed parts of the blade that are not in contact with the material. This guard will protect you from accidental contact with the blade while using the saw and reduce the risks of kickback.
Also, the anti-kickback mechanism has pawls, small, pointed teeth-like projections to grab the wood and stop kickback towards the operator during cutting.
Thus, when purchasing the best cordless track saw units, prioritize the units with functional and well-designed anti-kickback mechanisms to guarantee your safety during the operation.
Most essentially, also remember to follow safety guidelines and wear the correct personal protective equipment while you use any of the power tools.
Guard rail
The guide rail is also a significant factor of contemplation when selecting the best type of track saw. The guard rail accommodates the saw firmly on the base for stability and accuracy in cutting. It is a protective mechanism to protect the operators from accidental injuries while utilizing the track saw to improve general cutting accuracy.
Depending on the design, they come in various lengths, but we'd advise you to consider choosing a track saw with an extendable guard rail that can be combined for any cut without minding the length.
Besides, the guard rails facilitate dust extraction. Most cordless track saws are equipped with dust extraction capabilities. The guard rails have a dust port connecting to a vacuum system to remove dust and debris generated when cutting efficiently. The feature is essential to keep your work area clean, improve visibility, and reduce the risk of respiratory issues caused by inhaling dust particles.
Battery
The battery is the accessory to consider when it comes to efficiency on the runtime and the amount of work this tool can perform. It comes with different voltage ratings that determine the amount of power the machine will have.
High voltage is for high performance, while low voltage is for medium spectacle. Lithium-ion is highly recommended and used in most saws. It offers excellent performance with ratings between 3.5 and 6.0Ah, guaranteeing fast, fade-free working time.
Motor
The motor plays a significant role in the overall performance of the tool. It's the one that rotates the blade through both easy and hard-to-cut materials. Various motors' designs have different amperes ratings that produce varying rotations per minute, with most ranging between 1750 – 6300 rpm.
This guarantees constant speed under light and thick materials, thus creating a chip-free cut every time. So when buying a track saw, don't forget to look at this eminent feature.
Blade size
The blade will determine whether the saw will cut through the workpiece. It comes in different designs for dissimilar purposes. You should consider a blade with a large cutting capacity for ripping and crosscutting any material at any given bevel angle.
Housing
The casing of the saw is another factor to examine. It determines the portability of the machine. You should choose the one made from aluminum or magnesium- This makes the entire tool easy to carry around while working.
Furthermore, it would help if you also regarded a flat housing because it allows the saw to flush cut against walls or adjacent surfaces.
Variable speed control
Don't forget to check on the variable speed control dial. It helps regulate the amount of speed you want to work with for optimum performance- This feature is
The quick depth stop feature
engineered to give the saw a soft, hassle-free start and constant speed. It allows you to choose the right speed for the suitable material.
Bevel
Bevel is among the precision cutting systems of the track saw. It helps to keep the machine squared on the material. Besides,  you can also put the saw in the line of cut without reckoning the bevel angle. When bossing for a contraption, choose the one with a bevel capacity ranging from 1 degree to 48 degrees, with a positive stop at 22.5 degrees and 45 degrees, respectively.
With this trait on your tool, you won't need an extra measuring instrument. Most designs have an inbuilt precise, quick depth stop feature.
You can activate the dial and set the depth to your preferred inches. Cut, then stop the setting and make a final deep cut. Remember to choose the one with an infinity variable depth adjustment tool when ordering a track saw.
Below is a video that gives the needed tips to operate a track saw, especially when you are a beginner
Frequently Asked Questions-FAQs 
Q1. Is DeWalt track saw good?
Yes. The DeWalt track saw is perfect for making long and precise cuts. Unlike the table and circular saws, the DeWalt track saw is more accurate and versatile.
Q2. What track saw cuts deepest?
The best track saw type for deep cuts is Festool TS75. Among the best cordless saw models, the Festool TS75 is the heaviest, with 13.6 lbs. and can cut up to 2.75 inches deep.
Conclusion
Track saws have proven outstanding among other circular saws thanks to their precise, accurate, and promising performance. The saws can be multi-tasked for cutting on almost every kind of material, ranging from easy to hard.
Besides, the power tools feature a unique precise cutting system comprising the bevel, guide rail, motor, quick depth stop, and a strong blade that gives you a straight splinter-free cut every time you use the machine.
However, it can still be difficult to decide which saw is best for your work. That's why we have taken the initiative of researching and detailing every critical point on the best track saw in the market. I hope this article gives you a head-start before you meet your eminent machine.