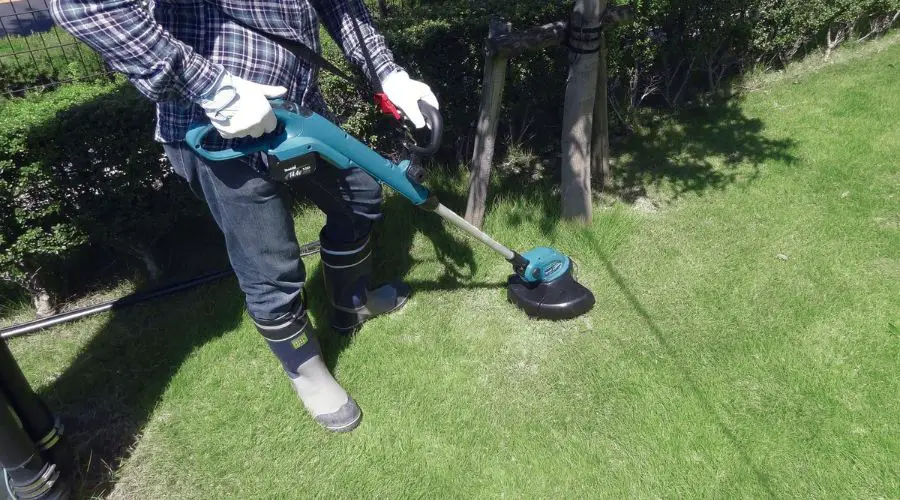 The grasses that form around your lawn can be an annoying sight. Worst still, the long grasses can harbor insects and animals that can be dangerous to you and your family. You do not want to expose your kids, pets, or other animals to such dangers and want a tool that will help you keep your garden or yard to desired lengths. One excellent gardening tool that you need to try is a string trimmer.
Best Cordless string strimmer units are powered through rechargeable batteries, eliminating the cords to connect the models to a power source. The elimination of the power cords provides you with the freedom to roam around your garden and facilitates working in large areas. Besides, like best cordless lawn mowers, the units are easy to use and portable, guaranteeing long working hours without fatigue.
The cordless string trimmers also support working in a pleasant environment due to their quiet operation. However, despite the various advantages, choosing the perfect model for your execution can be challenging, especially when you are a first-time buyer.
We have researched and tested the top 10 cordless string trimmer models with a comprehensive guide on the specifics to look for when shopping for a cordless string trimmer.
Read through!
Best Cordless String Trimmer of 2023 at a Glance 
Also Read:
Best Cordless String Trimmer Reviews 2023
WORX WG163 GT 3.0 20V is an excellent tool for enhanced performance. The tool is effortlessly convertible from a trimmer to an edger. As a result, you get a 2-in-1 device with WORX WG163, allowing you to put it into different applications.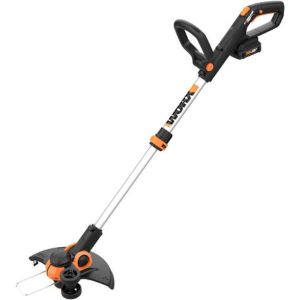 Moreover, this model's back-and-forth conversion from edger to string trimmer requires no additional tool. You only need to pull the lock and then turn the shaft. The practice will change the weed wacker to a wheeled edger and vice versa by merely reversing the settings.
WORX WG163 GT 3.0 20V comes with two powerful 20V lithium-ion batteries, which are interchangeable. The model only uses one cell at a time, which gives you the convenience of putting the other one for charging and can be used in the tool when the other runs out to ensure a longer runtime, limiting work breakdown.
Besides, WORX WG163 allows for instant line feeding. The model is integrated with an innovative push-button command feed spool system that allows immediate line feeding, enhancing performance.
Furthermore, you can adjust the telescopic handle of this model to the desired length that satisfies your needs. In addition to its adjustable spacer guide, the tool ensures you do not have lawn ornaments or damage plants and landscape features while trimming.
It also provides you with the luxury of reaching various areas when trimming. You can quickly and conveniently cut and edge sloped terrain and even get in tough-to-reach places since its head can easily tilt to 90 degrees. Its rubberized hands protect your hands from developing blisters, enhancing comfort and safety.
Easy conversion from edger to string trimmer and back
Lightweight
User-friendly
Rubberized wheels
Instant line feeding
Cons
It might be weak if not handled appropriately
Buy On Amazon
Black + Decker LC222 weed eater can clear driveways, sidewalks, decks, and garages. This unit allows for easy mobility, and you can effectively go around your lawn without straining your arms as it is lightweight, weighing only 3.7 pounds. Besides, it provides you with the comfort you need when using it. The comfort is ensured by its adjustable handle and an automatic feed system that ensures no bumping is required.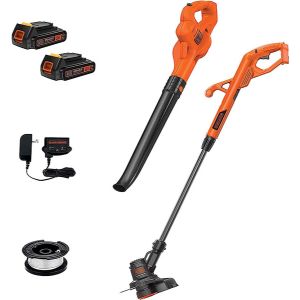 Like with the WORX WG136,  the Black+Decker is a 2-in-1 tool. The model is easily convertible from a string trimmer to an edger to a compact lawnmower, and this helps you put it to numerous uses, enhancing its versatility and utility.
It comes with two batteries that allow for longer run time. You can use one battery as the other recharges. The battery is 20 Volt max Lithium-Ion 1.5Ah, and this rating ensures a high power that facilitates continuous work.
The model is also eco-friendly as it produces less noise and ensures no disruption to your neighborhood when working on your lawn.
Pros
Eco-friendly
Lightweight
Portable
Acts both as an edger and string trimmer
Cons
Buy On Amazon
Unlike most models in the market, Makita XRU02Z 18V LXT is characterized by high torque for enhanced performance. The high torque due to its 18V battery helps improve its runtime, which can go up to 60 minutes, making it quite an excellent tool for doing your lawns.
When you are worried about the speed and the model's performance to buy, the Makita brand will give you both the best performance gain and the speed. The model has an in-built motor that delivers 7,800 RPM for faster cutting speed and performance.
When working with this tool, you have no worries about moving around your lawn. The model boasts a well-balanced ergonomic design with less weight of 6.4 lbs, which enhances mobility or maneuverability around your yard. Moreover, the tool is ideal for trimming and precise edging due to its compact size.
The manufacturers of this model also considered the height of various users. Whether you are the one using it or a family member, you can effectively adjust it to your height. The tool has a telescopic shaft that allows you to adjust the length from 48-1/2″ to 56-1/2″ for an optimum cutting position or to suit your height.
However, one drawback with this unit is that the tool's Charger and battery are bought separately.
Pros
Versatile
Lightweight and Compact
Telescopic shaft
Long battery life
Durable
Cons 
Battery and Charger separate
Buy On Amazon
The Husqvarna model is efficient for domestic and commercial applications, enhancing its versatility. The weed eater gets characterized by a telescopic shaft that allows you to adjust its length for the desired cutting position and according to your comfort.
The tool is eco-friendly, with a decent sound pressure of 77 decibels(A). It ensures you can effectively work within your neighborhood with minimal noise pollution or disturbance.
With this model, you can efficiently maximize the run time by allowing the motor to work more conveniently and effectively by applying the tool's safe mode.
Its efficient motor powered by a 4-stroke engine ensures a longer run time. The engine enhances the motor's efficiency through constant and active energy to drive the moving parts.
With this tool, you can quickly execute a large project or clear a significant lawn area due to its generous 14-inch cutting swath that enhances its trimming efficiency.
You can trust the product from the company with product-free defects as the model comes with a two-year warranty that will give you peace of mind.
Pros
Quiet operation hence eco-friendly
Two-year warranty
Lightweight and compact
Effective 4-stroke engine
Telescopic shaft for convenient length adjustment
Cons 
Buy On Amazon
If you are looking for the best cordless weed wacker that is durable, operates with minimal noise, and provides unsurpassed longevity, look no further than the Greenworks model. With a charge of 90mins, the model can give up to a 4Ah battery life, ensuring a long run time and allowing you to complete your projects.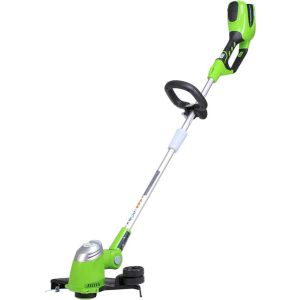 The tool's 24V battery also ensures a more extended run time, saving energy and reducing vibration when the machine is in use, making it eco-friendly.
The unit is fitted with an electric start hence no pollution from burning fuels such as gas when starting. The practice eliminates environmental pollution, also reducing the gas hassle as you work.
This model gives you the convenience of edging and trimming capability with an edging wheel facilitated by its pivoting head. The pivoting head will help you maneuver various angles, enhancing the process of trimming and edging.
You can adjust this tool to the desired heights to improve your trimming and edging efficiency using its telescopic shaft for cutting adjustments.
The battery and the Charger are included in this model; thus, you do not need to spend extra money to acquire the battery charger.
Pros
Energy-saving battery
Reduced noise
Telescopic shaft for cutting adjustments
Pivoting head for cutting in different angles
Cons 
Buy On Amazon
The ability of Dewalt DCST 970B FlexVolt to accept either .080 0r .095 line ensures that you can use the tool to handle both heavy and light duties. Its 60V power provides enough power to the motor for domestic and commercial applications, improving its versatility.
With Dewalt, you are assured of precise cuts and easy conversion from a string trimmer to an edger and back. Its dual feed helps provide clean and accurate cuts, improving its efficiency.
With this model, you can be assured of fast and painless trimming and edging. Its 15-inch head guarantees you clear-cut your lawn with minimal effort and at a desirable speed. The variable speed gives you the convenience of working on different surfaces, hence the wide applications.
This model allows you to change speed and tear down weeds when you hit a rough patch. A variable-speed trigger characterizes the tool and ensures you can vary it to a higher speed and tear the weeds down when you hit a rocky path.
Sometimes you may get worried, striving to find an enhancement to your tool to help clear parts of your lawn with a thick infestation of weeds. The Dewalt trimmer helps eliminate this worry as it is integrated with a powerful brushless motor that is highly energy-efficient as energy loss through friction is
minimized.The motor is both durable and efficient, and this helps improve the life of your unit.
Pros
Variable Trigger for wide applications
Brush-less motor, which is energy efficient
Comfortable grip
Easy to start
Cons 
Battery and Charger separate
Buy On Amazon
Watching thick weed infestation on your lawn is disgusting, and you always strive to find a way to cut them out as fast as possible. This requires a well-built and sturdy tool to ensure your work is done swiftly and conveniently, which is precisely what you will get when you purchase Milwaukee string trimmer.
The model will provide longer runtime because its impressive battery guarantees sufficient power delivery. Moreover, this model's Charger and battery are compatible with products from other organizations, which is essential when you have a tool collection.
You can clear weeds of any nature with this tool, whether thick or thin, as it can beat the weeds in your lawn. The model has a brushless motor that provides enough power for maximum function. The brushless motors limit energy loss through friction, limiting wear and tear and reducing maintenance costs.
You can adjust this tool to the desired length or according to your height. The tool has a telescopic shaft that enables the adjustment of the size of the trimmer to improve the comfort level, and this guarantees painless trimming or edging.
Pros
Well-balanced weight
It is solid and powerful
Its battery is compatible with other models
Telescopic shaft for convenient adjustments
Cons
A bit heavy with an 8.6 lb weight
Buy On Amazon
The Ego Power string trimmer is made from durable and sturdy materials with black and silver housing, making it resistant to corrosion in different weather conditions.
You can adjust the length of this trimmer to the desired cutting levels, ensuring you realize precise cuts. You can use the telescopic shaft of this tool to adapt it to your height to provide convenience and comfort. This promotes accurate trimming and edging.
As the world continues to promote a green economy and find measures to limit greenhouse gas production, the model is a perfect choice as it is an eco-friendly tool. It is battery-operated. Hence, it does not require gas, a significant source of carbon gases that pollutes the environment.
You can be assured of safety and reliability when using this model. The tool is integrated with a pump head and efficient motor, ensuring effective energy delivery and reliability. The pump head provides the needed protection of the cutting edge, ensuring your safety.
The model allows you to enjoy a five-year warranty, giving you the trust of minimal manufacturing defects. You can confidently use the model without fearing breaking down, as you still get covered by the manufacturer's warranty.
Pros
Five-Year Warranty
Good Battery life
Variable Cutting Speed
Resistant to different weather conditions
Cons 
Charger and battery not included
Buy On Amazon
We all want to enhance the beauty of our lawns all year round, and you must effectively choose a device that is not boring to use or prone to breakdown when you use it. The Craftsman gives you the high-quality you need all year round and helps enhance the precision of your lawn.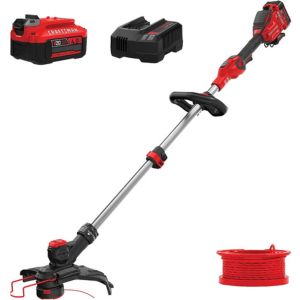 With this tool, you can handle a vast area due to its width, which is 13 inches, and it helps you clear a wide path with a single cut. This helps eliminate time wastage when going around the lawn several times.
With this model, you will also enjoy an extended run time as it gives you the luxury to choose between more power or runtime. Its two-speed settings ensure the selection, enabling you to have broad applications of the tool to various projects.
The tool allows you to use it as a string trimmer and edger. Its ergonomic telescoping pole feature makes turning to the edge a breeze.
The tool is durable, ensuring you do not need to worry about adding another model in your tool collection for the same function in years.
Its durability is also supported by its warranty covering all three-year manufacturing defects. You can thus trust the brand.
Pros
Easy conversion from a string trimmer to an edger and back
Three-year warranty
Durable
easy to operate
Cons
Buy On Amazon
The VonHaus model comes with two batteries, rechargeable after 75 minutes. You can easily monitor the battery's charge level by using the LED in the tool to help show the charge level. It ensures a longer run time.
The batteries are long life, which gives you a longer run time and more power to apply the tool to numerous uses. You can effectively move around your lawn with this device without straining your arms since it is lightweight. The aspect can also enhance your time using the tool without getting fatigued.
Moreover, using this model will make you enjoy trimming and edging within convenient heights. The tool has a telescopic shaft that helps you adjust the machine comfortably.
Accurate cutting is vital regardless of the tool you intend to work with. If you can get a tool that enhances cutting accuracy, you should not hesitate to purchase it. The VonHaus trimmer offers versatility through its edge guide and trimmer head rotation to facilitate accurate cutting.
Its robust auto-feed line cutting system and the 90 degrees angle rotation can help you trim to precise angles, giving you the desired cuts.
Pros
Durable
Easy to operate
Powerful Motor
Long life battery
Cons
has no automatic spool feed
Buy On Amazon
Best Cordless String Trimmer 2023 Buyers' Guide 
Before you buy a battery-powered string trimmer, there are various features you need to consider when making the best purchase decision and to help suit the requirements of your lawn.
You must consider the advantages of the unit and whether it is worth the investment. This guide helps provide you with the desirable features you must consider before buying the best cordless trimmer models. It integrates the primary merits of why you prefer cordless trimmers to corded units.
Advantages of Cordless String Trimmers 
Technological advancements have transformed various activities worldwide, from production to communication, household work, and gardening. Today, instead of engaging the tangled cords connecting machines to the power sources, there are cord-free, lightweight, and efficient battery-operated models such as cordless string trimmers that provide individuals with easy reach to their garden and support long working hours without fatigue.
Below are the primary advantages of cordless string trimmers;
Nothing beats working in a pleasant environment, free from noise. The best cordless string trimmer units are much quieter than the corded types, which means you will not disrupt the peace of your neighbors as you maintain your lawn. You might not even need ear protection when operating a cordless hedge trimmer.
Thus, when shopping, look for a unit with a sound pressure below 75dB (A). Such units are efficient and quieter than electric and petrol-operated string trimmers. An excellent example of such a unit is Flymo EasiCut Cordless 20 V Li Hedge Trimmer with only 71.3dB (A) sound pressure.
Most cordless trimmer units have batteries that can be replaced with those from other tools. For instance, if you have an edger, you can swap the batteries if they have the same voltage. Also, you can purchase an extra pair of batteries when the other charge for continuous operation, enhancing the run time.
Lightweight and Compact Design 
The cordless string trimmers are lightweight, making them portable, increasing efficiency and convenience when executing the garden work. You can work with these models for long hours without getting fatigued.
The units are operated from rechargeable batteries, eliminating the need for long cords for the electric types or extra petrol cans for the petrol-operated types. This reduces their weight, facilitating reaching up and around tall or large hedges.
The compact design makes it easy to transport the tool and facilitates working even in the smallest spaces.
Due to their compact design and lightweight, the cordless string trimmers are highly portable, and you can freely move with them without being tethered to a power outlet or limited by the length of an extension cord.
As a result, you can quickly move around your lawn or yard with the tool and even reach tight spots that might be impossible with the corded counterparts. Notably, their portability is crucial if you have a more extensive lawn to clear or want to move from one garden to another.
The cordless string trimmers use Lithium-ion batteries as the primary source of power. This means they produce zero emissions during operation, reducing the carbon footprint and creating a cleaner environment free from greenhouse gases. The battery-powered string trimmers do not depend on fossil fuels like the gas-powered trimmers, limiting their chances of releasing gas pollutants into the atmosphere.
One of the essential elements of cordless trimmers is the ease of maintenance which reduces the overall operation costs. If you have operated the gas-powered trimmers, you would understand the hassles involved, especially with the constant efforts to deal with the gas, oil, or spark plugs. With the cordless string trimmers, you do not need to change oils or spark plugs as batteries power them. This makes them easy to run and is more cost-effective in the long run.
Adjustable Power Settings
Before deciding on the cordless string trimmer model, check whether they have adjustable power settings. Most trimmer models come with these settings, allowing you to conserve battery power for lighter tasks to enhance the power for tougher weeds and overgrown grass or areas. Since you can adjust the power based on the type of lawn or grass you are handling, the tool provides you with versatility and control in the trimming process.
Starting your cordless string trimmer is a walk in the park. The trimmers are fitted with a simple push button that you only need to push to start the machine, unlike the gas-powered models that require pulling a cord. The instant start-up makess the cordles string trimmers user-friendly and saves time in trimming jobs.
What to Consider when Choosing the Best Cordless String Trimmer
Weight is a valuable determinant when buying a string trimmer, especially considering your lawn's size and terrain. Most models are lightweight, making them more comfortable and convenient to work with.
Best cordless string trimmers should not exceed 10 lbs as this will be too heavy for you when maneuvering your lawn. The best weight should be between 4.5 lbs and 8 lbs. It should not be too light since it will not penetrate through thick weed infiltration.
Best cordless string trimmers use the lithium-ion battery in their operation because they are lightweight and have a longer life with a single charge. However, when you intend to use your model commercially or have more than one lawn to trim, you can keep a backup battery while the other charges prevent work breakdown.
Also, you can consider the models whose batteries are compatible with the tools you have in your tool collection. This helps you not to spend on extra battery.
It is with no doubt that the gas-powered models have higher power than the battery-powered trimmers. This is primarily a concern if you have used the former before and want to change the course.
However, with technological advancements, cordless string eaters have become more powerful, especially with the integration of various features such as brushless motors that have ensured no energy losses due to friction.
The best cordless string trimmer is one with an ergonomic design. When choosing a weed eater, you should go for a model with an ergonomic design, as they are characterized by even weight distribution throughout the trimmer.
The unequal weight distribution in a string model implies there can be more weight at the top of the tool than at the lower part, which reduces the comfort of using the device. The unequal distribution of the weight in the model also influences the control of the machine. It would help if you chose a tool that is comfortable and convenient to handle.
Moreover, you should consider the nature of the telescopic shaft when buying the weed eater. We recommend the models with straight shafts since they quickly transfer power from the tool's motor to the lines used for cutting. The straight shaft also ensures a balanced system when you use the machine once you have positioned it to your height or level.
The size and nature of the area you must trim are vital when choosing the best cordless string trimmer. For instance, if you need to cut a large extent, you should go for a model with longer battery life and more power to give you a longer run time.
On the other hand, if you are working on a small lawn, you may go for cheaper models to help you execute your work quickly. The shape of the yard is also essential, whether sloppy or straight. You must consider buying a model with an angled head. Such models can help you to quickly and conveniently cut and edge sloped terrain and even get in tough-to-reach places since its head can easily tilt to 90 degrees.
The below video shows how to Replace Trimmer Line in a Husqvarna String Trimmer
Frequently Asked Questions 
Q1. Are cordless lawn trimmers any good?
Yes. The cordless string trimmers are perfect for cleaning or cutting the long grasses that can harbor insects and dangerous animals in your yard, lawn, or garden to desired lengths. The units are lightweight, well-balanced, and easy to use by being cordless, adding to their efficiency. The cordless lawn trimmer models are also quieter in operation than the petrol and electric types, providing a pleasant environment for operation.
Q2. Is 40V better than 20V?
Yes. The 40V string strimmer is better than the 20V. A higher voltage means high power is supplied to the models, guaranteeing high performance.
Power tools like saws and drills with high battery voltage have more power, which is advantageous when you handle tasks that need more torque or cutting strength. As a result, a 40V power tool will be better for heavy-duty tasks than a 20V tool since the 40V tool provides more energy than the 20V.
Q3. Can you use a string trimmer to mow the lawn?
Cordless string trimmers are the perfect tools to mow the lawn. Like the best cordless lawn mowers, the units are lightweight and boost the convenient power needed for lawn mowing. Besides, the units provide the perfect controls that provide the accuracy and reliability you need for lawn mowing.
Q4. Should I trim the grass before mowing?
Yes. Perfect mowing requires you to first trim or edge the grass before mowing. Mowers are exceptional tools for neat edging and tidying up lawns. Thus, realizing a neat lawn first requires trimming before mowing.
Q5. When should you not cut your grass?
You should not cut grass that is lower than three inches. Cutting grass when it is still too low causes stress to the new roots and results in weathering. You should wait until the grass is at least 3.5 inches long before cutting them.
The video below gives you the ten best skills to navigate various lawns using a string trimmer.
Conclusion 
We hope that with the list of the best cordless string trimmers, you can make the best purchase decision to get the model that will suit your working area and lawn needs. Choosing the best can be a bit monotonous, but once you know the features you are looking for based on your lawn area, you can be assured you will get the best model from our reviews.
The cordless string trimmers are the best option today as they are eco-friendly and have significant safety measures prioritized when choosing any tool.
Regards.