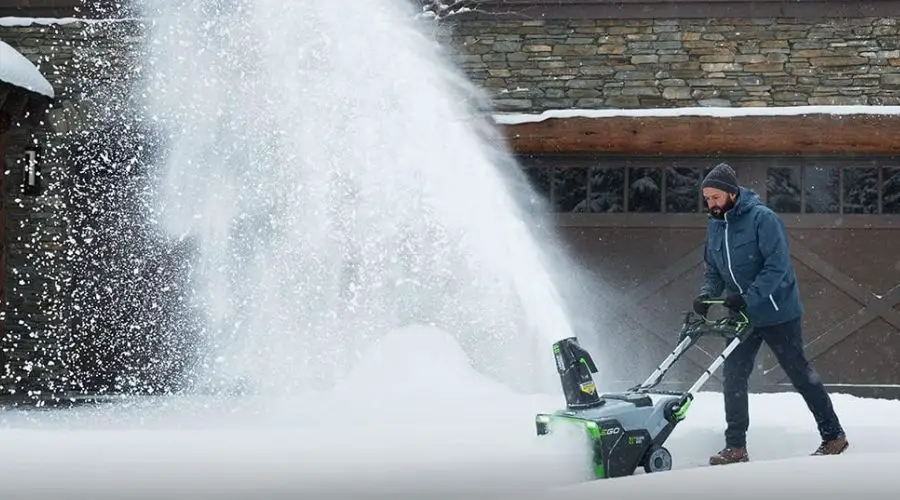 Snow clearing is one of the most dreaded yet inevitable tasks of the winter months. While shoveling the snow out of the way is an option, the exercise presents its share of limitations, including risking your health if you have certain medical conditions.
This is where the best cordless snow blower models come in handy. They help you avoid or reduce the bending and heavy lifting involved. Electric snow blowers are friendlier to the environment than gas snow blowers that emit unpleasant fumes while operating.
So we have scoured the market and hand-picked the 9 best battery powered snow blower you may want to consider for your needs.
Also Read:
Best cordless snow blowers at a glance 
Best Cordless Snow Blowers 2023 Reviews
If you live in a place that experiences heavy snowfalls during the winter months, the EGO Power+ peak power snow blower may be ideal. Thanks to robust steel construction and Peak Power technology, cutting through thick piles of accumulated ice is a walk in the park.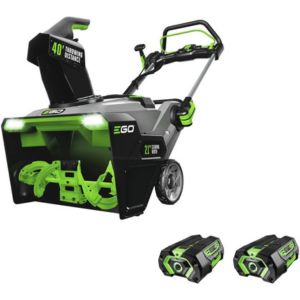 This single-stage blower combines the power of two 56-volt lithium batteries to crank out the power and performance of gas without the noise of a gas-powered blower. In addition, its ability to throw snow up to 40 feet makes it a perfect choice for managing extensive snowfall.
Its steel auger blades and a high-efficiency brushless motor enable it to cut through ice and snow 50% faster than other blowers.
The unit has a width of 21 inches which is relatively more expansive than most single-stage blowers, ensuring that you remove more snow with each output. This moderate width also makes the blower highly effective for removing snow from tighter, more enclosed areas.
An adjustable chute on this blower allows the flexibility to easily direct the snow in the right direction when operating it.
You will be happy that the auger blades are made of heavy-duty steel that can withstand harsh weather conditions without wearing out soon. This feature guarantees durability and lasting value for your money.
Pros
The unit has an adjustable throttle allowing you to regulate the power
A variable speed auger control makes the blower one of the easiest to operate.
It has an extended battery life
It is easy to start and operate
Its quiet operation makes it comfortable to use
The machine removes snow fast, speeding up your work
It is low maintenance
Cons
This blower is relatively expensive
Buy On Amazon
If you are on a fixed budget, there is no better choice than this 18-inch Snow Joe Cordless Snow shovel among the best battery-operated snow blower models.
Despite its small width, this machine's powerful 1200W brushless motor can clear up to 14 tons of snow with a single battery charge.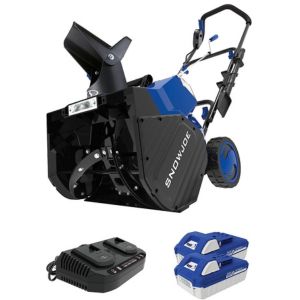 A 48-volt power, accompanied by two rechargeable 4.0Ah batteries, gives you a battery runtime of up to 40 minutes. This means you can get your snow work done longer without stopping to recharge the machine.
The blower comes with a 4-blade rubber-tipped steel auger and can clear an 18×10-inch wide path in just a single pass.
Its adjustable snow chute can rotate up to 180 degrees and throw snow 20 feet in any direction. Such flexible chutes significantly simplify your snow-clearing job as you can adjust it appropriately to avoid throwing snow toward objects like windows and vehicles.
Whether you like to clear snow early in the morning or late in the evening, the Snow Joe blower will make it possible with its 2W LED headlights to illuminate your path.
Pros
The machine is lightweight, at only 40 pounds, making it easy to maneuver.
The budget-friendly price ensures the purchase won't break the bank.
The compact size ensures more accessible storage
It is designed for easy assembly
Cons
Some users consider the relatively shorter snow throw distance a limitation.
Buy On Amazon
The Earthwise Cordless Electric snow thrower is powered by a 40-Volt brushless motor and a 4Ah battery that enables it to move up to 500 pounds of snow in one minute.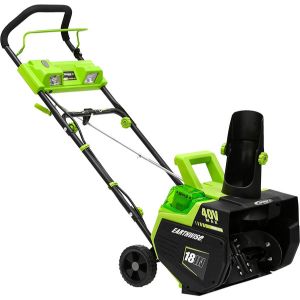 The battery power is eco-friendly, so you don't have to worry about harmful fumes from your machine impacting the carbon footprint within your surroundings. You should be happy that the batteries have an extended power run time, meaning no interruptive stops to recharge midway.
The motor on this blower is noise-free, allowing you to enjoy a quiet work time. This machine also has two LED spotlights illuminating your path for early morning or late evening snow jobs.
Since the snow thrower chute is adjustable and allows for a 180-degree rotation angle, you can change the snow direction while working.
Pros
It is easy to start with one push button.
The dual-blade auger makes this thrower stronger and capable of throwing snow up to 30 feet away.
The unit is affordable.
Light and easy to maneuver, making it convenient to use.
It is easy to assemble
Has long battery power run time
Cons
Not quite suitable for heavy snow
Buy On Amazon
The Snapper XD is an excellent option for someone with little time to put into maintenance. It is durable and requires little maintenance, which can save more in the long run.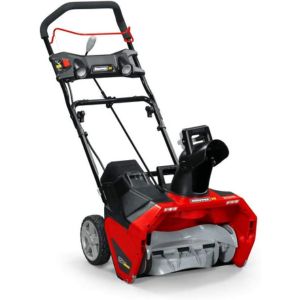 The 82-volt machine comes with four lithium batteries, chunking out enough power for clearing large amounts of snow. The batteries boast a longer run time of up to 75 minutes, guaranteeing to make you work continuously without needing to stop for a recharge.
The machine can clear snow up to 20 inches wide and 10 inches deep in one push. Its 180 degrees adjustable chute also makes snow-clearing more convenient by allowing you to change the direction accordingly.
Your purchase comes with two LED headlights to light up the area you are clearing. This means you can work even when it is dark outside.
Perhaps the only limitation of the Snapper XD is that it's not self-propelled. You must apply some energy to push it forward while clearing snow.
Pros
This unit is easy to assemble and maneuver.
It works fast and clears large amounts of snow in less time
It is low maintenance, saving you money in the long run.
Cons
The blower is not self-propelled—you need the energy to push.
Buy On Amazon
Here is another masterpiece that will help you save energy while clearing the stubborn snow in your way. It is lightweight enough to work with the least effort on your part, all without compromising on power output.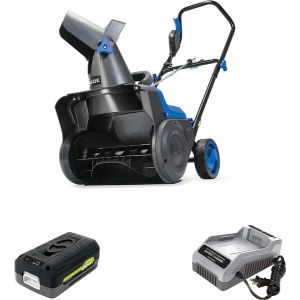 With a 40-Volt lithium-ion battery and 500W brushless motor, this machine is powerful enough to throw snow up to a distance of 20 feet.
We highly recommend it for older users or those who don't want to spend much energy clearing the snow from their yards.
The unit is also budget-friendly, which can be a godsend during challenging economic times.
Snow Joe's cordless single-stage blower can clear snow up to 15 inches wide and 8 inches deep with just one pass, which is more efficient than many other lightweight blowers.
Additionally, the batteries on this snow blower have a longer run time and can clear snow for up to 30 minutes before crying for a recharge.
Pros
It is light and easy to maneuver.
It features a small construction with a foldable handle, translating to easy storage.
The machine is straightforward to assemble and operate
It operates fast, speeding up your snow clearing
Cons
The small size of this blower puts it at a disadvantage where heavy snow is involved.
Buy On Amazon
If you do not mind putting out a little more money for some premium features, the EGO SNT2400 self-propelled, two-stage blower tops the bid.
The machine is a 56-volt battery-powered unit capable of clearing snow from various terrains and surfaces, including gravel driveways. Its heavy-duty variable-speed steel auger blades and the strong impeller fan deliver enough power to throw snow up to 50 feet away.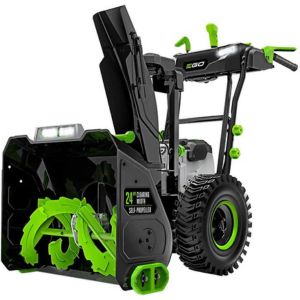 Combine this with the dual 7.5Ah battery power, and you have the best machine to clear large amounts of snow in the least time possible.
We love the battery life on this unit. While most two-stage blowers have a battery run time of 30-60 minutes, these can run for a whopping 135 minutes before recharging.
The Ego self-propelled blower can clear snow up to 24 inches wide and 20 inches deep in just one pass.
Since the unit features robust weather-resistant steel construction, you can trust it to last for ages, saving you money in the long run.
Even though this is an expensive machine, it's undoubtedly worth the price. Its high power, speed, durability, and flexible usability features will give you the right bang for your buck.
Pros
The batteries on this unit are the longest-lasting of their kind.
It has a quick-fold handle which makes it easy to store
Throttle speed is easily changeable
The robust construction makes the machine highly durable.
Cons
It is a premium unit that costs more than most two-stage options.
You may also find it relatively bulky
Buy On Amazon
Ryobi 20 inch 40-Volt is equipped with a 40V 5.0Ah that gives it the needed power for longer run time and throw snow to significant heights.
The model has sufficient power that ensures there are no breakdowns when you use it. Its brushless motor gives it the energy to handle 6-8 inches of light snow. The brushless motors provide that no power is lost due to friction by the moving parts.
Even though the tool is appropriate for dry snow, you can also use it for wet snow if you are willing to go slow to prevent the snow from getting stuck in its impeller or auger.
This model can move up to 500 feet of snow per minute when in good condition with a desirable throwing distance. Its engine is quiet and doesn't burn up when pushed hard.
The Ryobi 20-inch cordless snow blower is well-built. It is lightweight and compact enough to fit in the back of an SUV, which facilitates secure storage after use. The lightweight also ensures more effortless mobility, and you can effectively move around your working area with limited strain.
The best customer service characterizes the Ryobi, and you will not have any problem seeking clarification on anything concerning the machine when you purchase it.
Pros 
Long-life battery
Lightweight and Compact
Versatile
Brush-less motor
Good customer service
Cons
Tends to get clogged up when you rotate it while moving
Buy On Amazon
Snow Joe iON13SS is a versatile tool. The model is ideal for fast, easy, and CORD-FREE snow pickups on decks, sidewalks, steps, and patios.
You can push the snow to the preferred heights using this tool. The model has a 13-inch wide-by- 6-inch intake chute that facilitates throwing the snow to greater heights. Its two-blade paddle auger throws snow up to 25 feet.
In addition, you can control the direction of the snow using this model. The tool is equipped with a joystick that helps control the chute, which will help you displace the snow in the desired direction
The model has ergonomically designed and weighs just 14 pounds, making it efficient to go around the massive piles of snow for clearance.
The lightweight also makes the tool appropriate to use in large areas, such as clearing the field of play, as it causes little strain on the arms and easy mobility.
The tool covers you with a two-year warranty from your purchase date. It shows you that this tool is of high quality and has no manufacturing defects
Pros
Two-year warranty
Joy-stick to control the chute
Ergonomic design
Lightweight
Versatile
Cons
Sub-par throwing distance
Buy On Amazon
ION8024-XRP is powered by a 40V lithium-ion battery, which gives it sufficient energy to blow through the snow at a rate of over 1000 pounds per minute.
Working with this tool, you will not fear work breakdown as the model has an integrated, easy-to-use digital display. The display controls the speed levels, indicating the battery charge left.
The display has LED systems that help indicate a direction, speed selection, and battery power levels while illuminating the working surfaces.
The model allows for thump control. Its 180° auto-rotate adjustable Chute throws snow up to 32 ft and ensures the snow gets discharged in the right direction.
Snow Joe ION8024-XRP is versatile as it can handle jobs both in small and larger areas with its two-stage, battery-powered motor. The tool also has a self-propulsion system to make the plowing even more comfortable.
Even though this model is large, it is eco-friendly as it quietly delivers its power. Its metal snowshoes help offer more significant traction. The tool has a two-year warranty, showing its quality and reduced manufacturing defects.
Pros
Self-propelled
Tow batteries included with the charger
Variable speed, a rare feature with the snow blowers
Steel-auger
Thumb Control
2-year warranty
Cons
Buy On Amazon
Best Cordless Snow Blower Buying Guide 2023
What to Consider when Choosing Best Cordless Snow Blower 
Knowing a list of the best cordless snow blowers is just the first step. You must know exactly what to look for to make a final pick from a shortlist. Read along for some help.
Battery power run time
The battery power run time directly affects how long you can keep going with the machine before stopping compulsorily for a recharge and purchase choice when considering the best battery-operated snow blower units.
Various blowers have different ratings from the manufacturers. This should be a good pointer as to which option will likely give you a better, more uninterrupted operation.
Most blowers have battery power ratings between 30-60 minutes, even though premiums ones like the Ego self-propelled blower can give up to 135 minutes of power on a single charge.
Single-stage vs. Two-stage Snow Blowers
Before buying a cordless snow blower, confirm whether it is a single-stage or two-stage machine. Even though there are three-stage blowers, most cordless battery-powered ones are single or two-stage.
Single-stage blowers have a rubber auger in front, which works together with the engine to scoop the snow and throw it through the chute. This typically happens in a single motion, so the machine is called a single-stage blower.
Such single-stage machines normally have simple controls and are easier to operate and maneuver than their two-stage cousins.
However, they are unsuitable for gravel pathways since their low-lying auger blades may scoop the gravel off them.
Single-stage blowers are effective for light and medium-duty snow removal and are most suitable for residential areas.
On the other hand, two-stage snow blowers remove snow in two distinct stages. First, the auger blade collects the snow and throws it to the machine's center. The impeller propels the snow into the chute, which is then thrown forward to a distance as long as 40 feet.
The two-stage snow removal happens quickly, making the machines ideal for removing heavier and larger snow (normally in commercial areas). They can comfortably be used on gravel pathways since their auger blades sit higher from the ground.
Therefore, consider where to use the machine before choosing between single and two-stage cordless snow blowers.
The Type and Weight of Snow
The climate in your location may determine how much snow accumulates in your area. That notwithstanding, consider whether you will deal with heavy snow or just some light, fluffy snowfall.
If you're looking for a blower to help you clear heavy snow, buy one with more excellent engine power that can withstand the heavy weight without developing mechanical problems.
A two-stage or three-stage snow blower will come in handy in such cases since they have powerful engines that are more resilient. These machines will also help you remove wet and heavy snow faster without spending so much time and energy.
On the other hand, a single-stage powered blower should get the job done perfectly well if you're looking for a machine to clear regular lightweight snow.
Speed Control
You may also want to buy the best battery operated snow blower model with a variable-speed auger that can enable you to regulate the speed of the machine while working.
That way, you can either speed up or slow down the machine, depending on the weight of the snow, since some areas may have heavier snow deposits than others.
Most battery-powered cordless blowers have a digital drive system with a variable-speed drill that enables the user to regulate the speed. However, make sure you double-check this before buying.
Blower Size and Weight
The size and weight of the machine matter when buying a snow blower since they affect its utility, storage, and efficiency.
If you don't have ample storage space for the machine, you should consider buying a smaller, more compact unit. Cordless snow blowers often differ in weight, weighing 20-50 pounds.
Although some machines have a self-propelling system, you'll still have to push and move them around while working on your ground. Many single-stage snow blowers do not have self-propelling systems and typically require more energy to push around than two-stage blowers.
So buying a larger, heavier blower may make the work more energy-intensive and unnecessarily cumbersome.
The Snow Path Size
In addition to the weight and type of snow, you'll need to consider the path size to be cleared.
Is it a long narrow path with some tight areas that are hard to maneuver? Or is it a wide, open pathway that you can easily reach?
A smaller single-stage power blower is typically 18-22 inches wide and more likely to help you remove snow from tighter, more enclosed areas. This is also the best option for clearing a shorter snow path.
However, for longer and broader driveways, two or three-stage blowers—usually 24-48 inches wide—become more effective.
7. Chute Control
Chute control is a crucial feature of the best cordless snow blower models. It describes a mechanism that permits you to adjust the snow's angle and direction throughout your blower's chute.
With chute control, you can change the direction you throw snow. Specifically, chute control is handy when you want to throw snow away from areas like driveways, walkways, or flower beds. As a result, go for a cordless snow blower that provides precise and easy directional control, allowing you to adjust the chute without significant effort.
Also, you can control how high or low to throw the snow, as chute control allows you to adjust the throw angle. This feature is vital when throwing the snow higher to clear snowbanks or lower to prevent the snow from blowing back onto the cleared areas. Thus, before you settle on a snow blower you want to purchase, look for one with adjustable chute angles to suit your shoveling requirements.
Moreover, ensure that the blower model you choose has chute control that is easy to use and intuitive. For instance, consider a model that offers convenient control, like levers or buttons that will improve the ease of operation even when you have your gloves on. This will make the clearing of snow less cumbersome.
Thus, flexible chute controls enable you to throw snow in the right direction and height, thereby avoiding windows, packed cars, or neighbors' property.
Other Blower Features to Consider
The other important features that affect snow blower performance that you'll need to consider include:
The ease of maneuver: Two and three-stage blowers are usually easier to move since they have self-propelled digital systems. Single-stage machines require a slight forward push using rubber paddles to maneuver.
Headlights: Snow blowers with headlights make it easy to work in dim light and help you identify hazards. It's a safety precaution that you need to consider when buying your machine.
Wheels or tracks: Blowers with wheels are easier to turn and move around. They are also faster and are most suitable for paved surfaces like sidewalks.
Tracked blowers are suitable for steep slopes since they do not slide backward. They provide better traction and are ideal for unpaved surfaces.
How do Cordless Snow Blowers Work?
Unlike traditional snow blowers that use gasoline engines or are directly connected to electrical power sources, cordless snow blowers, also called battery-powered snow blowers, use rechargeable batteries.
The cordless snow blower models are equipped with Lithium-ion (Li-ion) batteries, recognized for their longer runtime, high energy density, and lightweight as the primary power source. The batteries must be charged to full capacity before use and correctly installed.
Besides, the cordless snow blowers are equipped with a powerful electric motor. When the snow blower is turned on, the battery powers the motor and provides the needed rotational force to perform the snow-clearing function. The motor drives an auger and impeller mechanism.
An auger represents a helical blade at the front of the snow blower. The auger scoops up the snow as it rotates (motor offering the rotational force), breaking the snow apart and moving it towards the center. The auger connects with the impeller behind it, propelling the snow upwards and out through a discharge chute, clearing the snow in the sidewalks, driveways, and other snow-covered areas you intend to clear.
In the operation of the cordless snow blower, other control mechanisms make the machine seamless in moving snow. For instance, a cordless snow blower has an on/off switch, discharge chute adjustment mechanism, and speed settings for the auger and impeller, all combined to help control the distance and direction of the snow thrown.
Furthermore, cordless snow blowers have in-built battery management systems to regulate power flow and monitor battery temperature, ensuring safe operation. Also, the system provides information, especially about the charge level, through its displays or indicator. As a result, you will get indications when the batteries are due for recharge or when they are fully charged. All these aim to improve the seamless operations of cordless snow blowers.
The video below helps you understand why you should invest in cordless snow blowers
Is a battery snow blower better than a gas?
Cordless snow blowers have gained massive popularity in recent years due to advancements in battery technology. These models use Lithium-ion batteries, unlike the traditional types that use gas power or are directly connected to an electrical power source (corded). There are numerous parameters of comparison between battery-powered snow blowers and gas-powered ones.
Performance and Power
Gas-powered snow blowers are more powerful than battery-powered ones, ideal for heavy-duty snow shoveling. Gas-powered blowers can penetrate snow to greater depths, shoveling heavier and wetter snow more effectively than battery-powered ones.
Conversely, cordless snow blowers are designed for light snow and are ideal for cleaning smaller sidewalks or driveways.
Thus, in terms of power and performance, gas-powered snow blowers have an edge over battery-powered snow blowers.
Noise and Gas Emissions
Cordless snow blowers have more quiet operations than gas-powered types. The battery-powered models are integrated with less noisy engines. You can effectively operate them in the neighbourhoods without causing trouble to the neighbors due to their ultra-quiet operations.
Besides, the battery-powered snow blowers are environmentally friendly due to zero gas emissions. Using these blowers is a great advantage, especially with the current efforts and need to enhance environmental sustainability.
On the other hand, gas-powered snow blowers produce excessive noise and contribute to air pollution due to gas production. When operating, the gas is burnt, releasing greenhouses into the atmosphere, directly impacting the environment.
Thus, battery-powered snow blowers carry the day when considering the noise and gas emissions. This is one reason you want to acquire these units, especially when using your blower in residential places.
Maintenance
Regarding ease of maintenance, battery-powered snow blowers have an edge over their gas-powered counterparts. For instance, if you are operating battery-powered models, there are no concerns over oil changes, fuel storage, or spark plug replacements. The only primary consideration will be the need to charge the batteries regularly when they are depleted or eventually replace them when they are dead.
On the other hand, gas-powered snow blowers require regular maintenance that includes oil changes, fuel refills, and spark plug checks, which adds to the expense of operating them. Thus, on the maintenance aspect, choose battery-powered snow blowers over gas-powered ones.
Run time
Gas-powered snow blowers have more run time compared to battery-powered snow shovels. The battery capacity limits the run time of the battery-powered models. The run time can range between 20 minutes and one hour, depending on the model you have acquired. As a result, if you want to clear a larger area, you must stop between the snowing to recharge the batteries or change if you have the second pair.
Conversely, gas-powered snow blowers provide continuous and longer run time since you can easily refill them and continue with your snow-blowing job. If you have a large snow-covered area you want to clear, then a gas-powered snow blower is the most convenient choice.
Cost
Gas-powered snow blowers are less expensive upfront than battery-powered snow blowers. However, the battery-powered option is less expensive in the long run as you will not have to purchase oil, fuel, or spark plugs. The gas-powered options will require ongoing maintenance and fuel expenses, making them more expensive in terms of operation.
Start-up and Operation
Battery-operated snow blowers are easy to operate and start. You only need to push or pull a button or trigger to start the blower. However, the gas-powered models need manual starting involving choking, pulling, and priming of a recoil starter cord which can be tiresome and time-consuming.
How Many cc is a good Snow Blower?
The cubic centimeter (CC) rating or the engine size of a snow blower depends on numerous elements, including the size of the area to shovel, the type of snow, and the average snowfall in a given area. Ideally, snow blowers with a cc of between 200 and 400 will be suitable for residential use. If you intend to use the snow blower around your home, 200cc to 400cc is ideal.
If you intend to clear snow in smaller areas, use a snow blower with a lower cc between 200 and 300. For larger areas, choose a blower with a cc of between 300cc and 420cc.
Ultimately, the snow blower with a higher cc rating is more powerful, can handle heavier snow, and effectively clean larger areas. As such, you must consider the amount of snow you want to shovel, the areas covered by the snow, and the type of snow. Recall that different snow blowers' prices will vary with their engine performance. If you have a small area to shovel or not dealing with thick and heavy snow, choose a smaller cc rating which will be more affordable.
Frequently Asked Questions-FAQs
Q1. Is a battery snow blower worth it?
Yes, a battery snow blower is worth it. Aside from being environmentally friendly, it will save you the extra cost of buying oil or gasoline. The engine maintenance is cheap and runs with less noise than gas-powered blowers. Battery blowers also tend to be lighter and easier to handle.
Q2. What should I look for in a battery-operated snow blower?
Consider the battery type, capacity, and power run time when buying a battery-powered snow blower. Also, check the motor power and whether the blower has adjustable speed and chute controls.
Q3. How long does a battery-operated snow blower last?
The battery run time varies from one type of snow blower to another. However, most of the last 30-45 minutes with one single charge. The run time also depends on the kind of snow. Heavy and wet snow will deplete the batteries faster than light and fluffy snow.
Q4. Which is better: Cordless or corded snow blower?
Corded snow blowers work more steadily since they have a steady power supply, unlike cordless blowers that force you to stop working at some point to recharge. The high-power volt supply makes corded blowers more powerful. However, with corded units, you deal with cord tangles which can be annoying and inconvenient when clearing snow.
Q5. What is the easiest snow blower to use?
Single-stage snow blowers are the lightest and easiest to use. They have an easy-start push-button and are usually easy to maneuver. These blowers are suitable for clearing light snow in short, level driveways that are not more than 12 inches deep.
Q6. Which is better: A single or a two-stage snow blower?
Whether to use a single-stage or two-stage snow blower depends on your specific needs and the conditions in which you will use the tool.
For instance, single-stage snow blowers are ideal when shoveling light snow. The blowers are designed to clear light to moderate snow for up to 8 inches. Besides, the single-stage blowers are perfect on paved surfaces such as sidewalks and driveways.
Moreover, for ease of maneuverability, the single-stage blowers are the most ideal as they are smaller and lighter, making them perfect options for moving around. Also, due to their compactness, you can easily store them even when you have a small physical space. You would also consider this option when shoveling on level surfaces since it is auger-driven, scooping up the snow and propelling it through a discharge chute.
On the other hand, the two-stage snow blower is a powerful and heavy-duty blower designed for heavy and thick snowfall. Unlike a single-stage blower, the two-stage blower has an additional impeller fan to throw the snow to a longer distance, allowing efficient clearing in more significant snow-covered areas.
Also, the two-stage blowers feature powered wheels or tracks, offering better traction for packed snow. You can use the blower type on different terrain, including uneven surfaces, steep slopes, and even in steeper slopes.
Generally, with the conditions for use withstanding, the two-stage snow shovels are better than the single-stage blowers since they can throw snow to a longer distance forward and work faster.
Final Thoughts on The Best Cordless Snow Blowers
The type of snow blower you choose will depend on your intended purpose, the convenience level, and the kind of ground where you need to clear the snow.
If you're buying the best cordless electric snow blower for the first time, it's easy to be spoilt for choice.
However, we hope this review helps you find a machine best suits your needs. Whether you're looking for a high-end machine with the most powerful features or working on a budget, this list constitutes some of the best blowers in the market.