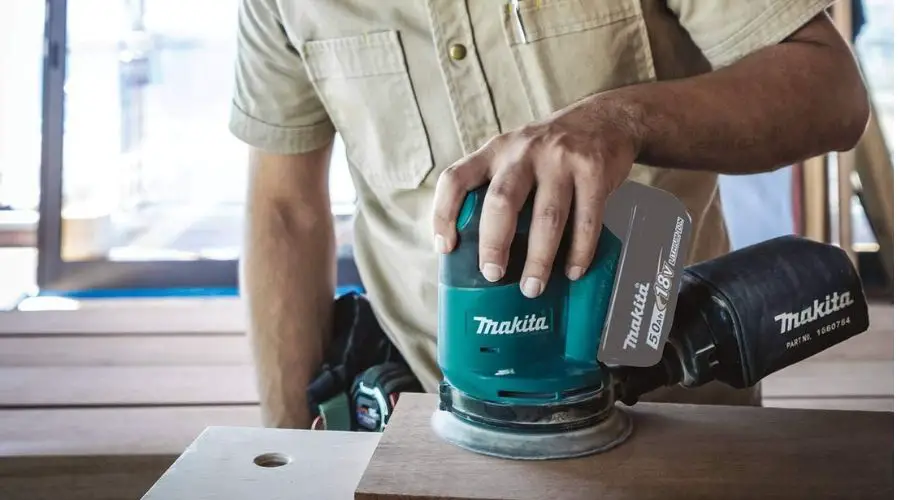 The wood, metal, and plastic surfaces can be rough and sharp at the edges when cut through joints and left unpolished. Such surfaces can pose risks to you and any other individual who comes in contact with them. Smoothing and cleaning wood surfaces make them safe to handle and look neat for various job applications.
The Sander power tool works miracles when polishing, smoothing, and cleaning wood, plastic, or metal surfaces. The models can also roughen the material surfaces when they are getting prepared for finishing. However, choosing the top models can be challenging, especially with the verse polishing tools available both online and in the markets.
In this article, we have done the legwork for you, listed and described the best cordless sander models. We have also provided a list of primary features you must consider before purchasing. The features facilitate ease, efficiency, and convenience when using this powerful tool.
Let's get started.
Also Read
What is a sander?
A sander is a power tool used to smooth and finish surfaces like metal, wood, or plastic by abrasion. The sanders help you remove material from a surface, and the sander moves a piece of sandpaper or another abrasive to clear and make the material's surface as smooth as you desire.
Furthermore, sanders are often used in various construction projects and woodworking to eliminate imperfections, smooth rough edges, or prepare surfaces for painting or finishing. Sanders rapidly rotates a sanding disc or belt coated with abrasive material like sandpaper.
Types of Sanders
There are various types of sanders to choose from in the market. The choice of a given sander will depend on a particular job and the type of material you are working with. Therefore, it is important to choose an appropriate grit of sandpaper for the desired finish and to use the sander safely. While using the power tool, you must also wear protective safety gear like goggles and dust masks to protect yourself from flying debris and dust.
Belt Sander 
Belt sanders refer to a type of sanders that use continuous loops of sandpaper wrapped around two rotating drums. The types of sanders are ideal for the woodworking shops primarily used to polish and smoothen the rough surfaces, hence perfecting the finishing woodwork. Besides, this type of sander design permits you to remove large amounts of material over a short period.
Also, belt sanders are ideal for removing material from large, flat surfaces and for leveling rough wood.
The belt is kept in place while in operation by tension controls and the alignment guides. The spinning of the electric motors fused in the sanders helps in the belts' forward motion, which makes the motor tool ideal for broad applications and, hence, a heavy-duty tool.
Perhaps the most preferred sander types for most of the woodworkers. Random orbital sanders are versatile, and this makes it possible to use them for various applications.
Even though they may not have the power as the belt sanders, random orbital sanders are efficient and convenient for polishing the woodwork piece to almost the same gleam as with the belt sanders.
Besides, the units are more affordable and easy to use. The models I have discussed in this review are mostly the random orbital types, and this helps show how important and convenient they are for smoothing and polishing jobs.
Most woodworkers prefer disc sanders due to their extensive usage. The models are known for their disc-shaped abrasive surface, which makes them unique. Not all disc sanders have random orbital motion, but the random orbital sanders all have the disc sanders, explaining the extensive use of the random orbital types.
The disc sanders are perfect for rough surfaces where you need to remove a lot of materials from the surface, and you can say when you have a thicker surface, and you want a more thin and sleek surface before you move on to a fine surface.
Besides, the sander type is more effective for stripping the paint from the old furniture because the models can get into places where other types, like belt sanders, cannot reach or access. They are light and compact, making them access the areas other larger and more powerful models like belt sanders cannot polish.
A palm sander is also called a finish or quarter-sheet sander. The sander type is designed to be held in the palm of your hand as you execute your project. It is a small-handled power tool that you can use for fine finishing work on different materials, primarily wood.
An advantage of using palm sanders is that they are lightweight and compact, allowing for easy handling and maneuvering. The sander type is a one-handed tool and is comfortable to hold.
As already mentioned, the palm sanders are best suited for finishing work on different materials with a primary focus on woodworking. You can use them on different wood surfaces, including furniture, cabinets, trim, and doors. Besides, they are effective at smoothing rough wood, removing small imperfections, and preparing the wood for staining, varnishing, and painting.
Apart from wood, palm sanders can also be used to sand drywall seams and joints to help create a smooth and even surface before painting or applying drywall compound.
Also, you can use palm sanders on metal, especially when you want to do heavy or light metal sanding, like preparing aluminum or thin sheet metal surfaces. The sanders can also be used on plastic surfaces such as PVC pipes or plastic furniture to eliminate rough edges or blemishes.
Uses of a Sander 
You can put your sander to various uses, especially when you are a professional in the woodworking sector and auto-body repairs. Such applications include but are not limited to;
Preparing the surfaces for finishing
Remove old paints or vanishes from wood
Prepping and stripping the floors
The removal of excess material from surfaces to get the desired shape or levels
Polishing and smoothing the planks and edges
Where to use sanders
For the professionals or the woodworkers, there is always a time and place when you do not need to do the sanding job by hand and use the power tools.
Hand sanding is ideal when working on intricate or small jobs where powered sanders or high-speed models can destroy surfaces or obscure sharp edges and fine details.
On the other hand, when you are dealing with large projects where there is work progress from rough surfaces to the fine-finished phases, then without a doubt, you must consider the robust models with high battery ratings to give the power and the efficiency needed for such applications.
So when do you need to use the sanders? The following are the various instances of using a sander, especially the cordless models, which can be of great help;
When making furniture. Perhaps the most ideal use of the sanders. Whether you do it as a hobby or a professional, you need a sander. The sanders in the case help smooth the finish and remove any stains or old paint on the furniture surface. This improves the physical appearance of your furniture and enhances its durability as a maintenance practice.
In the building of, the staircases. This is more of an art than carpentry. Building staircases requires experience in sanding. It would help to have a sanding model with both the power and speed to realize the desired smoothness. In such a case, you will require the cordless random orbital types of sanders.
Manufacturing of the toys. Toy production industries are another individual who massively needs cordless sanders as they make your work much more comfortable. The children handle the toys and are everywhere with them, thus requiring smooth handling surfaces that may not pierce or injure their hands. You need disc sanders for toy manufacturing as they are perfect for such work.
Best Cordless Sander 2023 Reviews 
Talk of a powerful model for sanding, scraping, or cutting wood or metal materials; Dewalt sander gives you just that.
The unit is fitted with a brushless motor that is energy efficient and delivers up to 57 percent more run time than the brushed models. This unit's absence of carbon brushes ensures energy loss through friction is minimized and improves its longevity due to reduced wear and tear.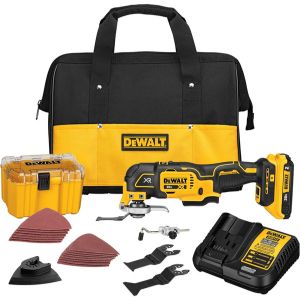 Also, if you decide to buy this unit, you can modify it based on the available accessories. The Dewalt 20V Max XR oscillating tool works with sandpaper pads, blades, and other accessories in the kit that aid in improving or applying materials of any kind.
Besides, unlike most models with a speed control dial for speed adjustments, this model has fused a paddle trigger in DCS355D1 for speed control. With this, you get greater efficiency and convenience of speed controls.
The motor unit ensures that this sander achieves the highest speed of 20000OPM at 1.6 degrees, allowing you to work on different materials regardless of their roughness or toughness. The tool has a quick change accessory system that allows blades and attachments to be quickly and rapidly changed without additional tools.
Dewalt 20V Max XR boasts a compact design with a weight of 3.2 pounds, which is just above the average, considering it's a multi-tasking tool. The lightweight is complimented by its 2.0Ah XR battery, which has a slim design. The battery has three LED lights that help show the remaining charge to limit unfortunate work breakdowns when the battery charge is suddenly drained.
Pros
LED lights to indicate the battery charge and illuminate the dimly lit surfaces
Tool-free blade changing system
High oscillations, attaining a maximum speed of 20000 OPM
Three-year warranty
Compact and sleek design
Cons
The paddle trigger cannot be locked
Buy On Amazon
Makita Sander is perfect for providing power, convenience, and maximum comfort when executing your smoothing and polishing jobs. With its 18V lithium-ion battery, this unit will provide a 20-minute continuous run time at a maximum speed of 11000 orbits per minute (OPM) with a single charge and go up to 40 minutes if you work with the low speed.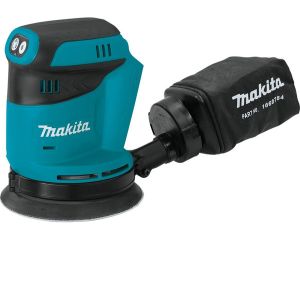 The sander provides 3-speed settings of 7000, 9000, and 11000 ORP. You can easily change the speed depending on the precision at which your surface is polished or how fast you want it done. The unit completes the speed settings with a pad control system used in the speed after start-up variation.
Makita sander has a smartly built ⅛-inch random orbital movement that ensures fast sanding and a swirl-free finishing. Besides, the model is built with a robust, comfortable grip fitted with an efficient dust collection unit. This will ensure you do not strain your wrist or fear the unit slipping and that you work on debris-free surfaces for accuracy and precision, respectively.
The lightweight and compact design adds to this model's convenience and ease of use. Weighing only 3 pounds, you can operate the tool with a single hand while enjoying your preferred drink with the other. The lightweight also permits easy maneuverability, while the compact design facilitates secure storage, ensuring it takes up the smallest space in your tool collection possible.
The power and variable speed buttons have also been placed strategically in front for easy access. The one-touch speed control button offers fast, medium, and low-speed settings depending on your preference and the type of material you are working on.
The organization has placed a three-year warranty on this unit to establish trust with the users and eliminate any worries about manufacturing defects you may have. However, this model has a slight demerit: it cannot be used continuously on large projects for over an hour. This can, however, be corrected by having an extra battery.
Pros
Lightweight and ergonomic design
Variable speed
Smart built a ⅛-inch random orbital movement for fast sanding and a swirl-free finishing.
Three-year warranty
Cons
Cannot effectively handle lengthy projects with a single charge
Buy On Amazon
Few orbit sanders can attain the speed of 11000 OPM. Black & Decker sander attains a high speed of 12000OPM that will enable you to rapidly remove material, stains, and paint on the wood or metal surface you want to use. The tool also complements this speed with the cordless convenience for small to medium applications and quick touches.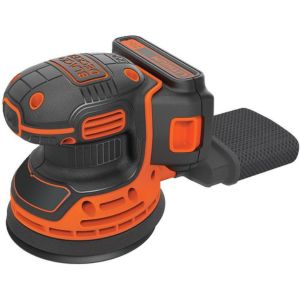 The sander is fitted with a dust canister that collects all the debris upon smoothing and polishing, leaving your work environment clean and kempt. Besides, no model beats this unit in compactness. It is 30% more compact than the leading competitor, Ryobi P411.
The model has an impressive runtime for finishing household jobs with a 20V battery that provides sufficient power for polishing and smoothing applications. It is also easy to replace the sandpaper since it has a loop and hook mechanism, complementing its ease of use.
The model is covered with a two-year warranty from the day of purchase. You can contact the company for a replacement or refund if you note any manufacturing defect. The unit has accessories, including one charger, two 5-inch round sandpaper sheets, one BDERO20 Orbit Sander, and a single 20V Max * 1.5Ah battery.
Pros
Compact design and lightweight for maneuverability and comfortable use
Boast a high speed for faster removal of stains and paints
The battery and the charger are included
Two-year warranty
Cons 
The grip may not be comfortable for extended usage.
Buy On Amazon
Dewalt Random Orbital Sander is a model that will give you the needed runtime and the power to execute your applications to completion. The unit has a 20V 5.0Ah rated battery that powers the model for extended use.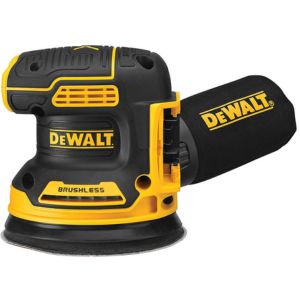 Moreover, this unit is fitted with a variable speed dial that you can use to choose your preferred speed between 8000 and 12000 OPM. The variable speed is essential, especially when working on different materials, whereby a high speed can destroy the required pattern.
It also features a dust collection bag that is secure and safe to collect polished particles. The benefit is working in a cleaner environment, and the results are smooth and neat surfaces.
The design of the system has considered your safety. The unit boasts a compact design with a molded ergonomic grip that gives you the comfort you need in your hands while operating. It has a replaceable 8-hook and loop sanding pad that ensures quick and easy paper changes. This system ensures you do not need an extra tool to change sandpaper.
Pros
It has a variable speed dial for speed variation for use in different materials.
Effective dust collector for a clean working environment
It is fitted with a brushless pad technology that ensures extended use
Cons
Buy On Amazon
Ridgid R8606B is a cordless sander with a complete dust collection unit a long-lasting battery, and robustly built for longevity.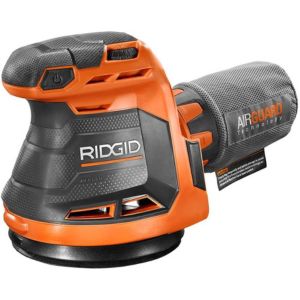 Unlike most models with 2-3 variable speed units, this unit boasts a 6-speed variable speed dial between 7000 and 11000 OPM. Its powerful lithium-ion battery, rated 18V- 4.0Ah, ensures the high speed. The battery gives a continuous run time of more than 45 minutes with a single charge.
The unit also features a patented new innovative GEN5X motor technology that delivers sufficient power, helps attain the constant maximum speed for different applications, and ensures the tool can work even under heavy load.
This model's dust collection canister is excellently positioned to gather up to 90 percent of the debris, enabling you to work in a clean environment. Moreover, if you find problems with the dust collector after the warranty period, you can conveniently replace it with a vacuum hose for the same role.
One drawback of this model is that the battery and the charger are bought separately, forcing you to spend extra pennies on adding them to your tool package. If not, the machine is just excellent for polishing and smoothing activities.
Pros
Powerful batteries for longer run time
Variable speed dial
The innovative motor technology for power and  high-speed
Dust collection canister to improve the environment of work
Cons
The battery and charger are bought separately.
Buy On Amazon
Ryobi is ideal for a sturdy, durable, and easy-to-use model. The unit has sanding pads attached through a hook-and-loop connecting system for optimal user convenience.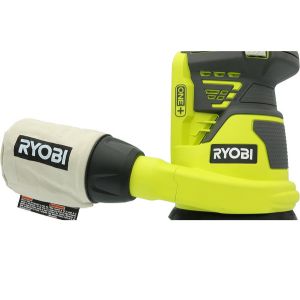 Often, the dirt from the polished surfaces would compromise the tool's efficiency. However, this is not the case with the Ryobi P411 model. It is fitted with a dust bag to gather any shavings from your work, eliminating the hassle of post-job cleaning.
The tool also boasts an impressive speed of 10,000 OPM. This unit's speed is ideal for any sanding and polishing job under appropriate pressure. However, the demerit of this system is that it lacks a speed control system. It operates under constant speed, but you can vary this by applying pressure.
Ryobi P411 model is fitted with a rubber overgrip with notches that makes it easy to handle and protects you from intense vibrations from its powerful motor. The grip helps keep you comfortable for long hours.
Pros
It has a comfortable and ergonomic grip
It is affordable
Three-year warranty
Effective dirt collector unit for clean working surfaces
Cons
It does not have a variable speed control and operates at a constant speed of 10000OPM.
Buy On Amazon
Porter-cable is another excellent smoothing and polishing tool built with long-lasting materials, has a comfortable design, and provides quality that defines the organization.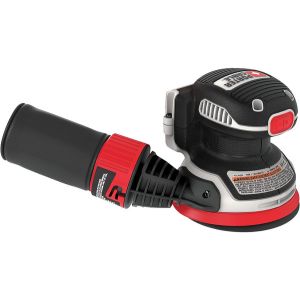 The model comes with a 20V lithium-ion battery that supplies sufficient power, resulting in an incredible 12000OPM speed that differentiates it from most competitors. Depending on your use, the battery gives at least a 40-minute run time with a single charge.
With this unit, you have absolute control, and the vibrations are eliminated with its low-profile design construction. It also features a dust collection canister with a 1-¼-inch port. However, when you feel this bag is not helpful per your job requirement, you can remove the bag and connect a vacuum hose to the port.
Like Ryobi, this unit lacks speed control, operating at a constant 12000 OPM speed. However, you can always attempt to control the speed manually through variations in pressure on your work surface.
Besides, this model's performance, efficiency, and ease of use are backed up by a three-year warranty to eliminate your worries over possible manufacturing defects.
Pros
High battery power for enhanced speed
Comfortable handle grip that eliminates wrist fatigue
Effective dust collector for a clean working environment
Three-year warranty to eliminate possible manufacturing defects
Cons
Lacks speed control system
Buy On Amazon
8.ACDelco ARS2016 BRUSHLESS 20V 3″ Mini Sander-Affordable 
If you are looking for a cheap and easiest model to operate, look no further than the ACDelco ARS2016 sander. The model boasts a high-efficiency level, fitted with a brushless motor that ensures effective transmission of energy to match its torque and speed levels to its applications' changing requirements, enhancing its versatility.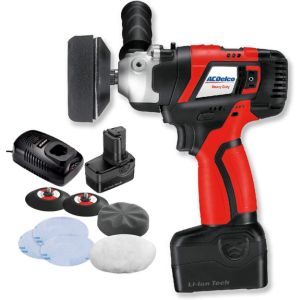 This unit is user-friendly. Contrary to its compact design, this model is fitted with brushless motors to ensure robust power transmission as the energy loss through friction is minimized.
Besides, its 6-⅛ inch long and lightweight two-positioned side handles offer an anti-slip and soft grip that ensures your wrist is not tired. It also features a variable speed control between 3000RPM and 7300 IPM characterized by reversible control and an electric brake switch for fastening applications.
With this unit, you also benefit from the longevity of your tool. The fitted brushless motors reduce wear and tear, improving its durability. Also, the brushless motors ensure a longer run time and save energy, hence energy efficiency.
The model has an in-built LED lighting system that helps illuminate your working surface and the battery indicator lights to help determine the charge left before recharging.
Pros
LED lighting system for enhanced visibility of the working surface
Enhanced durability due to powerful brushless motor
Compact and lightweight with a comfortable handle
Variable speed
Cons
Suitable for small to medium jobs
Skil 7305-01 model is the most affordable unit among the best cordless sanders today. Its ability to use the Ni-CD battery and the lithium-ion types makes it an outstanding unit worth your investment.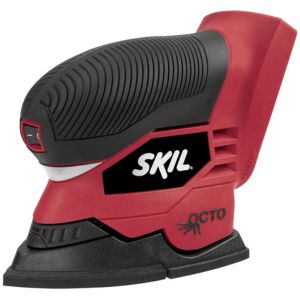 The model boasts a quick pad change system. You do not need an extra tool for the change, and this enhances its ease of use. The three-position nose detail ensures maximum abrasive use, facilitating its efficiency.
Skil sander features a soft-grip design for enhanced comfort and control. The soft grip ensures you can use this model for long hours without getting fatigued in your arm, and the grip also helps minimize the vibrations.
Pros
Affordable
Comfortable grip
Reduced vibrations
Quick pad change system
Both Ni-CD batteries and Lithium-ion batteries are compatible
Cons 
Suitable for small projects
Buy On Amazon
Most people have not realized the value of this model due to its price tag, but for the sanding experts, Festool 201531 is one hell of a tool whose efficiency is unquestionable. The model also beats most competitor brands with its multiple features and quality design.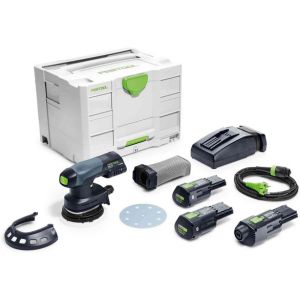 Unlike the other models I reviewed, this unit is a hybrid sander that works both with electricity and battery. The feature makes the tool more versatile and capable of being used in different working environments. It is not limited to battery only like other cordless models, which complements its endless run time.
Moreover, the battery for this unit charges after only 25 minutes and can last over 30 minutes, with the model operating at maximum speed. You are also assured of working in a clean environment as the unit has a dust collector to help you gather all the debris while polishing.
Festool 201531 has a non-slippery and comfortable handle that ensures balance and limits fatigue on your arms when using the tool. It is constructed from robust and sturdy materials that add to its longevity, while the variable speed dial allows you to choose a desirable speed between 6,000 and 10,000 OPM.
Pros
More versatile tool
It is comfortable to use
Robust and sturdy design
A highly effective dust extractor
Cons
Buy On Amazon
This Makita XOB10T model is the best when you need a unit with adequate speed for faster material removal, and it is highly ideal for woodworkers.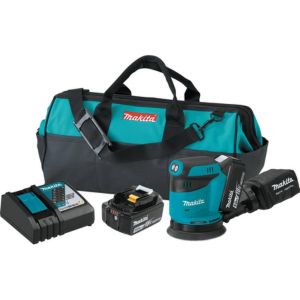 This unit features three different speed settings of 7000, 95000, and 11000 OPM that can easily change with an electronic switch. The unit also boasts a longer run time of up to 40 minutes with a single charge. However, the model can consistently run for over 65 minutes at low speed.
You will also enjoy easily removing the stains or paints and smoothening the wood surface, thanks to its sturdy ⅛ inch random orbit oscillations that add to a swirl-free finish.
You can also limit the free spin, which adds to the enhanced finishing of the model. The tool has included a one-touch electronic speed control that offers fast, medium, and low settings. This makes its operation straightforward, just what you need for an efficient tool.
Pros
Improved performance and longevity due to its star protection technology
Variable speed dial
Sturdy ⅛ inch random orbit oscillations that also add to a swirl-free finish.
Hook and loop system for secure operations
Longer run time
Cons
Buy On Amazon
Best cordless sander Buyers' Guide
There are various sander models and types available in the market today. However, before you settle on a particular unit, you must first know what project or application the sander is for and the various features that will improve its performance.
What to consider when buying best cordless sander
Speed (OPM) 
The rate at which the sanding discs spin is measured in orbits per minute (OPM). The higher the OPM, the faster the sanding. Thus, when buying a sander, you must consider the unit's speed level.
Most units have variable speed, while a few have a constant speed. We recommend that you consider a model with variable speed, as this will help you work on different materials. The delicate materials require low-speed operations, while sturdy materials require high speed. You can only achieve this when you acquire a model with variable speed settings.
Also, some sanders work effectively at high speed. Most models we have discussed have a maximum speed of between 10000OPM and 12000OPM. Such speeds are appropriate for any polishing job and can help you execute your work within the shortest time possible.
The good thing about the models with variable speed settings is that they are easy to control. Therefore, you must know the type of material surface you intend to work on, and then you can effectively choose the best speed for your application.
Most significantly, if you want to polish different surfaces, you should consider buying a sander with variable speed control.
Hand Grips
Though some people may not consider it essential, the hand grips are fundamentally essential features that you must consider when making your preferred sander's purchase decision.
There are enhanced vibrations with powerful sanders, while the smaller and more lightweight units require intricate control to help you not damage the surface of your working material.
Thus, before you buy any sander, consider the composition. Buy a unit with a soft grip since this will make it easier to hold and control your sander and realize your desired outcome.
Battery
Battery power is one of the essential considerations you must make before making a purchase decision. The cordless sanders utilize the rechargeable lithium-ion batteries as their sources of power. Besides, other units, such as SKILL models, can use lithium-ion and Ni-CD batteries to your advantage.
You should note that the higher the battery voltage, the faster the unit. A high battery rating results in more power supply, high speed, and run time.
For the cordless sanders, the batteries have between 18V and 20V. When you intend to use the tool at home or on small projects, the 18V-rated model will be the most ideal. However, it would be best to consider a model with a high voltage of 20V for extended use for professional applications.
Thus, based on your work's nature and the type of material you want to work on, you can effectively choose the best model and battery voltage.
Dust Collection Unit 
Who does not want a clean environment for work? Absolutely none. Working in a clean environment enhances your work efficiency and the accuracy and precision with which you do your work.
Before you settle on the best cordless sander, you should look into the dust collection unit. Various elements define the dust collection canisters. The elements include the size, the option of dust collection, and the ease of removal.
When buying a model, select a unit with a large dust canister. This will save you the hassle of continually emptying the dust bag between jobs. Secondly, consider the dust collection options available with the unit you intend to buy. Some canisters directly collect the dust as you sand, while some are connected to the external vacuum hose.
Thirdly, you must consider the ease of removal. Go for a model you can remove with a single hand while the other sands. It would help if you determined whether the unit is detachable, as this will help connect with the external vacuum.
Warranty
Trusting a brand you have not used before, especially when you are not a professional, can be a hell of work. Not all products you buy are always 100% efficient. Some come with numerous but unnoticeable manufacturing defects.
The warranty periods that the organizations use to cover their products from the time of purchase are essential to establish trust in using their products. The more extended the warranty, the higher you will put your trust in that particular unit.
For the cordless sanders, the warranty periods are between one year and three years. When an organization gives a more extended warranty, they are sure of the quality they are giving you. If you find the model defective, you can always contact the organization's customer care before the expiry date of that warranty cover. Choose a model with a more extended warranty.
The below video shows how to use an orbital sander. Learn some basics and do some amazing finishing work on your wood, metal, or plastic surfaces.
Conclusion
Machines or tools are designed to make work easy and save you time. When you want to buy a machine, the ease of use, convenience, comfort, and efficiency should be primary influential elements to your purchase decision.
We have made the DEWALT 20V MAX XR Oscillating Tool top of my list because of its high efficiency, comfortable handling, and ease of use. The brushless motor technology in this unit ensures high-energy transmission, providing you with a huge run time while supporting its longevity through reduced wear and tear.
Overall, the units we have reviewed in this article boast the highest quality and efficiency. You should never have a second thought to acquire any of them as they are efficient and have the top qualities for improved performance.