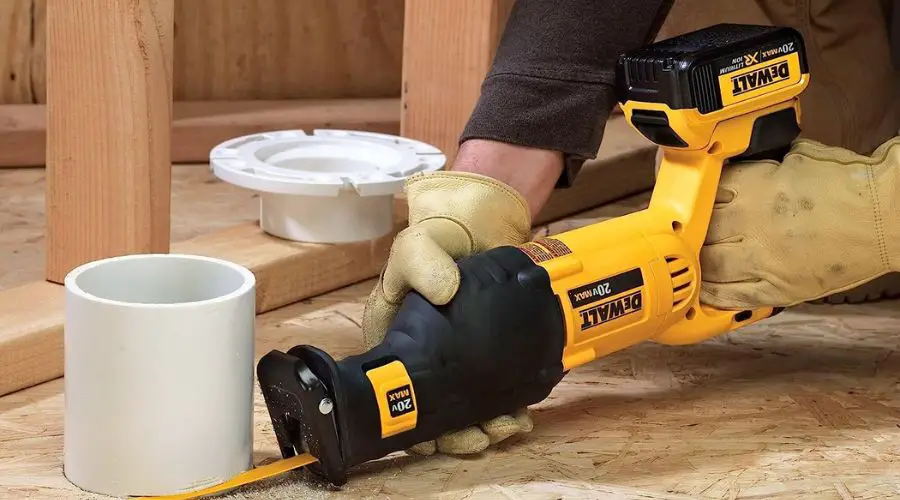 A reciprocating saw is one of the most excellent and sought-after tools, perfect for demolition and construction work. The tool allows you to conveniently and quickly cut materials of different types and thicknesses.
However, choosing the best cordless reciprocating saw can be daunting due to the numerous saw models available. With the multiple models, it is unsurprising that settling for the best option to suit your needs can be a constant task.
In this review, we have researched, tested, listed, and described the top cordless reciprocating saw units versatile for different applications. You will also find helpful information in the buyers' guide to help you make the best purchase decision. Read on.
Best Cordless Reciprocating Saw of 2023 At a Glance
Best Cordless Reciprocating Saw Reviews 2023
DeWalt 20V max boasts exceptional positional versatility and permits flush cutting, making it an ideal power tool for construction and demolition works. Its lightweight and compact design will allow you to make cuts even in hard-to-reach or tight spaces.
The model features 4-position blade clamps, increasing its positional versatility and allowing you to cut flush. Thanks to its keyless, four-position blade camp, you can conveniently change blades for varied applications. The speed of cuts is also improved by this unit's 1-1/8 inch stroke length.
Furthermore, with this saw, you have complete and enhanced control while you can also control the cuts' speed using a variable speed trigger with 0-3000 strokes per minute. The speed variation helps increase the precision and accuracy of the cuts, as you can change the speed based on the type or nature of the material you are working on to limit damages.
DeWalt saw is characterized by other features that enhance its ease of use and comfort while boasting a significant convenience. For instance, the unit features LED lights that ensure you can work even in dimly lit areas or even at night. Besides, its pivoting adjustable shoe enhances its longevity while providing that you can achieve cut control depth.
However, the tool has a drawback: the battery and charger are sold separately.
Pros
Lightweight and compact design for easy transportation and working in small spaces
Variable speed trigger for speed controls
4-position blade clamps that increase its positional versatility
LED lights for enhanced visibility of the working surfaces
Pivoting adjustable shoe enhances its longevity and the depth of reach
Cons
Battery and charger are sold separately.
Buy On Amazon
Black + Decker is an efficient reciprocating saw with unique features that improve its versatility. The unit features a variable speed trigger and a pivoting shoe for enhanced control. Moreover, you can change the blades without additional tools to offer fast and convenient performance.
This saw boasts an impressive high speed of up to 3000 spm to improve the tool's control and handling, ensuring faster cutting. The model has a powerful motor controlled by a variable speed trigger to ensure you cut with the desired precision.
Moreover, you can use this tool with a high level of comfort. Black + Decker BDCR20C does not produce any vibration. Instead, the power saw features a dampening technology that helps eliminate vibration. With a single charge, the model can deliver up to 30% of the work before recharging.
Additionally, unlike other units where you must spend extra pennies to purchase the charger or battery, BLACK+DECKER BDCR20C 20V includes both the battery and charger in the package.
Pros
Battery and charger included
High speed of up to 3000 spm for enhanced cutting
Variable speed trigger that controls a powerful motor for improved performance
Easy to use
Dampening technology for reduced vibration when in use
Cons
An instruction manual is not up to the mark
Buy On Amazon
The Porter-Cable model is a handy tool with a compact design and is lightweight for extended use and limited fatigue. With a length of 14.5 inches, the unit can help you reach tight spaces.
The unit features an outstanding motor that delivers between 0-3000spm, ensuring you can cut at the desired speed. This unit gives you the luxury to change the blades quickly and conveniently without an additional tool due to its tool-less change system.
Moreover, this unit gives you significant control over the material you are working on. It features a pivot shoe that will help you maintain contact with the material you are working on. This is made possible with the variable speed trigger that also ensures you apply the right speed depending on the material cut's strength.
Pros
Tool-free blade changing system
Pivoting shoe that helps improve your control of the tool
High speed of up to 3000 spm for quick and accurate cutting
Lightweight and compact design for extended use and cutting even under tight spaces.
Cons
Battery and charger separate
Buy On Amazon
One feature that makes Makita XRJ04Z a perfect model for construction works is its tool-less blade change system that permits faster blade installation and removal for improved productivity. It also ensures that you use the needed blade for its intended purpose in your construction work.
This unit features a built-in variable speed motor that provides 0-2800 strokes per minute that complements its 1-¼ inch stroke length for faster and in-depth cutting. The variable speed system adds to the cutting convenience. You can choose the speed you need for different materials (less speed for delicate materials and high speed for robust materials).
The unit has a compact and ergonomic design at only 19-⅛ inches long, ensuring you can do your cutting even in the smallest spaces. Added to its lightweight of 8.3 lbs for reduced operator fatigue, you can effectively work with this unit for an extended period and easily carry it to different workstations.
The model has additional features such as a two-finger trigger and an electric brake system in its handle that enhances comfort and an outstanding cutting and sawing performance. The battery takes less time to charge, and this helps you reduce the charging interval.
Pros
A fast-charging battery for limited work disruptions
Compact and ergonomic design for cutting in the hard to reach places
Variable speed trigger to control the cutting speed
The two-finger trigger and electric brake system for enhanced performance
Lightweight for reduced fatigue and transportation
Cons
The product manual is not up to the mark
Buy On Amazon
The WORX WX550L is a 2-in-1 tool you can use as a reciprocating and Jigsaw. The unit has numerous unique features that make its cutting work convenient and exemplary. It has a pivoting, push-button head will allow you to turn the reciprocating saw into a jigsaw and back within a second. It thus reduces the hassle of having more tools in your collection.
The unit boasts a lightweight, weighing only 4.2 lbs and a compact design that allows you to maneuver quickly, make intricate cuts and work longer with less fatigue. Also, with this model, you are sure to work in a clean environment as it comes with a dust blower that helps keep the dust and debris away from the surface of your cut. This provides you with clear visibility of the cut and a working environment that is pleasant.
WORX's battery is multipurpose. The WORX PowerShare ensures that this unit's battery powers different tools, both 20V and 40V tools. Thus, you can use its batteries to power other models in your tool collection. Also, the model can use any standard reciprocating saw blades, enhancing its versatility.
Different blades make this tool ideal for use in different materials that can be ceramic, tile, plastic, tree limbs, steel, or even aluminium. Added to its orbital cutting, its slight circular motion is more efficient for most materials than the traditional back-and-forth stroke. The tool makes you do your jobs faster and with less strain on your hands, hence comfortable to use.
Pros
The two-in-1 tool, that is, you can use it both as a jigsaw and reciprocating tool.
It is a high-quality saw, and this improves its life, hence high longevity.
Characterized by an innovative motor design
Built-in dust blower for improved working surfaces
Powerful motor for high performance
PowerShare technique for versatility
Cons
The safety switch is not intuitively placed.
Buy On Amazon
Bare-Tool Milwaukee is one of the best models in the market today. Perhaps, its patented gear-protecting clutch technology makes this tool one of the most sought-after models. The technology facilitates an extensive use of this model by reducing wear to the essential parts of the saw and thus improving its longevity.
Moreover, this tool limits the worries of possible work breakdowns. The unit comes with the onboard battery fuel gauge that helps show you the remaining charge so you know when to recharge your battery. However, the battery does not come with the tool but is bought separately.
You can also easily remove and replace the blades without using additional tools. The unit features a lever-action QUIK-LOK blade clamp that permits the tool-less blade change. Added to its variable speed trigger, you can match the saw's speed to the nature of your project and the blade in place or use. This improves your work output with accuracy and precision.
The model comes with top-notch gear with a smooth and soft-grip handle. The unique handle ensures comfort in your hands and reduces vibrations that can compromise your output or machine performance accuracy.
Pros
Patented-gear protecting clutch technology for improved performance
Smooth and soft grip handle that reduces vibration and improves comfort in your hands
Onboard battery fuel gauge to display the remaining charge and prevent work breakdowns.
Tool-less blade change system
Cons
Buy On Amazon
The Milwaukee 2720-20 M18 model is equipped with the latest REDLINK PLUS intelligence technology that provides the tool with the highest level of efficiency in performance. The technology helps protect the tool against overheating and over-discharging when in operation. Still, the REDLINK PLUS technique ensures overload protection using total system communication between the charger, battery, and tool.
The unit operates on a REDLITHIUM XC 4.0 Battery pack that offers a superior pack construction while ensuring more work per charge. The battery type also has a higher life than the other competitive models. You can effectively work even on dimly lit surfaces as the unit is integrated with an LED lighting system for enhanced visibility.
The unit is integrated with a POWERSTATE Brushless motor that supplies it with constant power to ensure faster cuts and reduce overheating, guaranteeing the tool's longevity. With a speed of 3000 SPM, you expect this model to tear through your projects effectively. The onboard LED lights also help illuminate the cutting space.
This unit perfectly matches the people who need real power to handle their projects. The power offered by its brushless motor gives you the required power, which improves its run time. The high power transmission is due to the reduced frictional forces, unlike with the brushed motors.
Pros
Quick charging battery and a longer run time
Heavy-duty model
It is ideal for both the indoor and outdoor projects
LED lights to illuminate the working surfaces
High speed for faster cuttings
 REDLINK PLUS intelligence technology provides the tool with the highest level of efficiency in performance.
Cons
Its plastic parts may seem flimsy.
Buy On Amazon
Best Cordless Reciprocating Saw of 2023 Buyers' Guide
The reciprocating saws are power tools that can be applied to several uses and can cut almost all the available construction materials at your disposal. Moreover, you can use the models to prune tree branches, which makes them perfect additions to your tool collection.
When you make a purchase decision, always go for saw models that are rechargeable and portable. This will ensure you are not restricted to a single workstation, and you can use the model even in places without sockets or electrical sources.
Why do you need a reciprocating saw?
Various saws are designed for a specific job, while some are multipurpose. Find a list of some of the reviews we have done on other saw models at the end of this article, including chainsaws, pole saws, jigsaws, miter saws, and circular saws, all designed for different purposes.
Usually, you may apply the different types of saws in various projects that may include;
The carpentry work
The demolition and construction works
Replacing flooring
Trimming, especially the tall tree branches (pole saws)
Undercutting
Cutting out the studs and plates
Most saws are designed for work on varied surfaces or materials. Most saws work on wood materials, while some can be applied to drywall. Moreover, other materials such as ceramic, tiles, or even metals where the saws are used, especially the models with different speeds for speed, vary based on the nature of the material you are working on.
Thus, if you have maintenance projects, want to trim tall tree branches, or intend to pursue home improvement duties, you must have a saw for such tasks. There are perfect tools for your tool collection.
 Reciprocating Saw vs. Jigsaw 
Typically, you can confuse the roles executed by the Jigsaw with that of a reciprocating saw. The two saws belong to the same family, and there are models such as WORX WX550L 20V AXIS 2-in-1 Reciprocating Saw that combine the two models. It can be used both as a reciprocating saw and Jigsaw.
However, various elements can help you differentiate Jigsaw from the reciprocating saw, while there are also numerous similarities that these saws share.
Similarities
The saws employ the same motion while in operation. The reciprocating saw, and Jigsaw works through pulling and pushing motion while you apply variable speed. The back-and-forth motion is integral as it allows for both vertical and horizontal cuts, enhancing the versatility of these units.
Weight. Both the cordless jigsaws and reciprocating saws are lightweight and boast compact designs. The reciprocating saws have an average weight of between 3-5 pounds, while the weight of the Jigsaw is between 5 and 12 pounds. Such weight is vital to improving such tools' portability and the ease of maneuvering around your projects.
Differences
The strokes made by the saws. A reciprocating saw makes both horizontal and vertical strokes. The saw models can also make blunt cuts based on the stroking length. For instance, the units with longer strokes are perfect for demolition works, while the short strokes are ideal for wood cutting, especially during construction. On the other hand, the jigsaws make bevel and compound cuts. Unlike the reciprocating saws with long and short strokes, the jigsaws tend to have long strokes, enabling them to create curved, circular, and even parallel cuts.
The Jigsaw is used on ceramic, particleboard, plywood, metal, wood, and plastics. In contrast, you can use the reciprocating tool on various metals, including steel, aluminium, copper, iron, and wood with nails. Like jigsaws, the tool works on wood, lumber, and plywood.
The uses of these models also tend to vary. For instance, reciprocating saws are primarily used for demolition and construction works. The units can cut through metals and are ideal for taking down walls. Moreover, they impressively cut through lumber, especially when your job requires much power. On the other hand, Jigsaw is perfect when you need precision. They are best used on wood products and, importantly, on delicate materials to prevent damage due to the accuracy and precision that characterize the units. They are, however, not useful for demolition projects.
The jigsaws are mainly used for the bevel cuts when you want to mold when you are working along with tight spaces, when you need to make straight cuts on wood or laminate and when you are making precise cuts into plasterboard to make holes for electrical outlets.
The video below compares Reciprocating Saw vs. Jigsaw
What to Consider when Choosing the best reciprocating saw
Battery Power
Since the cordless reciprocating saws run on a battery, it becomes an integral feature you must consider. This will complement the nature or size of your project. For instance, consider a high-volt battery model when you intend to work on a large project. The higher the voltage, the longer the run time or the batteries, which means you can use the tool for a longer time with a single charge.
You need to choose a model with a powerful battery to help you use the model at full speed and still hold a charge for a sufficient time. When choosing any model, select a model with a fast-charging feature to ensure you will not have a more prolonged work breakdown as your battery recharges.
Moreover, you should look into your products' package and ensure you know the accessories that come with your saw. For example, most organizations or saw brands sell their products with batteries and chargers in the package, while some sell them separately.
Even though this is not a big issue, you must know that you can buy them independently if the battery and charger are not included. Even if it was the case, you could still purchase additional batteries to give you a longer run time so that the other is used as one charge.
Size and weight 
Your model's size and weight are vital to consider before purchasing. Being comfortable with your model while executing your projects would be best.
When buying the best cordless reciprocating saw, buy a compact, lightweight unit. The compact design enables you to work even in hard-to-reach areas or smaller spaces while also facilitating the secure storage of your model in your garage.
On the other hand, lightweight models ensure that you can easily maneuver as you execute your projects without fatigue. Also, a lightweight will cause less strain on your hands, ensuring you are comfortable with the machine. You can also easily transport the tool from one workstation to another.
Another critical consideration that characterizes weight is the place of use. If you plan to use it in a single workstation and have a board to rest it as you work, you may go for massive and sturdy models. However, consider lightweight and compact reciprocating saws if you need to maneuver through space.
Blade changing mechanism
The ease of changing and adjusting the blades is a crucial element you must consider before purchasing. The blades' functionality is primary when considering the tool's convenience and ease.  
All the saw models I have reviewed in this article have a blade clamp system that permits the tool-less blade change. The feature ensures that you do not need another tool to fix or change the blades depending on the material you want to work on. The clamps facilitate a smooth release of the blades and are thus an integral feature.
Also, the WORX WX550L 20V AXIS 2-in-1 Reciprocating Saw accept different standard blades. Such a model will be essential, especially when you want to put it to multipurpose use. It is also necessary for your tool collection due to its versatility.
You must consider a model where you can change and use the other units' blades. It will ensure that you continuously use sharp blades to facilitate the speed at which you execute your project.
Speed
The cutting speed is a crucial determinant of the type of model you want to buy. Most models have a variable speed trigger to help you choose the most desirable speed for your material. The units operate at a speed of between 0 and 3000 strokes per minute (spm).
When buying a reciprocating saw, ensure you choose a unit with a variable speed trigger, as it will help you select a speed depending on the strength of the material you are cutting. The durable material will require a high speed, while a delicate and soft material will need a slow speed to ensure you have not destroyed the material you are working on.
Comfort
Though not a primary issue to most users, comfort is integral when you intend to work with your tool for long hours. Choose a model with a comfortable handle grip to help prevent stressing your hands out.
Some models are also equipped with vibration dampeners to help limit or eradicate the vibration that makes your hands uncomfortable when the tool is in action. A good example is the Black + Decker Cordless Reciprocating Saw. Some also have a comfortable molded rubber grip to help with your needed comfort. Ensure that your model will give you the required comfort for extended use.
Maintenance practices for a reciprocating saw.
Good maintenance practices help improve your tool's longevity and save you the extra costs you would otherwise have used for the repairs. Like other standard DIY tools, the reciprocating tools also have certain maintenance practices to improve their life. Such maintenance practices include;
You should regularly clean your reciprocating saw. 
When in use, the saws attract dust and debris that build up on their surfaces and compromise their efficiency resulting in the reduced lifespan of the tool.
You should always maintain your model's cleanliness to prevent the build-up of debris and dust that can get stuck in the motors and promote it breaking down faster. You should also avoid using harsh chemicals on your tool while cleaning since they may result in the degradation of milder parts of the unit, like the plastic parts and the rubberized handles.
When cleaning the reciprocating saws, you can use a cordless vacuum cleaner or even a cordless leaf blower that is perfect for removing any debris that may get stuck in its vent. When cleaning, ensure you have protective wear to protect your eyes from the ejected debris.
It can be integral to buy a reciprocating saw model with a dust collector unit to help keep your working surface clean and for the ease of removing dust and debris particles.
You should insert and remove the blades while being guided by the manual 
The manufacturers always provide a manual to help determine how to insert and remove the saw blades. Before you do anything with your tool, you must learn from the manual, especially as a first user, how to insert and remove the blades to reduce potential damage.
You must realize that when the blades are forced into place or in the wrong direction, you may destroy your unit's structural soundness. Also, remove the blades from the saw once they have cooled down properly. This is important to protect you from possible burns.
 Use the right accessories for the right applications  
The various accessories that come with the reciprocating tools are essential for improved performance. You should ensure that you have your lubricants and the right power source depending on your work's nature.
For instance, when you want to work on materials with high tensile strengths like concrete, ceramics, or masonry works, you will need a lubricant to reduce the damage caused on the saw blades. The lubrication does not only improve the efficiency of the machine but also enhances its lifespan.
Ensure you use a non-flammable lubricant that cannot get ignited under friction because this will cause more harm than good to you and your unit.
You must also learn about the type of material you want to work on and the saw blade suited for that work. Ensure you use the right accessory for the proper procedure or intended use. You should not attempt to force the blade for the work it is not intended for, resulting in significant damage to your reciprocating saw.
The below video shows how to maintain a cordless reciprocating saw
Conclusion 
Choosing the best cordless reciprocating saw will ensure you get the right tool for your project. Any machine's efficiency, comfort, convenience, and ease of use are fundamental for you, and you must buy a model that will give you just that.
In this article, we have listed and described the top reciprocating tools in the market that will give you the best user experience. Our top pick is DEWALT 20V Max Reciprocating Saw. This unit is lightweight, compact, and has a long-lasting battery for extended run time.
Also, WORX WX550L 20V AXIS 2-in-1 Reciprocating Saw is an excellent unit that gives you a reciprocating tool, but you also get a jigsaw when you buy this model. The most exciting element of this unit is that it comes with a dust blower that will ensure you work in a clean environment and that your cutting line is free from debris.
However, all the units listed in this review will give you the best user experience. They all have the primary features of interest for the best cordless reciprocating saw models. As you peruse this guide, we hope you find the model that best suits your needs.