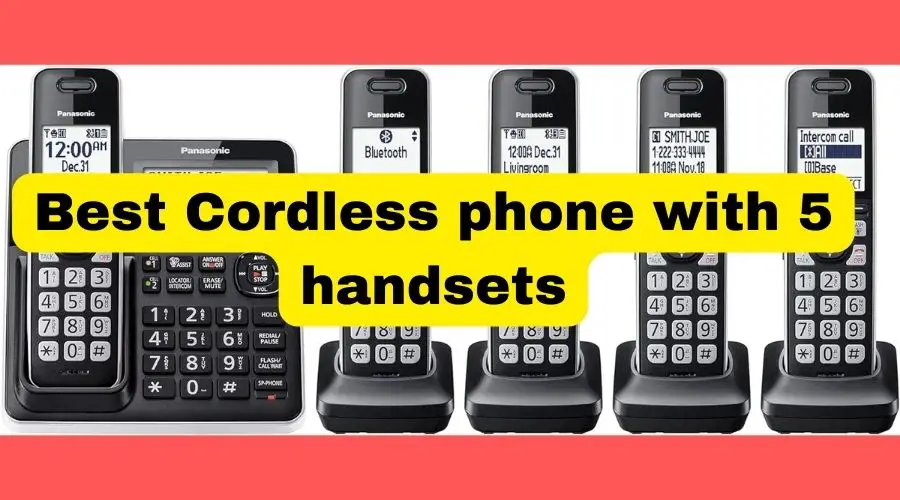 Are you considering upgrading your home phone system with five handsets for enhanced and convenient communication? The best cordless phone with 5 handsets is your go-for.
However, because cordless phones have become the most sought-after devices in the markets due to technological advancements and the need for convenience, especially among seniors, numerous models are flooding the markets. As such, you may face challenges in choosing a unit that will serve your needs.
Do not fret. We've scoured the market to bring you the top contenders, each offering unique features to elevate your telecommunication experience. From Panasonic's advanced call-blocking technology to AT&T's expansive range and Bluetooth connectivity and VTech's extended range and user-friendly design, we have listed the best units to give you the desirable communication outcome.
Say goodbye to missed calls and hello to seamless connectivity. Let's get started.
Also Read:
Best Cordless Phone with 5 Handsets of 2023 Reviews
One of the advanced cordless phone systems that provides a wide range of features to enhance your communication experience is the Panasonic KX-TGF975B. The unit boosts an advanced call block system to keep you from the annoying telemarketing calls and robocalls interrupting your day. The Advanced Call Block feature on the KX-TGF975B allows you to easily block unwanted calls, ensuring a peaceful and uninterrupted phone experience.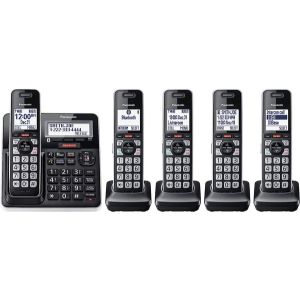 Like the Panasonic KX-TGE645M DECT 6.0, the Panasonic KX-TGF975B has a link2cell Bluetooth connectivity feature to let you sync your cell phone to the Panasonic handset via Bluetooth, allowing you to make and receive cell phone calls from the comfort of your cordless phone. No more running to grab your mobile when it rings, which is incredibly convenient if your cell phone is charging in another room.
In an era where scam calls are increasingly prevalent, Panasonic KX-TGF975B comes with a one-ring scam alert feature to provide security by alerting you with a single ring when a potential scam call is detected. It helps you avoid falling victim to fraudulent schemes, giving you peace of mind.
Recording meaningful phone conversations can be crucial, whether for business purposes or to keep track of important information. This unit is integrated with the 2-way recording feature, so you can easily capture both sides of a conversation, and the built-in answering machine ensures you never miss an important message. Quite incredible.
Pros
2-way recording feature to capture both sides of a conversation
One-ring scam alert feature to offer enhanced security and keep you from scam calls
Link2cell Bluetooth connectivity feature to let you sync your cell phone to the Panasonic handset via Bluetooth
Call block system to prevent unwanted calls
Cons
Buy On Amazon
Are you in the market for a reliable and feature-packed cordless phone system for your home? Look no further than the AT&T CL82507 DECT 6.0 5-Handset Cordless Phone with Answering Machine. This impressive device offers a range of crucial features that will enhance your communication experience at home, making it a compelling choice for those seeking an upgrade in their phone system.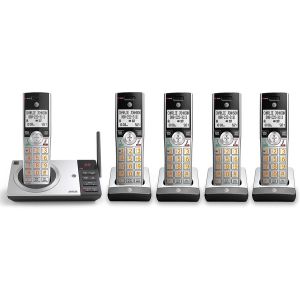 One of the standout features of the AT&T CL82507 is the inclusion of five handsets. This means you can place phones in different rooms, ensuring you never miss an important call or message, regardless of where you are in your home.
Besides, this cordless model is integrated with DECT 6.0 technology to provide crystal-clear, interference-free audio, allowing for conversations with unparalleled clarity. No more dropped calls or distorted voices, making your communication smoother and more enjoyable.
The built-in answering machine ensures that you'll never miss an important message. This phone model can record up to 22 minutes of incoming messages, and you can access them remotely, providing peace of mind when you're away from home. Exciting!
Pros
The phone system has caller ID and call-waiting features to screen calls and decide whether to answer or let them go to voicemail.
The phone's large backlit display makes it easy to read caller information and navigate menus, even in low-light conditions.
Enjoy the richness of HD audio with adjustable equalizer settings.
If your home communication needs change in the future, you can expand your phone system by adding more handsets, up to a total of 12. This scalability is a valuable long-term investment.
Cons
The battery may not have a longer runtime for heavy use.
Buy On Amazon
If you're looking for a reliable cordless phone system that will provide comprehensive features to meet your communication needs, look no further than the Panasonic KX-TGE645M DECT 6.0. This exceptional phone system delivers crystal-clear call quality and offers a range of essential features that will enhance your everyday communication experience.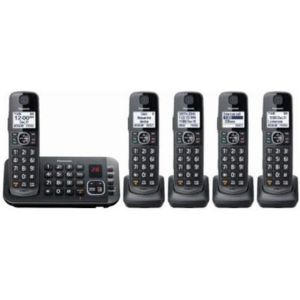 This cordless phone has DECT 6.0 technology, ensuring interference-free and secure calls. This is vital to maintain the clarity of your conversations, primarily if you operate a business or want to make personal calls.
Also, if you invest in this reliable device, you'll get six handsets included. Still, it can support up to six additional handsets (12), allowing you to place phones in multiple rooms and ensure you never miss an important call. This is perfect if you operate a larger office or have multiple rooms in your residential place.
What's more? Say goodbye to missed messages and essential voicemails. The built-in digital answering system can record up to 17 minutes of messages. It's a convenient feature when you can't answer the phone, and it provides peace of mind knowing you won't miss any critical information.
The phone's large, easy-to-read backlit display ensures you can check caller ID and navigate through the phone's menu easily, even in low-light conditions. The phone has a call-blocking feature to help you avoid unnecessary calls. Unwanted calls and telemarketers are a nuisance, but this phone system lets you take control. It allows you to block unwanted calls with just one touch, reducing interruptions and keeping your peace intact.
Pros
Noise Reduction feature to suppress unwanted background noise, hence clear and distraction-free calls.
The link-to-cell feature allows you to link your phone system to your smartphone via Bluetooth. You can make and receive calls from your cordless handsets using your smartphone.
The caller ID feature allows you to see who is calling as the phone also announces the number and name of the person calling, enhancing its convenience.
Easy-to-read backlit display
DECT 6.0 technology ensures interference-free and secure calls
Cons
Buy On Amazon
Vtech DS6151-11 is one of the most powerful and reliable cordless phone choices. The unit offers a multitude of critical features that are sure to convince you to purchase your dreams. For instance, the DS6151-11 allows you to manage two separate phone lines, perfect for those who work from home, run a small business, or want to keep personal and professional calls separate, thanks to its tow-line capability. The feature is significant for multitasking and maintaining a streamlined communication process.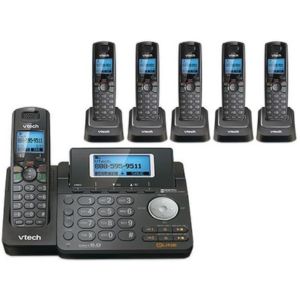 With (5) DS6101-11 handsets, you can spread the power of this phone system throughout your home or office. Have a handset in every room and experience unparalleled convenience.
What's more? Enjoy interference-free and clear calls with DECT 6.0 technology. The technology guarantees your conversations remain crisp and clear, free from static or dropped calls, making it an essential feature for communication clarity.
Do you wish to know who is calling before you pick up the call? This device has a caller ID and call waiting features to screen the calls and prioritize essential conversations. You can also ignore those calls you do not want to receive.
Most essentially, the device allows for conference calls. The VTech DS6151-11 supports three-way conference calling, perfect for business meetings or family discussions.
Pros
The large, backlit display on each handset makes it easy to read caller information, even in dimly lit environments.
Use the intercom feature to communicate effortlessly between handsets in your home or office.
Seamlessly transfer calls between handsets and screen calls before answering to ensure you're always in control of your conversations.
The VTech DS6151-11 is eco-friendly, using energy-saving technology to reduce power consumption, helping you save on electricity bills and lessen your environmental footprint.
Cons
Using the interface or menu may be challenging if you lose your manual.
Buy On Amazon
Are you searching for the ultimate cordless phone system that keeps you connected and offers unparalleled convenience and functionality? AT&T 5-Handset Expandable Cordless Phone is the real deal.
This AT&T Cordless Phone model boasts a remarkable range that ensures you stay connected no matter where you are in your home. The extensive range ensures you won't miss a single important call or message, making it perfect for larger homes or spaces.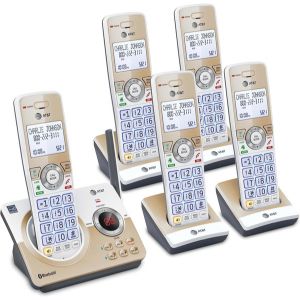 Another standout feature of this cordless phone is its Bluetooth Connect to Cell capability. This feature lets you pair your smartphone with the handset, effortlessly integrating your mobile and landline calls. This is incredibly convenient, as it means you can answer your cell phone calls directly on the cordless handsets, saving you from fumbling for your smartphone when it rings. The feature is essential when you want to multitask and or want to have uninterrupted communication.
Moreover, this unit has an advanced technology call blocker feature to automatically block robocalls and unwanted callers. No more interruptions during dinner or essential family time. You can trust this feature to keep your home phone from nuisance calls.
Pros
The cordless phone has a phone answering system and hence can store and play back messages, ensuring you are always up to date with important information, even if you miss a call.
The unit has five handsets, ensuring you can place a phone in every corner of your home where you need one.
Cons
Initial setup can be a challenge
Buy On Amazon
The VTech VS113-5 Extended Range 5 Handset Cordless Phone is an exceptional choice for those seeking a versatile and feature-rich home phone system. The cordless phone boasts an extended range, ensuring you can make and receive calls virtually anywhere in your home. This feature is crucial for those with larger houses or multiple floors, eliminating the annoyance of dropped calls or poor reception.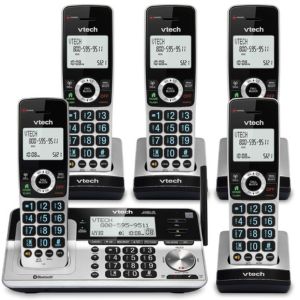 With five handsets included in the package, you can conveniently place them in different rooms, making it easy to access a phone whenever and wherever you need it. This is especially useful for larger households or to keep a phone handy in various locations.
VTech VS113-5 lets you sync your mobile phone to the VTech handset via Bluetooth. This means you can answer and make phone calls directly from any cordless handset. It's convenient and minimizes radiation exposure by using the cordless handset instead of holding your mobile phone to your ear.
The phone's big buttons are designed for easy dialing and menu navigation, making it user-friendly, particularly for seniors or anyone with dexterity issues. This ensures that everyone in your household can use the phone comfortably.
Pros
The large, backlit screen makes it easy to see who's calling, access your contacts, and navigate the menu even in low-light conditions.
The built-in answering system can record and store messages when you cannot answer calls.
VTech VS113-5 lets you sync your mobile phone to the VTech handset via Bluetooth.
Extended range
5 Handsets included
Cons
VTech VS113-5 may not be compatible with all smartphones.
Buy On Amazon
Best Cordless Phone with 5 Handsets Buying Guide 2023
In this section, we have explored various essential features you must consider before you settle on any given cordless phone model. The best cordless phone with five handsets has a set of handsets and a base compatible with voice assistants and Bluetooth.
However, even though we have reviewed top cordless phone models in the article, there are various differentiating features you must understand how they work and their significance in your cordless phone.
But first, let's see why you need these cordless phones with five handsets.
Benefits of Best Cordless Phones with 5 Handsets
Enhanced convenience and accessibility
Cordless phones with multiple handsets guarantee convenience since you can have phones in different offices or home rooms. As a result, you make or receive calls regardless of where you are in the house. You must not rush to a single phone location in your house every time your phone rings, which brings you convenience.
Also, placing your handsets in different locations in your room or office makes it convenient if you have individuals in your family with mobility issues or who may have difficulties reaching a single stationary phone. Enhanced accessibility is vital for individuals such as seniors with mobility issues.
Improved privacy
Having a cordless phone with a different handset implies every phone can have its phone number or extension, allowing for private conversations without sharing a single phone. The aspect can be vital if your household or office has multiple occupants.
You can place different handsets in every room and have each with a unique number or extension to allow users to maintain their privacy regarding their calls or messages.
Call management and Screening.
You can efficiently manage your calls if you have multiple handsets. Numerous handsets allow you to place calls on hold, transfer calls between the handsets, and use intercom features to communicate with other handsets in your home or office.
Besides, the cordless phones we have reviewed come with caller ID and call screening features. Having multiple handsets will allow you to see caller information from anywhere in your home or office and decide whether you want to answer the call.
        4. Allows for Conference calls
Cordless phones with multiple handsets allow for conference calls without seeking a conference call service or a separate speaker phone. Plus, you will love the aesthetics that come with these phones, characterized by a sleek design to enhance the look of your home or office.
Now that we have established some of the reasons for choosing the best cordless phones with five handsets, let's explore some of the essential features to consider before you settle on a given model.
What to consider when buying the best cordless phone with five handsets
Number of Handsets
The number of handsets your cordless phone can support is crucial when choosing the best cordless phone units. The cordless phones reviewed in this article come with five handsets. But how beneficial are these many handsets in your cordless phones?
Having a cordless phone with multiple handsets allows you to place each handset in different rooms in your office or home, ensuring that you can conveniently answer calls from any location without rushing to a single stationary phone.
Besides, multiple handsets guarantee easy accessibility, especially if your household has mobility issues, such as seniors or individuals who may be challenged reaching a centralized phone. If you place the different handsets in various rooms in the house, people can easily reach them without moving a single inch and making the calls at their convenience.
Furthermore, with numerous handsets come private communication. Every handset can have its extension or phone number, allowing everyone to have private conversations, especially if your household has numerous occupants. You also benefit from expandability, call screening, and management with multiple handset cordless phones.
DECT Technology
The efficiency of using cordless telecommunication systems comes with eliminating interference from other wireless devices, such as computers or ovens, allowing for connectivity up to 350 feet. One technology that allows for the elimination of interference is the DECT Technology.
DECT technology will guarantee superior call quality. Modern cordless phones are integrated with DECT technology to provide good call quality compared to the older analogue cordless phone technologies. The technology offers precise, interference-free audio that guarantees high-quality conversations without static or noise.
Moreover, with DECT technology integrated into your cordless phones, you get an extended range that will allow you to use the phones over longer distances. This would be essential if you have a larger office or home space, as DECT phones will cover several hundred feet or more distances based on the given model and environmental factors.
The DECT phones operate through specific frequency brands, lowering the likelihood of interference from other wireless devices, such as routers or Bluetooth devices. As a result, you get reliable and consistent communication free from interference.
Display Screen and Keypad
Cordless phones with large display screens ensure you can see incoming calls from a distance. When buying a cordless phone, choose a unit with a screen with high contrast backlit LCD. The keypad should also be lit to guarantee you can see and use it even in lowly lit areas.
You must realize that your phone's display screen and keypad are the primary interfaces for using cordless phones. A well-designed screen and keypad can improve the usability and make it more comfortable to use the phone for an extended period.
An efficient screen must have clear and easy-to-read text, particularly if you have visual impairments or want to use the phone in areas with low lighting. Choosing a cordless phone with a high-resolution screen with adjustable contrast and backlighting can massively improve visibility and promote the comfort of use.
Auto block system
Cordless phones are one of the most convenient devices in your home. Sometimes, when you have had a busy day and are not expecting any urgent calls or want to be from work calls, you want a system that will help you prevent unwanted calls or those that would influence your peace of mind.
The auto-block feature is an integral part of the cordless phone that can help you with this role. Some phones have an auto-block system to identify and block spam or unwanted calls. The feature is crucial as it can save you from the annoyance of telemarketing calls, scam calls, and robocalls.
Moreover, sometimes, the unwanted calls can be invasive or even fraudulent. An auto-block system can help you protect your privacy and security by ensuring these calls cannot reach you. As a result, you will have peace of mind, knowing that your phone has a built-in auto-block feature. The implication is that your phone is working to reduce disruptive or potentially harmful calls, hence an essential feature to consider before you decide on what model to buy.
Range
The range of a cordless phone determines how far away from the base station you can use your handset. You should choose a phone that provides enough range for roaming within your office or home without dropping a call, especially if you have a large office space or home.
A cordless phone range of 150 to 300 feet (45 to 90 meters) will be appropriate for an average home or if you intend to use the phone for home or house communication. The range is sufficient to cover multiple rooms and allows you to use the phone without losing the signal.
On the other hand, if you have an ample office space or residential place with several rooms with extensive outdoor areas, you may need a cordless phone with a more extended range of 300 to 600 feet (90 to 180 meters) or even more. There are cordless phones with range extenders or repeaters that you can use to enhance the coverage in large spaces. Thus, before settling on a given unit, consider your home area or office space and determine a suitable range to ensure you do not lose signals when making essential or private calls far from the base unit.
Remember, interference from other electronic devices, such as microwave ovens, cordless baby monitors, and Wi-Fi routers, can also affect your cordless phone range. The thick walls, concrete, and other obstacles can reduce the phone's effective range. Thus, when purchasing your cordless phone, consider all these elements and settle on a phone with a more robust range capability to overcome the different types of interferences.
What is Eco DECT in cordless phones?
Eco DECT (Economic Digital Enhanced Cordless Telecommunications) is a technology standard used in cordless phones to enhance energy efficiency and reduce environmental impact. The technology reduces power consumption in cordless telephones and enables variable power transmission.
The phones integrated with this technology are designed to consume less power when in standby mode or during conversations. The technology has energy-saving modes to help you reduce power usage compared to older cordless phones.
Besides, the eco DECT cordless phones are engineered to produce less electromagnetic radiation. The technology can achieve this by lowering the signal strength and radiation exposure when the phone is not actively used, for instance, in standby mode. The phones have features like "ECO Mode" or "ECO Mode Plus" that reduce radiation and power consumption by deactivating wireless transmissions when the handset is idle in its charging cradle.
Also, the technology supports variable power transmission depending on the distance between the handset and the base station. When the handset is close to the base station, the cordless phone will use lower power levels, which helps conserve energy.
However, the Eco DECT technology may not be available in all cordless phone systems, but it is most common in long-range cordless phones.
Frequently Asked Questions- FAQs 
Can cordless phones interfere with Wi-Fi?
Yes. Cordless phones can interfere with your Wi-Fi network if they operate on the same frequency bands. If your cordless phone is close to your Wi-Fi and operates at 2.4GHz, it will cause interference. The Wi-Fi interference will degrade the audio quality of your cordless phone.
How do you prevent this cordless phone interference with your Wi-Fi connection? Ensure a sufficient distance between your cordless phone's base and the Wi-Fi router if your phone operates on 2.4GHz, or buy a Wi-Fi router that runs on 5.0GHz.
How long do cordless phone systems last?
Cordless phone systems can last between five and ten years, more or less, based on the build quality and brand or model. For example, higher-quality models made from better materials and craftsmanship tend to have a longer lifespan than the less durable options. In addition, cordless phone batteries can last one to two years, depending on maintenance and usage patterns.
Also, the frequency and duration of usage can significantly impact the cordless phone system. If you heavily use your cordless phone, especially for long conversations, you may experience more wear and tear, shortening its lifespan.
How many cordless phones can you have on one line?
You can have up to 6 handsets on one line working wirelessly from a single base unit. This is particularly beneficial if you have more rooms and intend to have handsets distributed around your home.
However, the number of handsets in one line can be influenced by other factors, like whether you have a digital landline (VoIP), analogue landline or additional equipment such as splitters and extenders (different base stations).
Thus, a single base station can support up to 6 handsets.
Conclusion 
The world of cordless phones has never been more exciting, and these five-handset systems offer a range of features to meet your specific needs.
Whether you're seeking advanced call-blocking, crystal-clear audio, Bluetooth connectivity, or extended range, there's an option for you.
Consider your priorities: security from scam calls, convenience in handling multiple lines, or user-friendly design. With these top contenders, you're one step closer to upgrading your home communication game.
Make your choice, and enjoy uninterrupted conversations and enhanced connectivity. Say hello to the future of home telephony!