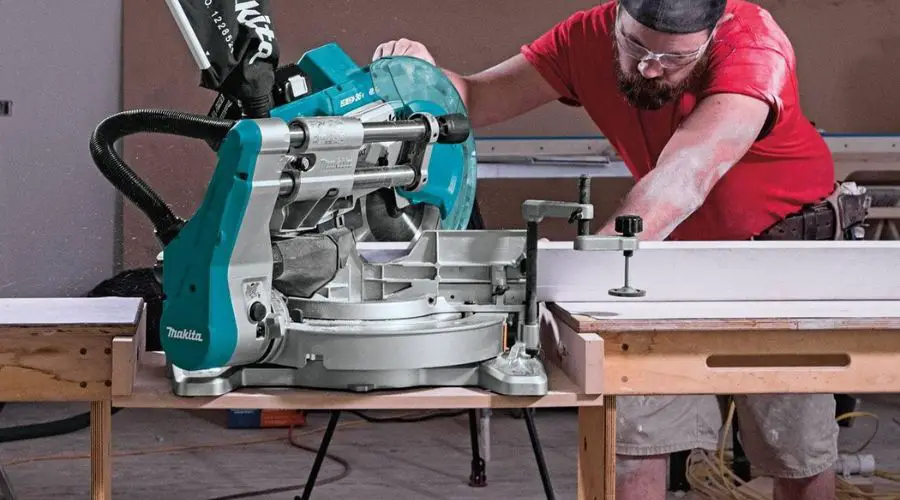 Miter saws are specialized tools to make precise cuts at multiple angles. The saws feature blades to facilitate angled cuts, and you can use them when making picture and door frames, window casings, and crown moldings.
However, since every person has a unique need with their projects, you must purchase a miter saw to help you realize your desired cuts. Compared to cordless track saws, the best cordless miter tools are way better at cutting timber to perfect angles and slopes.
Moreover, the cordless miter saws weigh less, are more portable, and can be used when there is no standard wall power. However, choosing the best model that suits your work area or material type can be challenging, especially when purchasing this essential tool for the first time.
Nevertheless, we have the best news for you. We have reviewed and compiled some of the best cordless miter saw models that are safe, easy to set up, and affordable. We have also discussed some crucial features you must consider to make an informed purchase.
Best Cordless Miter Saw of 2023 at a Glance 
Also Read:
Best Cordless Miter Saw Reviews 2023
Makita XSL06PT is a highly rated and well-built miter saw model powered by two LXT batteries to deliver a high level of power and speed and ensure reduced cases of downtime hence a large number of cuts per charge.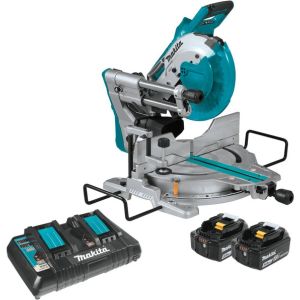 This model boasts a well-built electrical brushless motor that delivers 4400RPM for fast and smooth cutting. The brushless motors are energy-efficient since they lack carbon brushes, eliminating wear and tear and energy loss through friction.
With this unit, you can obtain optimum performance as it is integrated with an automatic speed change technology to adjust the cutting and torque while in action. The variation of speed ensures precise cuts as you can control the speed to the desired level depending on the angle of the cut.
MAKITA XSL0PT features a patented x2 LXT technology that delivers up to 334 cuts per charge in 2X4 SPF and up to 192 in 2X12 SPF lumber using the 5.0Ah batteries. The technology will help you realize extended use and produce numerous cuts within the same period.
Pros
Strong battery power
Greater efficiency due to the brushless motors
It results in smooth cuts
High build quality
Cons 
Buy On Amazon
DeWalt is a top brand. The company manufactures miter saw models that operate on corded and cordless states. The design allows you to power or use the saw in the corded state, especially when no mobility is needed, as cords restrict corded tools.
Also, the ability to use DeWalt DHS716AT2 in corded and cordless ways implies that you will not have any downtime. If the batteries run out in the cordless version, you can convert them to the corded state and continue your project.
Moreover, Dewalt's batteries produce the same amount of power as when in the corded form, which means that when you intend to maneuver around your work area, you will convert it to cordless and still realize the same output.
The 120V AC adapter that characterizes this unit is the same for cordless and corded forms, enhancing ultimate flexibility.
The unit has the best positioning of its blade, which gives you the luxury to have accurate cuts. The cutline blade positioning system and the adjustment-free cutline indicator enable you to make angled cuts on any material you are working on to desired shapes with the most excellent precision.
Moreover, this unit boasts the most significant value due to its excellent build quality. Even though the DeWalt miter saw is slightly heavier than most of the models in the market, it still has excellent portability.
Pros
It gets characterized by different power options: corded or cordless
Accurate cuts
High power output
Extended use
Cons 
Buy On Amazon
The Ridgid model enjoys an ergonomic design with a weight of 24 lbs, ensuring ultimate job site portability. This unit is powered by an 18-volt lithium battery that offers 2X more cuts per charge compared to the other competing models.
You get the advantage of a more extended life tool and enhanced efficiency when you purchase this model. This model is fitted with brushless motor technology, ensuring a long run time due to uninterrupted energy transmission.
The brushless motors also reduce wear and tear through friction, hence longer machine life.
Ridgid R48607K gets characterized by excellent aesthetics that improves the ease of work with the model. For instance, the unit has an embedded LED lighting system that illuminates materials and cutlines to promote the accuracy of the cut and visibility of the cut surface.
You can have complete control of the saw head instead of the material miter detent and bevel positives for fast adjustment to the most common angles due to the dual bevel design that permits the adjustments of the angles from 0 degrees to 45 degrees left and right bevel with the positive stops.
The variation of the bevel permits you to make angled cuts.
Pros
Lightweight for easy portability
A broad range of cutting angles
High visibility due to the LED lights
Powerful battery
Cons
Buy On Amazon
Milwaukee miter saw has some excellent features that characterize the professional standard saws in the market. Perhaps, the fascinating feature of this saw is its high runtime. The unit has a powerful battery that can run 24 hours before it is recharged.
The model features a cam locking system and an easy-to-use bevel adjustment level, adding to its cutting convenience. These features make this machine's cutting work efficient and enhance its ease of use.
Pros
Longer run time
Multiple cutting features that improve the accuracy and precision
Easy to use
Powerful battery for extended use
Cons 
Buy On Amazon
Ryobi ZRP551 is a useful tool around the home to execute small cutting jobs since it has low power compared to the other models, but it is still quite an impressive tool to have in your collection. This unit is easy to use as you can effectively adjust the blades to cut a wide variety of materials at different angles.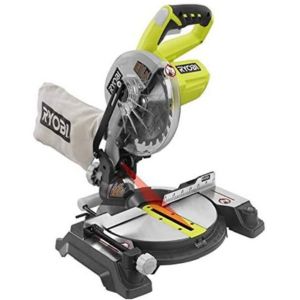 The most impressive feature of this tool is that it has a laser alignment that will permit you to set up the cuts together with the nine-ball detent effectively.
Although it has no power to make it ideal for professional work, Ryobi is an excellent tool for your workshop work.
Pros
It results in accurate cuts
Easy to use.
The laser alignment to effectively set up the blades for effective cuts
Nine-ball detent. '
Cons 
Buy On Amazon
The DeWalt 20v is an excellent tool for better accuracy cutting and high visibility on the cutting lines. The model is integrated with an XPS cross-cutting position that ensures high visibility of the cutting line and improved accuracy.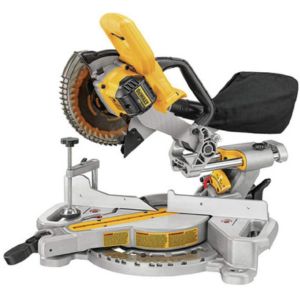 Moreover, the tool has an adjustable stainless steel miter detent plate with ten positive stops. The feature ensures that you have full control of your cuts and that you have the desired shapes. With this unit, you will surely obtain curved cuts due to massive control.
The model boasts an ergonomic design and is lightweight (31.6lbs), making it appropriate for use in different workstations due to its high portability. The compact design also facilitates easy transport and storage.
Pros
Lightweight and compact for easy transport and storage
Enhanced visibility and cutting accuracy
Adjustable stainless steel for maximum control
Easy to use
Portable
Cons
The battery is slightly not longer.
Buy On Amazon
Best Cordless Miter Saw of 2023 Buyers' Guide
The best cordless miter saws help you cut materials from different angles depending on your requirement or the space where you want the material to fit. Most people struggle to make curved cuts because they do not know the models or how to set the blades to make the cuts.
You do not have to worry anymore because, in this guide, we have illustrated how to make curved cuts in wood and described some of the essential features you must consider when buying a cordless saw. We have also looked into the safety features you must look into before you settle on a specific model.
How to Cut Curves in a Wood
Most people have argued that the cordless jigsaw is the best tool for curved cuts because they allow you to match the blades to the type of material you want to cut and set your preferred angle.
The jigsaws are excellent tools when making shapes into pieces of wood and can be useful when making compound or bevel cuts when you fix the right blade.
However, miter saws are way better if you need to cut multiple curves or intricate shapes in metal, wood or any other material at your disposal.
Step-by-step process of making curved cuts in your workpiece
Press the saw shoe onto the wood or workpiece with the blade positioned away from the edge of the cut material.
Move the blade slowly along the cutting line. In this process, you can try cutting or working outside the cutting line to sand the excess part on the edge later. This guarantees accuracy and ensures you have not interfered with the measured length.
While cutting, ensure you have maintained a constant speed that does not strain your motor, causing dysfunction or work breakdown. If possible, you can attempt to make the relief cuts on the tight curves to keep the saw from binding.
Then, you can sand the edges to realize a smooth curved cut with blunt edges that cannot cause injuries.
What to Consider when Choosing the Best Cordless Miter Saw
Portability
The importance of portability depends on the nature of your work. If you permanently work in one spot, you may not significantly consider the portability of your saw. However, portability would be an essential element of consideration if your work involves moving from one workshop or job location to another.
Two primary elements characterize portability; the weight and bulk of a power tool. The cordless miter saws vary in weight, and if you will be moving from one workstation to the other or want to acquire the saw for professional use, you must consider a model with less weight since you will be involved in a lot of transportation.
Bulkiness describes the amount of space taken by an item. Even though a bulky unit is not necessarily heavy, you must consider your storage space before you buy any model. An astronomical unit will also be hard to carry, compromising your tool's portability. If you have limited storage space, choose a miter saw that is compact or less bulky to save on space.
Battery Power
The recent lithium-ion battery used in cordless products is a significant upgrade in power and has enhanced efficiency that was never there with the corded models.
When choosing the best cordless miter saws, you must consider the voltage rating of the batteries; the higher the voltage, the higher the saw power.
Saws with sufficient power to ensure extended usage are those with 17V and above. The saws described in this review have a higher volt-rating above 17. Purchasing a miter saw below 17V will be a waste of money as it will not provide the energy you need to put the saw to different uses.
For the miter saws, the standard voltage is 18V. In some models, it is found in two batteries, each 9V. You must at least go for a battery power of 18V, and if you can afford a model with more than this, it would be a bonus for the runtime.
The battery power is thus a significant element of consideration.
No-Load RPM
The revolutions per minute (RPM) indicated in the miter saws show how fast the unit can spin without any resistance every minute. The RPM has a significant association with battery power.
The miter saws with less than 4000RPM are effective for home use. Such speed implies fewer spinning blades and thus will not realize fast cutting but are quite impressive when you want to use the unit within your home.
On the other hand, the units with 4000RPM or more are characterized by the first running blades. Such units make it easy for you to execute your jobs and are excellent for professionals or individuals looking for high-quality cuts. A higher RPM produces a more significant speed and results in accurate and precise cuts.
Bevel Angles and Cutting Depth
One element that makes the miter saws outstanding is the ability of such models to make angled cuts. As a professional, you want a miter saw that would allow you to cut at different angles and a bevel of 45 degrees. You must consider a model that can cut at different angles, as this will also allow you to make various angle adjustments as desired and based on the measurements.
A model with no adjustable angles will leave you with significant work of striving to set the bevel angles. The depth of cutting is also essential. You must consider a unit that will cut to the depth that meets your requirement, depending on the work you want to put the cutting material to or the space you want to fit it.
Without this feature, it can be a difficult task to try and set the bevel angle repeatedly. The cutting depth is also necessary, but this is relatively standard. You want to ensure that it will be large enough for your needs.
Brush-less Motors
The brushless motors are a vital feature embedded in the miter saws. The units with the BL ensure sufficient energy is supplied to the system as no carbon brushes limit their efficiency in the loss of energy through friction.
Also, since these motors limit the rubbing of the carbon brushes, they facilitate a longer unit life due to reduced wear and tear.
The brushless motors also enhance the safety from the overheating of these models due to increased efficiency. These motors are also vital for manufacturing applications due to their high power density, useful speed-torque features, variable speed, high efficiency and low speed.
Safety features to consider when buying a Cordless miter saw
When you are buying cordless miter saws, it is paramount that you consider certain key safety features that will enhance the convenience and ease of use of the device. Such features include
Guard
Most miter saw models have guard protection that protects you from cutting blades. The guard must be proportional to the blades so that it does not get into the cutting line and should also be set in a manner that does not expose your body or hands to the blades to put you in danger.
Weighted
The model you are using should have equal weight distribution to ensure that you do not get fatigued when you are using the model. Most importantly, balanced weight distribution in a model ensures that the unit you are using does not spring back fast or fall sharply, as this can be dangerous to you and can cause injuries or put you in hazardous situations.
LED systems
Even though some consider LED light systems an aesthetic in the miter saws, they play vital roles in ensuring safety. The LEDs help illuminate the cutting surfaces and not only allow you to realize precise cuts but also protect you when working on dimly lit surfaces, an essential consideration when making a purchase decision.
Stable base 
A stable base is essential, as most models have a delicate balance. In most instances, you find yourself in the dilemma of getting a model that is still portable, as the addition of the base may result in an added weight.
However, it would be best to consider a stable base model, especially at a permanent workshop, as this will help you bolt the unit into the surface.
When your work involves moving from one area to another, this would not be an essential consideration as the base may add to the weight, making it less portable.
Conclusion
Now that you have looked at and considered some of the best cordless miter saws available in the market today, you have a vast knowledge of the significant features of your workpiece.
Some elements that you may prioritize include safety, power, durability, and aesthetics. Regardless of the unit you choose to purchase, often ensure you check the specifications of any model before you buy. This will help you invest in a well-balanced item that will add value to your tool collection.
We hope the guide enables you to make the best purchase decision.