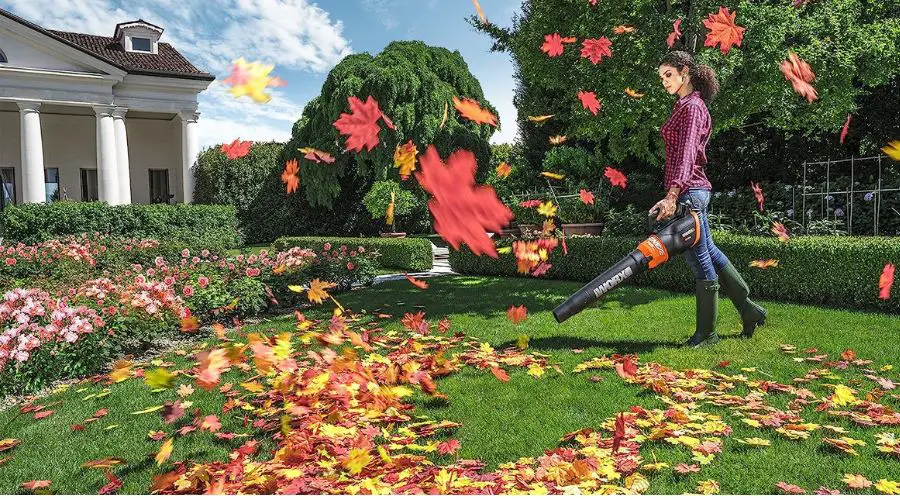 If you own a big garden or yard susceptible to gutters, leaves, dirt, or fallen snow, acquiring a leaf blower would be a brilliant idea. The best cordless leaf blower units are a great option to blow away freshly fallen snow and clean gutters, leaves, and dust.
Essentially, battery-operated blowers enhance environmental conservation through reduced atmospheric emissions. You do not have to mix oil and gasoline to power the engines as the blowers use rechargeable Lithium-ion batteries, hence better for the environment.
However, despite the apparent benefits, you must go to the market and get the best model to meet your blowing job. Numerous companies, including DeWalt, KIMO, and Black +Decker, have invested in massive technologies and accessories to develop the most exciting cordless leaf blower models. As a result, you must be sensitive to the little differentiating factors to make a perfect buying decision based on your blowing preferences.
We have tested and detailed the top 10 cordless leaf blower models you can choose from, depending on your budget and blowing needs. Read on and choose any of these outstanding units to keep your garden or yard pristine.
Also Read:
Top 10 Cordless Leaf Blower at a Glance
Best Cordless Leaf Blower of 2023 
KIMO is known for its exceptional brand, producing quality and reputable products. Besides, this organization's products are known for immense versatility, an essential addition to your tool collection.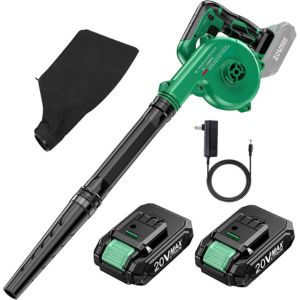 KIMO 20V Cordless leaf blower is powered by a 20V lithium-ion battery supplying sufficient power for extended operations. The battery life is extraordinary for its size and strength. You can use the machine for 20 minutes with maximum speed or high settings before the battery runs out.
Due to its all-copper motors, the machine has a high speed of 13000 rpm, ensuring it blows fast and to greater distances. The motors are made of copper material due to their high electrical conductivity.  The high electrical conductivity increases the efficiency and energy, hence, the high speed.
The model is lightweight and compact, making it easier for you to tag the machine along. You can use the tool for hours without getting fatigued.  The KIMO model gives you an excellent option if you are looking for a model to use within the yard, garden, courtyard or garage.
When using this tool, you can never worry about work breakdown or dealing with the embarrassment of the battery draining while at work. The model has a power indicator that ensures you get the battery level at any time and know when it is due for recharge.
Besides, the unit is inexpensive and will give you value for your money.
Pros 
Lightweight
Better Battery Life
High speed
Inexpensive
Cons
Battery and charger separate
Buy On Amazon
The Black + Decker LSW22 20V Max Lithium Cordless leaf blower produces low noise and no pollutants from its internal engines, thus crucial for environmental sustainability. The model is lightweight, with a 3.7 lb, improving its portability and ensuring equal weight distribution when you use it.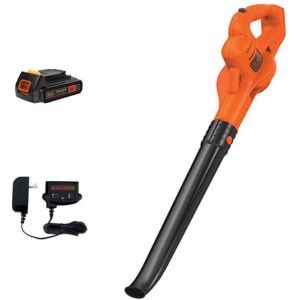 The tool produces high airspeed of 130MPH realized at full tilt to help you blast bags of dust and debris within your neighborhood and beyond your premises. The speed gives the blower extensive coverage.
The unit has a 1.5 Ah rated battery fitted with premium-grade high-capacity lithium-ion cells, providing more run time. The battery can retain charge for an extended period, saving you the need to recharge it continuously.
Due to its speed, lightweight and compactness, we recommend it can be the best for use within your premises, especially when looking for a blower that can store charge for a long time.
The model is ideal for clearing hard surfaces such as walkways, garages, decks and patios to ensure you nurture a healthy lawn.
Pros
Lightweight
Efficient for use on hard surfaces like sidewalks, garages and driveways
High speed
Low levels of noise
Environmentally friendly in terms of pollution
Cons
Buy On Amazon
The Worx Air leaf blower has 80CFM output, hence applicable to many uses while boosting the same speed. The model can clean patios, making them more convenient for home use. The lightweight model brings convenience when your task involves moving about your work area.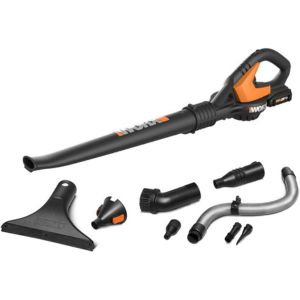 The weight allows you to hold it long without straining, reducing fatigue. Its compactness ensures you get into tight spaces where the blower cannot adequately fit, which is significant for storage and blowing. The model produces less noise with up to 6dB, making it environmentally friendly.
Unlike the other models I have reviewed, the model is powered by a 20V battery that is not overly powerful, but you can still use it within homes as it produces decent airflow. The blower has a no-load speed of 2500 rpm. The rate makes it efficient for distance blowing and enables you to reach the debris materials embedded at certain heights within your home.
The model is easy to handle since it does not need robust muscle power. This blower is worth your investment if you need a machine to use at-home jobs as it is affordable and will give value to your money.
Pros
Simple speed control
Lightweight
Good for use indoors
Fast charging battery
Cons
Buy On Amazon
DeWalt DCBL employs an ultraquiet operation,  ensuring you do not disturb your neighbors while in use. The blower has a 400CFM that provides you with significant leaf mobility.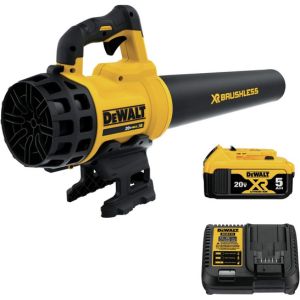 The model has a brushless motor that maximizes its efficiency and durability. Its long run time is ensured by its 20V lithium-ion battery and its axial fan design that maximizes the air output.
The leaf blower is lightweight and ergonomic to maximize its control and reduce the stress it can cause in your arm.
The model has built-in cruise control that you can set to the speed you prefer, which is essential when working on longer jobs since it reduces the work on your side to handle.
The axial fan helps maximize the air output and lengthens its run time. The machine also operates at 61dB, which is significant as it minimizes environmental noise.
Pros 
Brushless motor maximizes the durability and efficiency
Variable trigger and speed lock
Innovative axial design
Compactness and Lightweight
Cons 
The throttle speed is limited.
Buy On Amazon
Greenworks is one of the most established brands today to consider when buying a household tool. The blower is designed for simplicity and provides a decent user interface. Its brushless motor provides smooth running and a high-performance gain.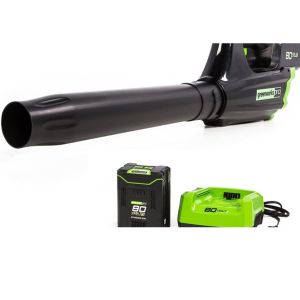 The model boasts an 80V lithium battery that provides a longer run time and can run for over 70 minutes with a single charge.  You can use the tool to clean up your entire backyard with a single charge.
The blower has a simple push-button that helps you control its operation. You can quickly start and stop the process with just a single press.
The lightweight and compact model facilitates storage and movement around your working area.
The tool is versatile as it can enable you to work against dry and wet leaves and all other kinds of debris, such as stones.
When charging its battery, it has an indicator light that helps determine when it is fully charged, and this is important to prevent damage to the battery, ensuring long battery life.
Pros
Powerful performance
High battery power
Lightweight and compact
Cons 
Buy On Amazon
Worx WG546 has two-speed settings that you can change based on the nature of the work. The model allows for a one-hand operation that makes it more user-friendly.
Its hyper-steam nozzle minimizes noise in your working environment, making it eco-friendly. The model boasts a decent CFM of up to 340 cfm of airflow provided by its latest turbine technology. The unit's lightweight and comfortable design makes it suitable for everyone, both young and adults.
The model has an excellent user interface with a few processes of the push button to start the machine and a pull switch for a rapid stop when the device is not in use. Also, since it is portable and compact, it enables you to navigate various sections of your working areas, making your operations convenient.
The organization provides a three-year warranty when you buy this product, which is an important consideration, especially when there is a breakdown in the part of the machine due to the manufacturer's fault within that period.
Pros 
Portable and compact
Less noise (75dB)
Allows for one-hand operation
Easy to operate
Cons
The battery does not last
Buy On Amazon
The DeWalt DCBL 770X1 Flex is an excellent and powerful handheld leaf blower with broad applications for simple yard and commercial needs.  It is lightweight and robust, enhancing its versatility.
The model has an easy-to-hold handle that ensures control and an adjustable grip that helps you control airflow to the required surfaces.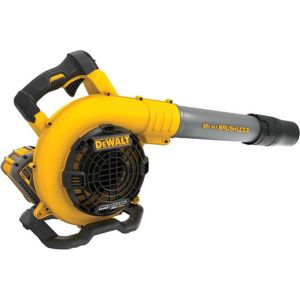 The model comes with a brushless motor that improves its run time. It is powered with a lithium-ion battery that adds to its lightweight and delivers uninterrupted 60V power. Less weight reduces stress in your arms, hence prolonged operations, while the long-life battery increases run-time.
The tool produces an air volume of 423CFM that can blow up all the debris or dirt within your working surfaces.
Dewalt has developed a mind-blowing variable speed controller in its leaf blower, enabling you to manage its airspeed based on the different cleaning jobs. The model has a nozzle that pushes the leaves from narrow surfaces like fence lines.
Pros
High air volume
Safety lock system
Affordable price
Lightweight and compact design
Ideal for stubborn debris and leaves
Cons 
Buy On Amazon
The Ego model is an exceptional battery-powered blower with unique features to facilitate efficiency. The machine is easy to use and produces no gas emissions like the gas-powered models, hence eco-friendly.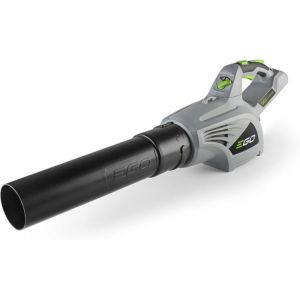 The model is compact, making it less bulky and easy to operate.  The machine is designed to reduce noise levels with a rating of 65 dB.  The model also comes with a 3-year warranty for the battery kit and a 5-year warranty for the device.
The airflow of this model is at 480CFM, which clicks to 92MPH. The speed makes the model ideal and perfect for blowing jobs for broad applications. Its brushless motor facilitates its power to ensure a longer run time.
The device has different speed settings, high-efficiency mode (250 CFM), high power mode (285 CFM) and turbo mode (480 CFM). The differences in speed can help you put the machine to different applications, which is an advantage when you purchase it.
The model is less expensive, and since it is portable, it is the most effective for use within your garden or yard. We recommend this model in our review because of its fantastic speed, ensuring you complete your work easily and comfortably.
Pros
Better Performance
Compact
5-year warranty
Different speed settings
Inexpensive
Cons
Buy On Amazon
Makita DUB183Z has simple control that allows gentle blowing and improves comfort when using it. The model is compact and lightweight, making it easier for you to easily work around your yard without getting fatigued.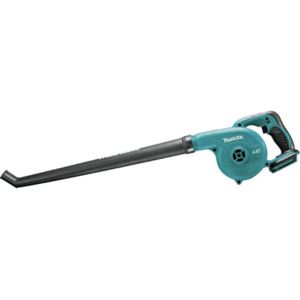 It has a variable speed that is easy to adjust with a variable speed finger-trigger that you only need to press to reach the required rate.
Moreover, it is characterized by a black thumb wheel behind the trigger that provides three distinct air volume levels to a maximum of 2.6 cubic meters every minute. Such air volume will help you quickly blow to greater distances and significant heights.
The machine has a curved nozzle that can be used as a vacuum with an optional bag. The tool uses an 18V battery with the power needed to obtain its high speed.
The battery has three indicator lights that indicate the state of charge. The most exciting feature of buying from Makita company is that if you have their products, you can swap the battery when the model's battery runs out.
The nozzle of the machine is designed so that you can blow the leaves about a meter in front of you, and you can adjust the angle at which the air blast hits the ground, making it easy to remove the materials debris in any desired location.
We recommend this model because it is super-reliable, inexpensive, and comfortable. It is also associated with less noise, and this makes it eco-friendly.
The model can be put to numerous uses, including cleaning a workshop floor. Other blowers we have reviewed are more potent than this model for use in larger or commercial areas, but Makita DUB183Z is more suited for use within homes or smaller areas. You should choose this model if you need a blower for home use.
Pros
Compact and powerful
Can vacuum specks of dust
Great performance
Cons 
Buy On Amazon
The blower is fitted with an extended nozzle that allows you to reach greater heights and is resistant to cracks. The device has a 100CFM with a 160MPH that helps you to handle even the most difficult tasks or reach various corners of your working areas.  It has a handle made of shock-absorbing polymers, and this helps enhance safety when you use it.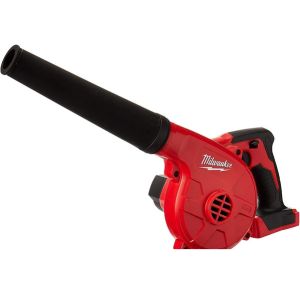 At full charge, the machine works for 15-20 minutes, sufficient for home clean-ups, boosting a maximum airflow of 160MPH or 100CFM. When you are using this model, you can increase its speed based on the area of application or need.
The device has a three-speed electronic switch with an adjustable speed trigger, facilitating easy changing the speed setting. The blower is a universal inflator and deflator, enabling you to use it in multiple jobs at home, including various inflatables.
Pros 
Variable speed settings
Compact and lightweight
High CFM
Cons 
Less power compared to other models
Buy On Amazon
Best Cordless Leaf Blower of 2023 Buyer's Guide
A leaf blower is a long-term investment, so it is appropriate that you make the right decision when you go shopping. In this section, I provide the crucial features that will help you make the correct purchase decision, especially when you are a new buyer.
I have listed the primary elements to consider when choosing a cordless leaf blower for your garden, yard, workshop or industry.  I hope you make the best use of the features to guarantee the best decision-making and save you time and hassle from too much information available online.
Advantages of Cordless Leaf Blowers
You can choose three different types of blowers from the market: gas-powered, cordless, and wired. Selecting the best blower depends on how efficient and convenient it is to you as a user and the nature of the area of applications.  Also, the costs and the equipment's impact on the environment is another essential aspect you must consider as a buyer.
Going with these factors, I believe that the best cordless leaf blower units are a top pick because of their exceptional performance and ease of use in different environmental conditions. They are also affordable.
Below are some of the benefits you enjoy when you choose the best cordless leaf blower models;
Portability/Mobility
Mobility is a massive consideration when using any blower. You must choose a device to help you move around to reach even the most hidden places that hold debris or dust materials.
You can quickly move around your area of work using a cordless blower. For example, if you were blowing a garden, you can go around with the device to different parts of the garden, unlike when you use a wired blower.
The blower type – electric or gas – can allow you to collect the debris and leafy materials from places the wired blower cannot reach, and this is one of the primary reasons we recommend cordless blowers.
Less Noise
The type of blower does not make any noise. Unlike gas-powered blowers, cordless blowers do not result in noise pollution that may cause neighborhood problems. Environmental sustainability is an essential aspect that you must consider before you buy any of the best cordless leaf blowers.
Like with the best cordless snow blowers, you can do all your work within your compound or yard without any other individual being aware of your task when choosing a model that does not produce noise while in operation.
Lightweight and Compact 
The type of blower is preferred because they are compact and less bulky. The less weight and compactness give you the convenience of holding the tools and facilitating mobility around your work areas.
Also, the compactness does not make your room look cramped or take up your floor space in terms of storage which is a significant advantage when you live in a small house.
Fewer Maintenance Costs
This type of blower requires less maintenance cost than the other two types. However, despite the low maintenance, you must clean the machine to ensure it does not attract dust and other debris materials that will hinder its efficiency.
Free Emissions
Unlike gasoline-powered blowers, the model uses power from the battery that does not produce emissions. This blower type enhances environmental sustainability since it does not produce smoke.
Versatile
When you require versatility in your model, you will not go wrong choosing the best cordless blower units. The models come with different power options. There are units powered by gas, while some use the lithium-ion battery.
For instance, you should choose a battery-powered blower when looking for an environmental-friendly and more casual unit. The unit is preferred by numerous individuals, especially those who do not want to get exposed to the gas's smell. However, you may purchase a gas-powered model if you need power and do not care about the gas's smell.
How to Use a Leaf Blower
The video below describes how to use a blower to keep your yard or garden free of dust or leaves
What to Consider when Choosing the Best Cordless Leaf Blower
Weight
Blowing leaves involves lots of movement around your working area, and this requires the use of a lightweight model.
Your design should be comfortable and convenient to limit fatigue and strain in your arms.
When choosing the best cordless leaf blower, consider the model's weight, both with and without the battery.
Light blowers provide you with the unstrapped freedom to move around your property and keep them dust and debris-free all the year-round.
The equal weight distribution in the leaf blowers and reduced vibration minimize fatigue and improve productivity.
This is an essential factor that most people ignore when choosing leaf blowers but crucial as it can permit the usage of the machine even by your young ones with no strength to lift the heavy machines.
Noise Level
No matter how efficient and productive your blower functions, it will still prove unreliable if it produces loud noise that disrupts your neighborhood and causes noise pollution.
Before you buy any model, we recommend that you check the decibel (dB) ratings and choose the one with the lowest figure.
Choose a model with decibels below 70 or 65, like the one we have reviewed. If it is above 70dB, it will be too noisy and not eco-friendly.
Energy Efficiency
When making a purchase decision, look for an energy-star leaf blower. Most of the models we have reviewed are powered by lithium-ion batteries 18-20V.
These low-power models are mostly applicable within homes and do exceptionally well with such ratings when used on small tasks such as blowing yards, gardens, houses or garages.
However, for commercial usage, we recommend you go for models with high battery volts, such as those with 80V, to provide you with the needed energy and run time.
You should also consider the recharge time to ensure your battery is fully charged within the different periods indicated in our reviews.
The charge should be checked through the various lighting systems fitted in the blowers that show the level to ensure the batteries do not die while the blower is in operation.
You can also spend on a spare battery to ensure you do not stop to recharge a battery, especially when working with your model within an industry.
Speed
Speed is an essential element to consider when choosing a leaf blower. You should note the speed limit of your blower and the various settings available.
There are models with more speed settings, making it crucial for use for multiple applications.
There are blowers with only one speed, and this can work well for you when you have a small yard and when clearing dry leaves.
However, if complex jobs are involved, you should consider a blower with variable speed that will allow you to adjust your desired speed. You should choose a device with a high airspeed.
Warranty
Regardless of what you want to use your leaf blower for, it should be covered by a decent warranty. The warranty varies with the manufacturer since some may cover commercial uses and rental while others do not.
For this reason, if you want to put your model to rental use or industrial lawn gear, you should go for the brands that provide such a warranty.
The different companies averagely offer a one-year warranty, while some organizations provide a guarantee of up to five years, though this is applicable for commercial use.
Conclusion
Choosing the best cordless leaf blower not only limits the time you spend raking up leaves and clearing debris but also helps you meet your requirements efficiently and conveniently. In the article, I have reviewed various blowers that can help you keep your workshop, garage, house, or yard clean. The reviews help you make the best purchase decision, as we have reviewed the top blowers today.