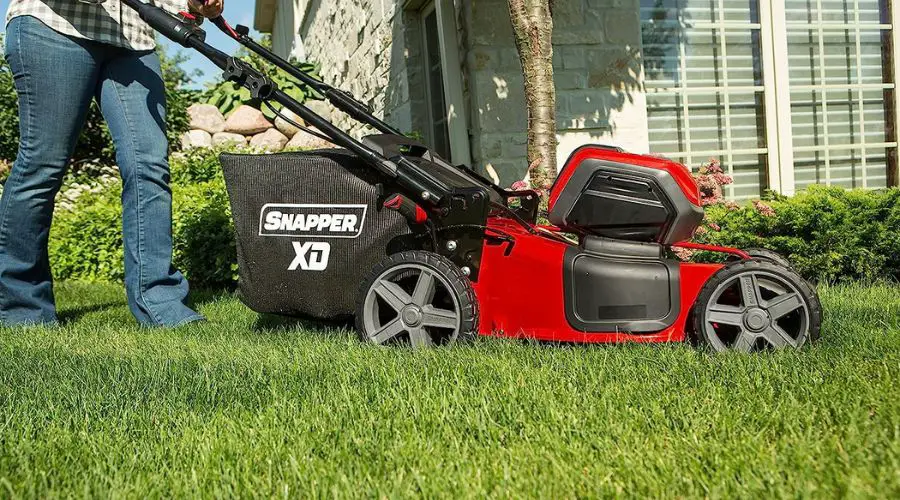 The grass that grows in your yard, lawn, or compound can be irritating to watch and harbor some insects or animals that can be a great danger to you and your family.
Often, you want to cut the grasses in your garden or lawn to convenient heights, but the accuracy and precision are always compromised. You're called to action to use a device that will allow cutting the grasses and weeds that form in your yards or compound at desired and uniform heights. One such tool is a lawn mower.
The lawnmowers use rapidly rotating blades to cut or trim the grass's surface to a preferred and uniform height. Moreover, the units are easy to use, convenient, and safe, with protective covers to protect you from injuries.
Despite their merits, choosing the best cordless lawn mower unit can be challenging, especially for a first-time user. We have researched, tested, and listed today's most effective, affordable, and easy-to-use lawnmowers that will get your grass-cutting job done. We have also compiled and detailed a list of primary features you must consider before purchasing.
Find these details below.
10 Best Cordless Lawn Mowers at a Glance
Also Read:
Best Cordless Lawn Mower Reviews 2023
Our top pick in the list is the Greenworks 40V 20-inch Cordless Twin force lawn mower. This model is characterized by an impressive lightweight of 42.5 lbs, enabling you to maneuver your lawn with minimal effort. At the same time, its compact design facilitates ease of storage while not in use.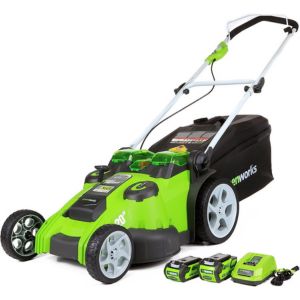 The Greenworks 40V-20-Inch cordless Twin Force is a utility addition to your tool collection since its battery can power over 40 other tools. Besides, the battery offers a longer run time of up to 70 minutes and features dual battery ports with an automatic switch-over that adds to its uninterrupted use. However, this run time can vary depending on the grass's condition in your lawn and your operational technique.
Additionally, the tool is characterized by a 20-inch cutting deck that balances maneuverability and cutting capacity, making it ideal for medium-sized lawns. Its dual blades provide high-quality and precise cuts while offering excellent mulching and bagging capabilities.
You do not need to worry about the model's height for useful cutting capabilities as you can use its lever to reach up to five positions to realize the desired height between 1-¼ inch to 3-⅜ inch. Once you have adjusted the heights to your comfort, you can easily maneuver the lawn, thanks to its front wheels.
The model boasts impressive power capabilities supported by its innovative Smart cut technology, allowing you to adjust the power for extended use. With this technology, you can conveniently vary the power depending on the nature of the grass you are cutting, and it is even more desirable when cutting thick grass. The large adjustable power system ensures that you can complete your lawn area within the shortest time possible.
You do not need to worry about the cut debris clogging or blocking the blades compromising the cutting accuracy. This unit comes with an excellent hardtop rear bag with an indicator to show you when it is full and needs to be emptied, promoting its ease of use.
Pros
It has an innovative smart cut technology for improved power to beat grass of different thicknesses.
Hardtop rear bag to remove the cut grasses
Long-lasting battery for improved and extended use
Five adjustable cutting height positions for work in different environments
20-inch cutting deck for easy maneuverability and provision if a balance
Cons
The battery is not included.
Buy On Amazon
This lawn mower model is another exciting type with up to six different height settings that will allow you to work at convenient heights of between 1-1/10 and 3-1/10. The 40V battery power makes this model ideal for handling most grass types, making it versatile.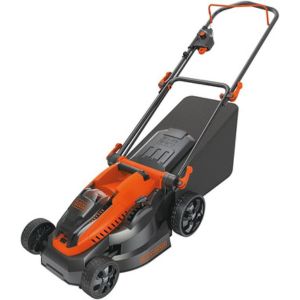 The model has comfortable handles that ensure you do not cause strain or blisters in your hand. The handle can easily get folded to facilitate easy and convenient storage.
The unit features a large gallon grass box of volume 9.5l made from a soft fabric with a hardtop. The box collects and eliminates the cut grass when full, ensuring the cutting efficiency is never compromised.
The model comes with two different LBXR2049 batteries with a single LCS36 charger. The batteries and the charger are, however, separate.
Pros
Six different height positions for convenient cutting
Long-life battery for extended use
Comfortable handles that can be folded for convenient handling and storage
Large gallon box to collect and remove cut grass to maintain machine efficiency
Cons
Buy On Amazon
When looking for the best battery-powered lawn mower that can trim and level grass to your desired heights, Sun Joe MJ40C is an ideal choice. The model boasts significant power, which makes it perfect for small to medium lawns. This unit cuts to a 14-inch wide path with precision with just a single pass.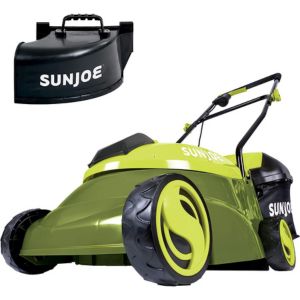 Also, you do not need to worry about the reliability or strength of its blades as they are made of incredibly durable steel that will ensure you benefit from the tool's longevity and tackle grass of varied nature, both tough and soft.
Its 28V 4 Ah rechargeable lithium-ion battery can ensure that you work on up to a quarter an acre with continuous mowing using a single charge. This limits the work breakdown that you can experience when working on a large piece of land or out on a field. You get high performance for an extended period with the Sun Joe MJ401C.
The additional accessories that come with this model are exemplary and make working with this model efficient. For instance, the model comes with a detachable 10.6-gallon grass catcher that will promote easy disposal of cut grass. This ensures that the blades are not clogged with grass debris to compromise the accuracy or precision of new cuts.
The mower is covered with an impressive warranty for up to 2 years from the day of purchase. This will give you the courage to use the tool and eliminates your worries about possible manufacturing defects.
Pros
Detachable 10.6-gallon grass catcher for removal of cut grass
Two-year warranty
High performance
Extended run due to a powerful battery
The blades are made from durable steel material, enhancing its longevity
Cons 
The coverage is a bit low.
Buy On Amazon
Greenworks is another ideal model for regular and flexible care of small to medium-sized lawns. You are sure of extended use with minimal fatigue or strain in the arms as the model is compact and lightweight. The small weight also makes it easy to transport, not restricting you to particular lawns.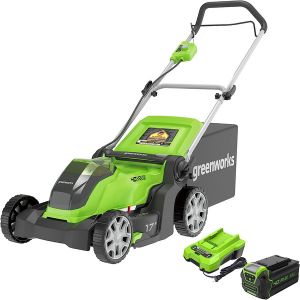 You get optimal cutting results with this unit since it has a 40V-rated battery that provides maximum power for extended use and sufficient energy to the blades for precise and fast cutting.
This unit is easy to use. It is fitted with a comfortable handle that enhances the ease and comfort when pushing the mower.
You can effectively adjust the cutting heights with this model, ensuring you are comfortable regardless of height. The cutting heights range from 1-1/4 inches to 3-⅜, which is convenient for cuts in different environments.
You also get a 2-in-1 unit when you buy a Greenworks mower. The model provides both rear bagging and mulching capability. This ensures that the tool will serve you with multiple uses, hence a vital addition to your tool collection.
The longevity you will enjoy with this model is quite impressive. The tool is made of high-quality, durable plastic material that improves life and adds to its lightweight, ensuring you can easily maneuver your lawn working with the unit.
Moreover, this unit is eco-friendly as it is fitted with a quiet motor that ensures you do not disturb others in your neighborhood as you trim grasses in your yard.
Pros
Varied cutting heights convenient for cuts in different environments
Multiple-use, a 2-in-1 model
Easy to use
Comfortable handle limiting strains in the arm
High-power battery for extended usage
Quiet motor
Cons 
Not suitable for large tracts of land unless you have an extra battery
Buy On Amazon
Snapper XD is a self-propelled lawn mower that helps trim the grass to your desired heights as you maneuver your lawn. With the self-propulsion, the unit ensures that you use minimal effort to get your work done, thus an ideal tool for your collection. Besides, the mower has an impressive run time of up to 45 minutes with a fully charged battery.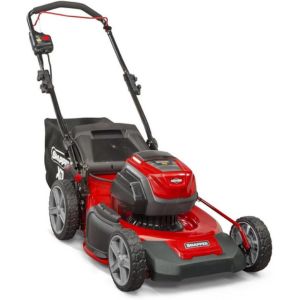 Moreover, Snapper XD 82V Max is fitted with a discharge bag, and its side is designed to remove grass clippings. This ensures that the tool's efficiency is never compromised while in use.
Snapper XD is also equipped with smart technology to improve its performance. The unit has an impressive and efficient load-sensing technology that helps you adjust the power to meet your cutting demands. The adjustment mechanism ensures enough power is supplied to the cutting blades to beat weeds of different thicknesses.
Pros 
Self-propulsion mechanism hence minimal effort for operation
Discharge back to remove the grass clippings
Smart technology for improved performance
Longer run time due to high battery power
Cons
Buy On Amazon
Sun Joe iON16LM is one of the most innovative lawnmowers available today and of high value. The model is associated with a hybrid technology that consumes the least electricity, which helps you save electricity bills.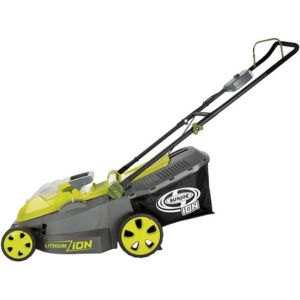 The model has brushless motor technology that supplies sufficient power to its cutting blades. This gives it enough power to cut various grass of different thicknesses. The brushless motor technology ensures longer life of the model as it eliminates wear and tear due to the absence of carbon brushes.
The brushless motors also enhance the battery's efficiency and improve machine performance while reducing noise and vibrations. This also makes this unit environmentally friendly.
When in use, the efficiency of this model is enhanced by its grass bag and discharge chute. The bag and the chute ensure that the grass clippings are removed to maintain the tool's efficiency.
Moreover, this lawn mower model has a height adjustment of up to six positions from 1.18 to 3.15 inches, which adds to its ease of use.
Pros
Six-position height adjustment
Compact design and lightweight for small and medium-sized lawns
Brushless motor technology for longevity and reduced noise
Hybrid technology for reduced electrical consumption
Cons
Buy On Amazon
The Ego power model is made from materials resistant to various environmental changes, freeing you from the fears of corrosion. With a 20-inch cutting capacity, this model gives you the luxury to cut and trim grass to convenient heights.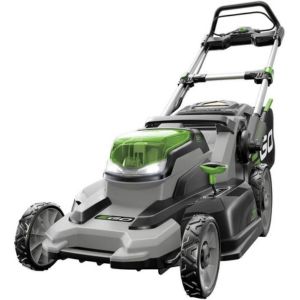 Moreover, with this unit, you are not only getting a lawn mower that cuts the grass, but you benefit from a 3-in-1 tool that can perform mulching, bagging,
Also, the unit boasts a compact design with handles that can easily fold to facilitate storage even in tight places. The handles are also comfortable, ensuring that they bring a soft feeling to your hand while in use, reducing the risk of getting blisters.
The 56-Volt battery ensures a longer life with a single charge. The battery ensures enough power is supplied to the blades to cut through a range of grass with different thicknesses.
You can also effectively work with this tool at any time of the day, thanks to its LED headlights that help illuminate your cutting surfaces.
Pros
Eco-friendly
High battery life
LED light system for illumination of the cutting surfaces
It has a single lever that can be used to alter the deck surface for cutting convenience
Cons
Buy On Amazon
Worx WG779 is a model designed for power and high performance. This unit has a dual 20V power share battery that gives a combined 40V power for a longer runtime.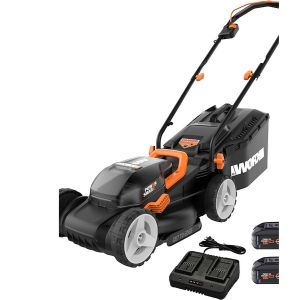 It also boasts a dual-port charger with battery power level indicators that will help you determine when the batteries are due for recharging. This helps eliminate work breakdown.
The unit features patented intellicut technology that delivers power on demand and helps save battery when needed. The technique further facilitates the high run time of this unit, and this ensures that you can clear a large lawn area of up to 5500 square feet with a single charge.
The manufacturers of this unit have ensured that the model is fitted with a foam-padded handle to offer a comfortable grip for reduced fatigue while at work. Besides, the single-lever adjustment lets you choose between three different cutting heights. This will guarantee easy maneuverability with the model regardless of your height.
Pros
Lightweight and compact design
Padded handle for a comfortable grip
Patented technology for on-demand power delivery
Battery level indicator to show the level of charge hence reducing work breakdown
Cons
Buy On Amazon
Dewalt is a robust model that can clear or trim the most grown grass. The unit has two batteries that ensure the work breakdown is entirely limited. The good thing about this unit is that the two batteries can be used simultaneously for higher power output.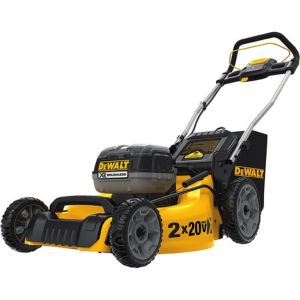 Besides, this model is equipped with a brushless motor that, besides ensuring enough power is supplied to the blades, improves the machine's life and produces less noise.
The unit is also a 3-in-1 model with the mulching, bagging, and rear discharging unit fused to enhance its effectiveness. With a cutting width of 20 inches, the model can be applied to substantial duty roles or grass with high thickness. Its deck is made from a robust metal material that helps improve its massive duty task.
The model is characterized by a single lever height adjustment ranging from 1.5 inches to 3.4 inches, allowing you to cut the grass regardless of the environment. The level adjustment also ensures that different individuals can effectively use the tool.
The unit has a folding handle and lifts handles that enhance storage and transport. The handles feature helps improve the ease of use of this tool while ensuring that you can keep it even in the smallest spaces. It is compatible with the battery of the other Dewalt products and, thus, is a fascinating addition to your tool collection.
 Pros
Easy Deck adjustment for convenient cutting
Massive power
Folding and lift handles for secure storage and transportation
3-in-1 tool for mulching, bagging and side discharge efficiency
Cons
Poor battery life when operating on a single battery
Buy On Amazon
The Worx WG958 model is another affordable lawn mower that will help you realize the value of your money. This unit comes with two-20v lithium-ion batteries that combine to produce 40V for extended usage.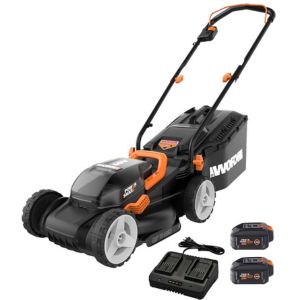 The unit is compact and lightweight, facilitating ease of use, storage, and transportation. You are not restricted to using this model in a single location, and you can effectively move it to a greater area without getting fatigued.
Moreover, you can increase the torque to your desired demand with its patented intellicut technology. This technology also ensures that the model can effectively conserve energy for use at times of high need. The energy conservation feature in this unit ensures that the model will give you an impressive run time with minimal breakdown.
Additionally, this model produces up to 360cfm of air volume to guarantee that you can tackle any job. The high air volume ensures the blades can cut various models of different thicknesses.
WORX WG958 provides you with the needed convenience. It is integrated with a battery level indicator to help you determine when it is due for a recharge. This will help ensure you can effectively complete your work without the breakdown.
Pros
 High air volume for tackling a variety of jobs.
The patented intellicut technology for increased power demand
Compact design and lightweight for secure storage and transportation
Dual battery unit for longer run time
Cons 
The battery may not be strong enough for some yards.
Buy On Amazon
Best Cordless Lawn Mower of 2023 Buyer's Guide
Determining the best cordless lawn mower for your yard can be unnerving. The list of the top models we have described was after an intense investigation of the important primary features when making a purchase decision and testing.
Below is a list of the primary features that would greatly benefit you before you buy any model. These features will boost the ease of use, comfort, and convenience of using the mower and, thus, integral consideration.
What to consider when choosing the best cordless lawn mower
 Battery 
The battery power is an important consideration when choosing a lawnmower. Cordless lawnmowers are powered by Lithium-ion batteries, providing them the energy to execute your job. The battery capacity determines the tool's run time.
When choosing the best cordless lawn mower, consider the volt rating of the battery. The higher the voltage, the higher the power, leading to a higher runtime. Most models we have reviewed have an average voltage rating of 40. This is sufficient for use in small to medium-sized lawns.
However, other models with 56V EGO Power+ LM2000-S and 82V ratings such as Snapper XD 82V MAX Cordless, are sufficient for heavy duties or large lawns.
More importantly, look into the lawnmower models with a dual carriage unit. Even though some units have their batteries labeled 20V, they can effectively use two battery sets simultaneously to produce 40V, hence an essential consideration. An excellent example of such a model is WORX WG779 40V Power Share.
Desk size
The desk size is another crucial consideration before you purchase any mower. This feature helps determine the level the grass will be trimmed or desired lawn heights.
Most mowers have a single-level adjustment that can change the tool to six different cutting positions. When buying any model, select a tool with at least three cutting position adjustments to help you work on different cutting environments and suit how low or moderate you need your grass trimmed. Most mowers have a cutting length of 0.5 and 3-5 inches.
  Size and weight
Compared to the corded models, cordless mowers can be slightly heavy due to the added batteries. However, these models boast a compact, ergonomic design that makes them sleeker and lighter for easy movements. Besides, these units use lithium-ion batteries that add to the overall lightweight of the models.
When you intend to work on small lawns, consider the models with the smallest weight. However, this may not be appropriate when you want to work in large fields or overgrown and thick grass. In that case, you must consider a slightly heavier model to beat the more abundant grasses. Often, the more powerful units have a slightly increased weight.
The compact design is also an added advantage for the mowers as it will help in effective storage when not in use. The compact size ensures the models fit even in the smallest spaces available.
 Performance
The machines are designed to make work easier and reduce your effort in executing your job. Any tool's performance is an essential consideration that should be your priority before you buy.
The right lawn mower will maximize efficiency when trimming and clearing out the grass in your lawn. You must choose a model with side discharge or a gallon box to collect and remove the grass clippings that can reduce the tool's efficiency and compromise performance.
 Self-propulsion 
The self-propulsion mechanism is an added advantage to the best cordless lawn mower. The feature helps you trim and shave your grass effortlessly as you stroll around the yard.
The self-propelling models are fitted with motors that push the machine, and your responsibility, in this case, is to steer the wheel in the preferred direction. This saves you the effort you would have applied to push the machine as you control its direction manually.
 Other important features
Though not essential, other vital features are also necessary to improve the convenience and efficiency of using the model.
The battery indicator is one of the primary features that help eliminate the unfortunate work breakdown. The indicators help you determine when your battery is due for recharge, facilitating a continuous run time.
Comfortable and folding handles are another essential feature you must look into before buying a mower. The comfortable handles help provide you with a secure grip that will not cause strain or fatigue in your hands when using the model. Also, the folded handles help enhance the unit's storage after use. You can effectively fold the handles to fit into tight spaces.
Some lawn mower models also have LED lights to help you work all day. The lighting system helps illuminate your working surface, allowing you to work even on dimly lit surfaces and ensuring cutting accuracy.
The video shows how to use an electric lawn mower. Pay attention and learn how to use the mower efficient and precise cuts.
 Conclusion 
The best cordless lawn mower is an essential tool that helps keep your lawn clean and to the desired heights. The mowers are of two different types, the mulching cordless lawn mowers and the collecting cordless mower.
The mulching mowers are of great impotence to your lawn as they help cut the grass into pieces and put it back into the soil. The cut grass clippings are essential nutrients to the newly growing grass and make them healthy.
On the other hand, as the name suggests, the collecting mowers collect the grass debris and discharge it from their side. Some of these types have collecting bags for the cut grass. These units are vital as they save you the energy and time to collect the clippings yourself.
In this review, I have listed and described the best cordless lawn mower with the top features to consider when purchasing. We believe they help you decide based on the unit type that fits your requirements.
Primarily, these units will provide you with the comfort, accuracy, efficiency, and ease of use you need in any tool and will be an excellent addition to your tool collection