Have you ever envisioned staying in a more open house with natural light and an airy feeling? Indeed, that can only come true if you cover your windows with an entity that allows light and air to flow freely.
Most people are used to corded blinds- the type with dangling cords that are a chore to operate and unsafe to keep. Have you imagined trying the best cordless window blinds? The blind types are affordable, safe, and convenient units that provide an unobtrusive view to make your room feel cozy and comfortable.
Moreover, the best cordless blinds allow you to enjoy privacy and act as decorative shades on your windows and doors to filter or block out direct light.
With the immense benefits attached to these units, choosing the best cordless blinds for your undertaking can be a daunting task. In this review, we have listed and described some of the top cordless blind units and a comprehensive buyers' guide to help you make the best purchase decision.
Read on to find out.
Also Read:
Best Cordless Blinds of 2023 at a Glance
What are Cordless Blinds?
Cordless blinds are window blinds or coverings operated without traditional cords or chains. Instead, window blinds use other safe and convenient control mechanisms, including the tilt wand or tension mechanism, making them appropriate for use when you have young children or pets. They are also more aesthetically appealing.
Types of Cordless Blinds
Motorized cordless blinds
Motorized cordless blinds, also called wireless or remote-control blinds refer to window coverings operated or adjusted using an integrated wireless or motor remote control. The cordless blind type provides a convenient and modern solution for controlling natural light and privacy within homes and offices.
The motorized blinds are integrated with a small motor built into the blinds' headrail or attached to the lift or roller mechanism. The motor is primary to the up and down movement of the cordless blinds or tilt.
In addition, the motorized cordless blinds come with a wireless remote control that communicates to the motor through radio frequency (RF) signals or other wireless technologies. You can control your cordless blind from a distance or within your convenience and comfort using the remote without pulling any cord or manual operation physically.
The remote control lowers or raises the cordless blind to your desired height. You can also use the remote to tilt the slats if it is horizontal or adjust the angle for the vertical blinds to control light entering your room and establish desired privacy.
Moreover, some motorized cordless blinds are integrated with Smart Home Systems like Amazon Alexa, Apple HomeKit, and Google Assistant. With the integration, you can control the blinds through voice commands or set up schedules and automation for the blinds to open and close within certain periods. This ensures that you can set up when to raise or lower the blinds, which can happen even when you are not in the home area. For instance, when you leave the blinds open and are yet to be back home when it is late, the smart home systems can raise the blinds at the set time.
The motorized cordless blinds are safe, convenient, and energy-efficient and promote your home or room's aesthetics by providing a clean and sleek appearance, promoting the general look of your windows and interior space.
Cordless Top-down/Bottom-Up Blinds
Cordless Top-down/Bottom-Up Blinds are window coverings that provide privacy and light control by adjusting them from the top and bottom. The cordless blind type allows you to operate them from different configurations.
These best cordless shades types consist of horizontal slats made from different materials, including vinyl, wood, and fabric. Instead of the attached cords, like with the corded blinds, the cordless mechanism uses a cordless lifting system that allows you to adjust the blinds using your hands to move the bottom rail up or down. Some blinds have a handle or grip on the bottom rail to enhance the operation.
For the top-down operation, you can lower the top of the blinds, leaving the bottom part covering the window. The approach will allow natural light to enter from the top, maintaining privacy by keeping the lower part closed. This is essential when you want to enjoy natural light while preventing individuals from seeing inside your room.
Conversely, the bottom-up operation involves raising the bottom of the rail, leaving the top part covering the window. As a result, you will enjoy the light from the bottom while maintaining privacy and blocking direct views from the outside.
These cordless blind types have the advantage that they combine two configurations. As a result, you can set the blinds to any desired height, permitting various light control and privacy options based on your preferences and time of the day. Besides, they are safe for children and pets as they eliminate traditional cords or chains.
The cordless lift refers to window blinds that use a bottom rail or handle that you can pull down or push up to adjust the blinds' heights. These blinds are popular for cellular and roller blinds. The cordless lift systems have replaced the traditional cords or chains with safer and more streamlined mechanisms, making them an ideal option for homes with pets and young children.
The cordless lift systems' functionality may vary depending on the type of window treatment. For instance, one of their operative mechanisms is the spring load. In this system, the window shade is integrated with a spring activated when you pull down the bottom rail of the shade. The tensioned spring allows the shade to stay in pace at any desired height.
On the other hand, to raise the shades in this system, slightly pull down on the bottom rail again, releasing the lock, and the shade will smoothly and slightly rise to the top.
How do Cordless Blinds Work?
Cordless blinds are modern, convenient window covering options without traditional cords or chains. These blinds are designed to offer a more streamlined and safer solution for adjusting the blind's position. Besides, they have no inherent risks when used around children and pets.
All cordless window treatments have a lift mechanism in either the bottom rail or headrail, making it possible to operate them through lowering and lifting. Instead of using cords or chains in lowering or raising the blinds, the cordless blinds are integrated with internal mechanisms to promote the ease of adjustments to the desired heights. The mechanism is, however, hidden in the blinds' headrail.
Also, the cordless blinds can be operated through a spring-loaded mechanism. In this system, the blinds are integrated with a spring-loaded system. You engage the spring by gently pulling it down or on the bottom rail of the blind, and the blinds rise or ascend. However, when you push up on the bottom rail, the spring is released, and your cordless blind is lowered.
The cordless window blinds have a stopping mechanism that allows you to stop them at your preferred heights, depending on how much light you want to let in your room or the desired level of privacy.
Note that if you have horizontal blinds, you can operate them by tilting the slats for privacy and light control. Such cordless blinds are operated through a tilt wand mechanism or a tilt handle on the headrail. When you rotate or hold the wand, the slats tilt open or close to your desired angle.
Best Cordless Blinds Reviews of 2023
This design has no chills. It gives you the best experience with an airy and light-filled room. The unit is safe to have around with your child or pet since it has no cords to tangle around.
The Morningstar is explicitly drafted to belittle dust for safe operations. Operation-wise, this design can be easily actuated by following a few simple steps. You only need to push the button to raise or lower the bottom rail to heighten or debase the blind.
Besides, the design makes it easy to control the amount of sunlight entering your room. You do this by using the adjustable tilt wand. Using its mounting brackets, you can install it inside, outside, or even on the ceiling. 
You don't have to call an expert. The unit comes with all hardware and installation instructions needed. It's perfect for windows ⅜" (0.9cm) smaller and ½"(1.27cm) broader than the stated size, adding to its versatility.
Pros
Control the sunlight by twisting the wand to open and close the slats.

It contrived to resist fading, warping, and sagging for privacy purposes.

It has a 72″ drop fashion headrail with concealed brackets for easier mounting.
Cons
The actual blind is ½" (1.27cm) than the stated actual size of 1."
Buy On Amazon
As its name suggests, you can easily trim this model in the comfort of your home for the perfect fit of your window. The design makes your work easier because it doesn't require drills, screws, or brackets for installation.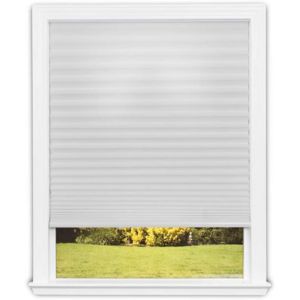 Use your straight-edge kitchen knife, patented trimming scale, and guide to trim your shade. You then permanently install it using the peel-and-place application that requires no tool. This elementary method stipulates a minimum of 1-1/4″ of the window depth.   
Its cordless lift mechanism provides a clean appearance to your home. It also makes it easy to operate and safe for children and pets. This design contemplates soft spun lace shades made from fabric material. These shutters help filter all the sunlight that gets to your room.
 Reckoning to its decorative appearance is its rounded bottom rails and finished end caps. They provide a crisp and clean appearance in your house.
Pros
100% satisfaction guarantee.

It requires no tool for installation.

It can utterly be trimmed at home.

It's easier to operate using the cordless lift mechanism.

It comes with a trimming scale and guide.
Cons
The inside mount requires only a 1¼" minimum window depth.
Buy On Amazon
The US window and floor blinds have a distinctive design. The unit is capable of resting heat and humidity. This makes it desirable for all areas, particularly the kitchen, laundry, and bathroom.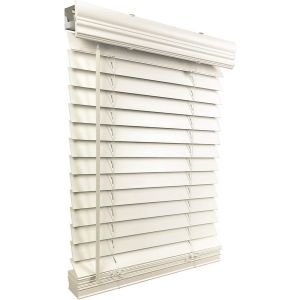 They come with a tilt wand and no exposed lift cords for safety and are easy to use. Its 35″ width X 60″ height measurements will perfectly fit your 35.5″ wide X 60″ high window.
That way, you should ensure that the width of your opening is at least ½" more than the blind's size.
This design promises durability and efficiency from its materials. It has slats made from a non-leaded PVC fabric that is easy to install and clean. It also has 2″ X 2.25″ high tensiled headrails that enable a minimum depth mounting of up to 1½" and flush mounting of up to 3″.
Pros 
The hardware and installation requirements are incorporated.

They also include a standard inside mount valance for decoration.

Best for all areas, like the kitchen, bathroom, and laundry.

Heat and humidity resistant.

Substantial non-leaded PVC slats.

Formidable rails.

No exposed lift cords.
Cons
The ending corners are not included.

It's only from the inside mounts.
Buy On Amazon
Divulge energy-proficient elegance with Bali blinds cordless cellular shades. This unit is certified by the "Best of Kids" department. Thanks to its cordless lift, that is perfect for homes with kids and pets. It also provides a fresh look by suppressing the need to operate the window.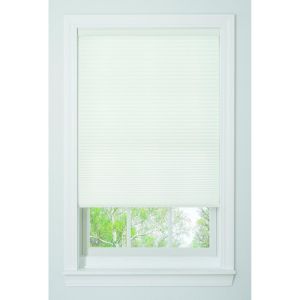 Additionally, its cordless cellular shades assure your privacy when lowered. It also helps insulate your home or office by softly filtering light. This unit has a honeycomb design that protects your window and absorbs any sound from your neighborhood.
Furthermore, you are not supposed to worry about the size of your window. This unit comes in different sizes. It also comes with all mounting hardware with dimensions measured as width x height. This design also gives you a working error of ½", which can be deducted or added to the fitting size. Besides that, you can also mount it either on the outside or inside.
Pros
It has been certified by the "Best of Kids."

Gently filters the light entering your home or office.

It can be mounted both from the outside and inside.

The honeycomb design insulates and absorbs sound.

All mounting hardware and instructions come with the package.
Cons 
Cant be installed from the ceiling.'
Buy On Amazon
Although its design is budget-friendly, it's still of high quality. Being a cordless blind, it has no dangling cords and is thus safer for homes with kids or pets. Also, its cordless feature makes it more stylish and cleaner to the eye.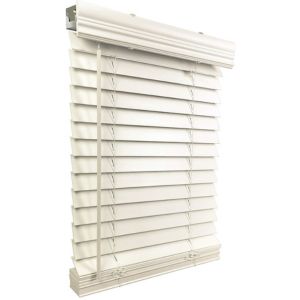 If you want an enormous blind in the US Windows and Floors cordless blind design, this is the right choice. It measures 58.625″ wide by 48″ in height. This makes it ideal for window spaces up to 59.125″ wide by 48″ high. It also means that the width of your window has to be ½" more extensive than the blind.
Into the bargain, it has decorative valance measuring 3.25″. Even though the unit has a drawback in that its ending corner valance does not come in the box, there are numerous benefits you will enjoy using this unit. For instance, this model guarantees durability, thanks to its heavy-duty steel headrail measuring 2″ by 2.25″.
As a cordless blind, its tilt wand is operated by solely pressing a button. This means it doesn't have an exposed lift cord and is thus safe around toddlers and puppies. Its slats are made from a substantial non-lead PVC material, making it easy to install and clean.
Pros
It's designed to resist heat and humidity.

Mount screws accorded are best for drywall and sheetrock. 

It has a solid trapezoid bottom rail.

It's budget-friendly.
Cons
Valance returns are not included.
Buy On Amazon
The Achim home furnishings design will provide you with total privacy without sacrificing natural light- This is because it can be opened from top to bottom or bottom to up, hinging on the level of privacy you fancy. It offers a compliant and concise design.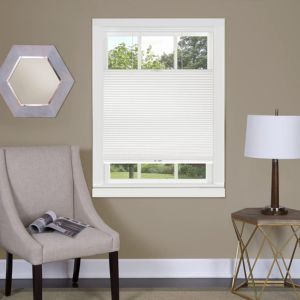 Its conception is made from 100% non-woven polyester fabric and is thus resilient to sagging and fading. On top of that, its soft enduring honeycomb pleated cells of size 3/8″ will insulate your room all year.
This also gives your room a clean look when it's wholly twirled- This is achievable because its shades completely abrogate into the headrail when balled up.
Its tilt ward has made it easy to open and close, enhancing the embrace in every room. 
Pros
It can be rolled from both the top and the bottom.

It's resistant to sagging and fading.

It doesn't have a dangling cord.

It provides total solitude without immolating natural light.
Cons
It's not advocated for very tall or inaccessible windows.
Buy On Amazon
The DEZ furnishings cordless blind has been tested and certified by Parents for Windows Blind Safety and Best for Kids- This is rounded off by its cordless design that offers safety and an unsullied look.
This design will fit in your window of size 27.5″ wide. However, its shades have an actual size of 27″ wide x 48″ high. It also comes in various colors like camel, white, ecru, and silver grey. 
Supplementarily, you can also get DEZ furnishing designs in different width sizes ranging from 20″ to 72″ in ½" increments. The corresponding length sizes are 48″, 64″, and 72″. You can mount its shades either from inside or outside the window.
Furthermore, you can operate blind people by simply holding the bottom rail and pushing it up or down to your desired height. Last but not least, this scheme is easy to mount since it integrates installation instructions and mounting hardware.
Pros
It can be mounted inside or outside.

It is tested and certified by two testing agencies.

It comes in different sizes and colors.

It's easy to fit, operate, and clean.
Cons
Buy On Amazon
The US window and Floor Blind are exceptional. Apart from its ability to resist humidity, it can also protect you from dangerous UV rays. Its length of 34.125″ width x 39″ height enables it to fit in window openings that measure up to 34.625″ wide x 36″ high.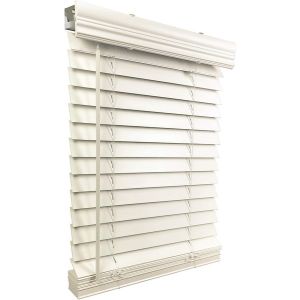 Suplimentarily, it also has a 3.25″ valance on the front part that acts as a decorative piece to enhance its elegant looks. However, the ending corner valance doesn't come in the package. Its tilt wand provides ample time to adjust blind people to your desire.
Being corded, the US window and floor blind do not have an exposed lift cord. As a result, it's safe from playful kids and pets. Its PVC slats are made from a non-lead material that collaterals durability.
Moreover, it also comes with installation instructions that make it easy to install. This blind is also very easy to clean and maintain.
Pros 
It's easy to install.

It has no exposed lift cords.

It offers privacy and protection from UV rays.

You can use it anywhere around your house.
Cons
The ending corner valance doesn't come with the package.
Buy On Amazon
Its design isn't different from The Easy Lift trim 30″ x 64″, which fits window sizes ranging between 19″ – 30″. It doesn't require installation tools since you can trim it with your kitchen knife without a hitch.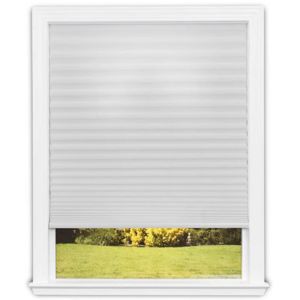 In addition to that, installation is easier using the patented trimming scale and guide that comes with the blind. You can permanently install it with just an embellished stick in your inside mount, which requires 1¼" minimum window depth.
The Easy lift trim blind has a corded lift contrivance, making your work easier while operating. This mechanism also enhances safety from the aggressive nature of toddlers and pets. Its round bottom rail and finished end cups replenish its smart looks and the general glimpse of your house.
The brand has an exclusive energy-efficient composite fabric design that helps keep your room composed and free from the discordant sunlight rays. It's crisp 1¼" pleats pledge your privacy and protect you from UV radiation.
Pros
100% guaranteed customer satisfaction.
Filters the strong sunlight entering your room.
It doesn't require the use of tools for installation.
You can trim it at home.
Peel and place application.
Cons
it's only for inside mounting
Buy On Amazon
Lotus & Windoware MLX2272WH is another exemplary unit that will provide you with the versatility you will fancy when setting out your window covering. You can conveniently mount the blind inside a 22″ wide window as it is 21.5″ wide. Also, if you intend to mount the window to the outside of the window, you can realize that by adding the required ½" to ensure that the whole width is covered. The model thus comes with impeccable versatility.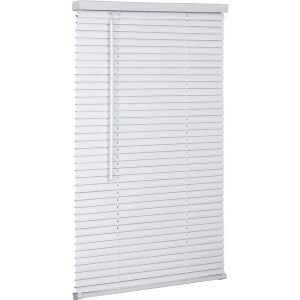 Moreover, you need not worry about measuring difficulties. This unit comes with easy measuring instructions at purchase, guaranteeing the best fit into your window and ensuring it is presentable. What's more? The model includes hardware for the outside or inside mounting of the blind, adding to its versatility.
The units boast an unravel longevity thanks to the integrated, durable PVC, Headrail, Bottom rail, and Light Filtering PVC Slats. Thus, you will not have to worry about constant replacements that can be time-consuming and costly. Most importantly, this unit is child-safe due to its cordless design.
Pros
Easy measuring instructions to ensure the best fit
It is durable as it is integrated with a durable PVC Headrail, Bottom rail, and Light Filtering PVC Slats.
Child-safe due to its Cordless Design
Versatile, you can mount it both on the inside and outside of the window
Cons
It needs an extra ½" for outside mounting
Buy On Amazon
When controlling the amount and type of lighting radiations that get into the room, Grandekor Cellular Shades takes the lead. The unit is integrated with a honeycomb structure that can block harmful UV rays and dazzling sunlight that, helps reduce your heating and cooling bills all year round, hence cost saving.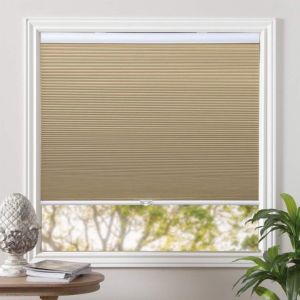 You care and are more concerned about the safety of your children and pets. With this unit, your kids and pets are safe from the dangling cords of their corded counterparts. Besides, the models utilize the pull-push system implying that they can stop at any height when you pull the bottom rail down or lift it, and this means there is no need to cut its length to fit in your window.
The installation of this unit is pretty simple and flexible. You can install the unit both inside and outside your window. It has 1 blind, 3 brackets, 2 screws, 1 handle, and 1 manual. Besides, the cordless blind unit is appropriate for the bathroom, kitchen, office, children's room, or any other room requiring light control.
Perhaps, this unit's most enthralling element is its security and privacy. The unit is built from aluminum foil in cellular shades, offering 100% blackout and privacy. Besides, you can install this unit by choosing your preferred color as it is fitted with different colors in the front while the backsides are white. However, both the back and the front can be installed.
Pros
Easy to install
It is suitable for a bedroom, office, bathroom, or children's room
Honeycomb structure that can block harmful UV rays and dazzling sunlight
100% light blocking
Cons
Buy On Amazon
Best Cordless Blinds of 2023 Buyers' Guide 
There is no doubt that cordless blinds are rapidly taking over traditional corded units. They come with a lot of advancement that has enhanced their attractiveness. The models do not pose safety problems, especially if you have kids and pets.
However, choosing the best cordless blinds might be very intricate, especially if you're a first-time buyer. They come in sundry designs and sizes depending on the manufacturer. This buyer's guide will guide you through why you should buy a cordless blind. It will also give you the factors to consider before buying or ordering.
Reasons why you should buy a cordless blind
Cordless blinds can be installed using a simple stick in seconds.
Besides, you don't need an expert to do the installation. They can be easily trimmed at home using a normal kitchen knife. There is also an inclusion of a patented trimming scale and guide that helps make the fitting easier.
Additionally, all the mounting equipment comes with the blinds. You use the easy-peasy peel-and-place application.
Being cordless, the blind type can be operated by pressing a button. It doesn't have exposed lift cords that might be unsafe in a home with kids and pets. Its cordless contrivance also provides a fresh look by stamping out the need for operating the window frame.
Protection from UV rays and privacy
 With this blind in your home or office, your privacy is assured. You can do this by tilting the wand to lower or raise the slats. Furthermore, its soft spun-lace fabric slats gently filter the sunlight entering your room, thus protecting you from dangerous UV rays.
Insulates windows and absorbs noise
The cordless blinds' fabric slats protect you from UV rays, but it also helps insulate the room from excess heat, especially during summer. The slats are made with a honeycomb design, allowing them to absorb noise.
Magnificent for all places
 Cordless blinds come in various designs and sizes. They can be multi purposely used in various places, including the kitchen, bathroom, or laundry.
The cordless blinds have an outstanding design that makes a room look clean and attractive. For instance, they have a front and an ending corner valance that screens the structure. These pieces provide decorative drapery in your house or office.
When fitted on the window, their rounded bottom rails and finished end caps provide a clean crop appearance. 
What to Consider when Buying a Cordless Blind
As a homeowner seeking to purchase the best cordless blinds for your windows, you must consider safety, convenience, and aesthetics. The cordless blinds promote safety and convenience by eliminating the need for cords.
However, if you like style and design, there are other associated elements that you must look into before you finally make the buying decision as described below.
Correct Measurements/Window Size 
Window measurements are an integral consideration when shopping for the best cordless shades. Since window blinds are custom-made to fit specific windows, you must get a proper fit. If you get inaccurate measurements, the blinds may not cover your entire window, leaving gaps that can compromise your privacy and allow light to enter.
The size of your window is crucial. If you have large windows or sliding glass doors, you may intend to choose vertical blinds that can easily open and close. Conversely, if you have smaller windows, you may want to consider blinds that can be adjusted to let in more or less light.
Well-fitted blinds will also contribute to your room's overall aesthetic appeal. Blinds on too large or too small windows can be unattractive and destroy the aesthetics or design of the windows. As a result, when shopping for the best cordless blind units, take accurate measurements of your window and find a proper fit for them.
Slats
The slats play a paramount role in the holistic function of cordless blinds. They filter the sunlight entering your house or office, protecting you from UV radiation. The slats are lowered or raised when operating the tilt wand.
Therefore, when buying or ordering a cordless blind, you should look at the type of material used in making the slats because some are made from a material that cannot resist heat and humidity.
The slats are available in different materials, including vinyl, faux, fabric, wood, or aluminum. Each of these materials has its share of advantages and appearances. In choosing the material slat, consider their durability, aesthetics, and how they will fit into your interior design.
Moreover, you must consider the slat size. The cordless blinds come in different slat sizes ranging from 1 to 2.5 inches. The slat size greatly influences the amount of light that enters your room and the general visual impact. That is, larger slats will provide a more modern and uncluttered look, while the smaller slats would be a great fit for the smaller windows.
As a result, if you are shopping for blinds to fit small window spaces, choose smaller slats and vice versa.
Depending on the light and privacy you want in your room, the slat size and material you buy will vary. Some slat materials and sizes will provide you with better privacy and light control than others. For example, if you want slats with high privacy levels and light-blocking capabilities, choose wood or faux wood materials with smaller slats. For better light filtering options, choose slats made from fabric material.
Lastly, if you stay in areas that experience high humidity or if you want to use the blinds in areas like kitchens or bathrooms, choose slats made from moisture-resistant materials, like faux wood or vinyl.
Headrail
The headrail supports the entire blind on its frame. That means it should be made from a durable and solid material.
When choosing a proper blind for your window, consider its headrail's build quality and material. Choose a window blind with a headrail made of sturdy and durable materials like aluminum, steel, or high-quality plastics to ensure long-lasting performance.
Moreover, consider the size and compatibility of your headrail. Get the exact measurements of your window and ensure that the headrail's dimensions and size match them.
Another essential element is the mounting options. Assess the different mounting options available for the headrail. For instance, cordless blinds' headrails can be side mounted, top-mounted, or even mounted on the ceilings to offer installation flexibility. Choose a headrail with a mounting option that fits your space and preference.
Not to forget, choose a headrail that complements the cordless blinds' safety mechanisms, preventing any potential hazards to the children.
This means that it should be made from a solid, durable material. We recommend choosing a blind with a headrail made from heavy-duty steel, as the stainless steel won't rust when it comes into contact with rainwater.
Besides, it's also easy to clean. Moreover, you should check if the headrail can be mounted inside, outside, or on the ceiling. This is crucial because some blinds are designed for inside installation only.
Valance
Valance describes a window treatment that covers the uppermost part of the window. You can hang it alone or pair it with other window blinds or curtains. In most homes, valances are a good decorative choice for concealing drapery hardware. They form the main-stream decorative discretion in concealing cordless blinds.
Besides, valence plays a crucial role in the overall appearance of the blind, acting as a florid vestment of your house or office.
The home decor cordless blinds require two valances: the front decorative and the ending corner. However, some of the best cordless window shades are sold with the ending corner valance not included. Valences vary from simple to elaborate designs. They also take on many shapes, like scalloped, layered, pleated, pointed, arched, shaped, gathered, tailored, or grommet tops.
As a result, valances can enhance the aesthetics of your home interior. For example, valances can add style and decoration to your window. Since they come in different patterns, fabrics, and decorations, you have a range of options to promote your room's overall aesthetics.
Whether your interior design is traditional, modern, or somewhere between, you can use valances to compliment your existing décor and tie the room together.
Additionally, since the cordless blinds have mounting brackets and other visible hardware when the blinds are raised, the valance helps conceal this hardware, offering a cleaner and more polished look to your window treatment. Thus, a valance will act as a finishing touch to your window treatment, establishing a cohesive and layered look when paired with other window coverings like drapes or curtains.
Thus, when shopping for cordless blinds, consider valence to promote the aesthetics and décor of your home while giving you a complete window treatment. Remember, the valences are customized to fit your window size and style preferences.
Tilt wand
The tilt wand presents an impressive alternative to control slat blinds. The wand is inserted into the header by a hook, normally two-thirds the length of the blind height. Instead of using a cord to operate the blinds, you twist the want to control the angle of the slats.
Tilt wand performs the prime venture of lowering and raising the slats by twisting the wand, controlling how much sunlight streams into your room.
You want to consider this feature in your cordless blinds for various reasons before you decide on a particular purchase. For instance, the tilt wand gives extra control and adjustability for cordless blinds. With the wand mechanism, you can tilt the slats to control the light in your room and adjust the privacy angle.
Besides, the tilt wand improves the ease of use of the cordless blinds, making the operation smooth and effortless. The wands are user-friendly, accessible, and comfortable to grip and turn. However, you must assess the type of tilt wand of your chosen blind.
Not all window blinds have the same type of wand: some have the traditional twist wand, while others have a push-button or remote-controlled mechanism. As a result, you must ensure that the tilt wand type you choose is compatible with your preferences and needs.
 Type of Room
The type of room you intend to install the cordless blinds is an essential consideration. For example, if you want to install blinds in a nursery or bedroom, you may want to choose a blackout shade to block out light and offer privacy, preventing outside visibility. However, if the living or dining room is your focus area, you may want to choose the sheer shades that allow natural light and still offer privacy. The sheer shades provide you with flexible light control options. Also, window blinds with adjustable slats or sheer fabrics can regulate natural light levels and permit homeowners to establish desired ambiance.
Moreover, if your room is situated in a place with high humidity or exposed to moisture, such as in the bathrooms or kitchen, choose a window blind made from materials that are resistant to water damage, like faux wood or vinyl. The best cordless faux wood blinds will not be destroyed by moisture exposure, promoting their durability in highly humid conditions.
How to Install Cordless Blinds
Installing window blinds is an easy process you can complete at home without consulting any expert or applying extra cost. However, you need to follow instructions and employ patients to realize a proper installation that will be easy to operate and harness the needed aesthetic appeal.
However, you will need the following tools before you begin the installation process.
Level
Pencil
Measuring tape
Cordless blinds
Screwdriver
Mounting Brackets (always included with the blinds).
Screws and Anchors (in case you are mounting it on drywall)
Step 1: Take Window Measurements
The first step to properly installing the window blinds is taking correct window measurements: the height and width of your window frame. Then, choose a cordless blind that will match the dimension. This is, especially a crucial step at the time of purchasing the blind. Correct measurements of the windows and the blind will guarantee a proper fit.
Step 2: Prepare the Blinds
Remove the cordless blinds from the box. Locate the sides, bottom, and top, usually labeled. You must keep the blinds closed as you install them to avoid any potential entanglement.
Step 3: Locate the Mounting Position
You must decide whether to install your cordless blind outside or inside the window frame. Often, the inside mounting will offer you a neater appearance. On the other hand, the outside mounting will cover more light gaps. Also, the mounting position is determined by your personal preference and style.
Step 4: Install Mounting Brackets
The mounting brackets always come with cordless blinds at the time of purchase. Once you have identified the mounting brackets, hold the first one against the top inside corner of the window frame. Use a pencil to mark the location of screw holes on the frame. If the window frame is wood, you can skip anchors and screw directly into the wood. For other materials or the drywall, use anchors to offer better support.
In addition, use a level to ensure the mounting bracket is straight before you drill holes or attach the screws.
Step 5: Attach the Brackets
After you have marked the holes, pre-drill pilot holes for the screws and attach the brackets securely to the window frame using a screwdriver and the screws.
Repeat this process for the second bracket. Repeat the same steps (4 and 5) for the other side of the window, ensuring the brackets are properly aligned and leveled.
Step 6: Mount the Blinds
Insert the headrail of your cordless blinds into the installed brackets and push it up until it clicks securely into place. Ensure the cordless blind is a proper fit on your window.
Step 7: Test the Cordless Blind
Test the operation of your cordless blind, ensuring that they can lower and raise smoothly without any issues.
Also, check whether the blinds fit effectively and adjust them in case they are longer than needed depending on your window space.
You can effectively adjust the length by following how to shorten the cordless blinds. The manufacturers provide the same. This should do you the trick of properly and securely installing the cordless blinds.
When to Choose Cordless Blinds
As a homeowner, there are situations or room conditions that would require you to consider cordless window blinds.
The various circumstances when choosing cordless blinds will be ideal include:
When you need a nursery window treatment for a child's bedroom or playroom
When you have pets or children running around to promote their safety. The cordless blinds eliminate traditional cords or chains, which are dangerous to crawling children and pets.
When you want window coverings that are more convenient and easy to operate
When you want to eliminate cords and other associated traditional chains on your window headrail or bottom rails
However, despite their effectiveness and applications in different situations, the best cordless shades also have limitations on when they can be used. For instance, when your window is too tall, you may not reach the bottom of the blinds when fully retracted. Also, you may not access the bottom of the cordless blinds when fully extended due to obstruction by the furniture or any other object in your room.
Conclusion
Gone are the days when blinds were manually actuated. Thanks to the new design of the best cordless blinds. They have eradicated the need for operating the windows to a press-to-open mechanism. They also filter the light from entering your room and provide you with privacy when lowered. 
The cordless blind is ideal for homes with kids and pets because it has no hanging cords. It's also designed to resist heat and humidity, therefore keeps your house warm and free from freezing. This unit also has decorative valances that help complement the general look of your room. This article will help you choose the best cordless blind among the diverse designs and quality.