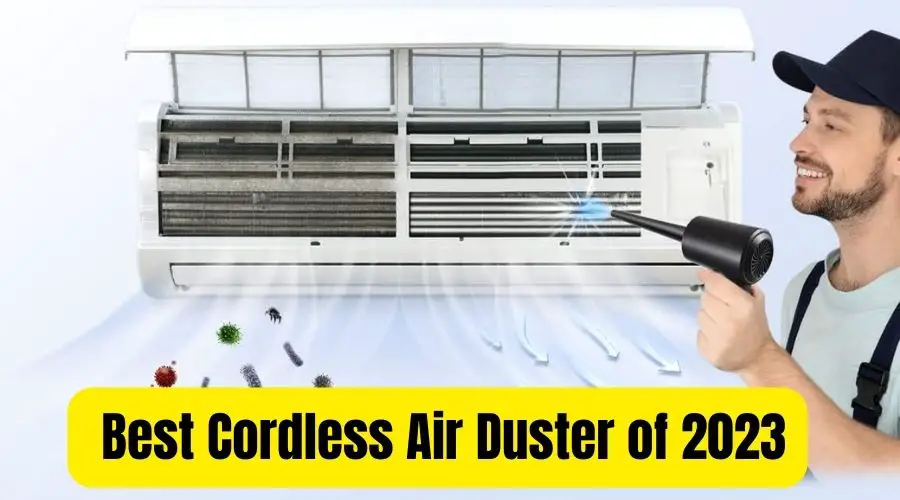 In today's fast-evolving world of technology and cleanliness, traditional methods for keeping our electronic devices and workspaces dust-free are being redefined.
Cordless air dusters have emerged as powerful and eco-friendly alternatives to conventional canned air solutions. The cordless air dusters are cans of compressed air that you can use to remove dirt and dust from hard-to-reach areas like keyboard sets.
Besides, the units have features such as adjustable airflow to enable you to control airflow when cleaning delicate electronics and their parts and are lightweight for extended usage. The units are rechargeable and reusable. Their compact design adds to their convenience and versatility.
But do you know some of the best cordless air duster models on the market? Let's find out.
This comprehensive guide explores the finest cordless air dusters available today,  offering versatility and efficiency for various cleaning tasks. With robust motors, rechargeable batteries, and a commitment to sustainability, these modern tools have revolutionized how we maintain our electronics and environments.
Join us on a journey through the top cordless air dusters and discover how they enhance your cleaning routines while contributing to a cleaner, safer world.
 Top 6 Best Cordless Air Duster at a Glance 
Also Read: 
Best Cordless Air Duster Reviews 2023
The AFMAT Cordless Air Duster is an excellent choice for keeping your computer and other electronic devices clean and dust-free.
With AFTMAT, you can control the airflow when you want to clean delicate electronics and their parts with only low-speed airflow, thanks to its adjustable airflow. Different devices and components need varying air pressure levels, and an adjustable flow guarantees you only apply the required pressure on a given element by altering the intensity of the air stream to suit your cleaning needs and prevent accidental damage to sensitive electronics.
Besides, if you intend to do deep cleaning of the microscopic dust like printed circuits to computers, electronic instruments, and medical devices that you cannot clean using your traditional air duster or wiper, AFMAT cleaner is the ideal choice. The air duster can produce a powerful air thrust at almost 10-level strong gale (28m/s) for deep cleaning with a motor rotating at a maximum speed of up to 33000RPM.
What's more? The AFMAT Cordless Air Duster is designed with user comfort in mind. Its ergonomic handle and lightweight build make it easy to hold and use for extended periods without straining your hand or arm. This ergonomic design enhances user experience and minimizes user fatigue during use.
Since the unit has multiple attachments, you can target different cleaning conditions. For instance, attachments like nozzles and brushes are appropriate for reaching tight spaces, like cleaning keyboard crevices and removing dust from intricate components.
The unit is also characterized by quiet operation due to its integration with noise-reduction technology. Mainly, if you work in a shared office or home, the quiet operation will ensure you do not cause disturbance or disruption to others while you clean your electronic parts.
Pros
Quiet operation due to noise Reduction Technology
Durable construction for enhanced longevity
Comfortable handles and lightweight for extended use
Built with 6000mAh rechargeable batteries for longer runtime of up to 30 minutes with a single charge.
Environmental friendly
Easy to operate
Cons
It may require regular cleaning
Buy On Amazon
The Koonie Cordless Air Duster is an excellent choice if you are looking to keep your computers and electronic devices clean and dust-free. The duster model has several essential features that make it a compelling tool for cleaning needs.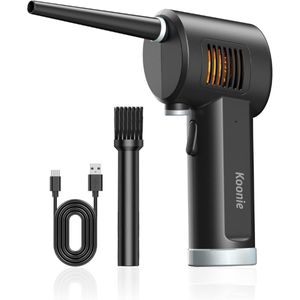 Compared to conventional air cans, Koonie cordless air dusters are healthier. Most traditional units were characterized by an immense vapor that could result in adverse health effects. The Koonie model blows the air and is equivalent to over 5000 air of traditional duster.
Like your cell phone, the Koonie cordless air duster is rechargeable and will provide hundreds of hours of cleaning time to replace air cans. As a result, this model is perfect when you want to clean computers, car interiors, dry, wet surfaces, and other hard-to-reach spaces.
If you are working on units that are not delicate, this is the right unit for you. Koonie air duster produces an incredible blowing speed at 28m/s and can run for over 30 minutes with a single charge to enable you to blow dust more efficiently and conveniently.
Also, the model is not only durable but also lightweight. Koonie cordless air duster only weighs 0.66lb. You can use it for an extended period without feeling tired. After use, the storage is not complicated. It has a removable nozzle that makes it easier to carry and store.
Pros
Battery Operation
Powerful airflow
Multiple nozzles and attachments promote its versatility, and you can target specific areas and components.
Ergonomic design for a comfortable cleaning experience
It has safety features such as automatic shut-off to prevent overheating and ensure safe operation.
Cons
Does not come with a compatible power adapter; hence, it can be slow in charging if you do not use the original adapter.
Buy On Amazon
The KEYNICE 2-in-1 Dust Cleaner and Vacuum is a versatile and powerful cleaning tool designed to help you maintain a clean and dust-free environment. It boasts several crucial features that make it a fascinating option for users.
For instance, Keynice 2-in-1 dust cleaner has 2 blowing and suction modes, making it a more convenient and powerful option for cleaning jobs. As a result, you can use Keynice to blow out dust and small debris in your car, office, or home and then suck them away.
Moreover, Keynice comes with 2 nozzles for different applications. For instance, you can use 1 brush nozzle for more thorough cleaning, targeting difficult cleaning dust and 1 round nozzle to blow or such dust. You can use these nozzles at varying speeds to remove stubborn dust on your computer and its accessories. Its two adjustable speeds allow you to choose your desired speed for cleaning. Its powerful motor can allow for a maximum speed of up to 3600RPM.
Also, you will love the Keynice model due to its multi-use and eco-friendliness. For example, you can use the model on a computer, copy machine, camera, medical equipment, laptop or laptop, components that the traditional duster or wiper cannot. The model is inexpensive and non-toxic, making it budget and user-friendly.
Pros
Fast charging reduces downtime and ensures the cleaner is ready for action quickly.
High power from a 6000mAh battery
High RPM of up to 36000 to generate strong suction and airflow
HEPA filter to maintain clean and healthy indoor air.
Cons
Requires frequent cleaning
Buy On Amazon
Rainbean air duster is one of the most potent choices due to its greater capacity to produce a powerful thrust of air at almost 10 levels strong gale (28m/s) for deep cleanings of microscopic dust like printed circuit boards, computers, electronic equipment, pet houses, and medical devices.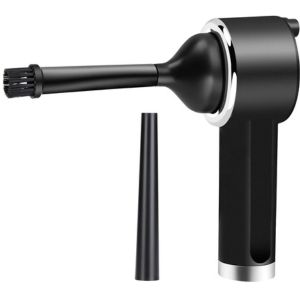 Moreover, the unit is a dual function, a 2-in-1 device working as a mini-vacuum cleaner and air duster. You do not need to worry about the dust from cleaned devices affecting your workplace as one side of the cleaner dust off/blows away, and the other side absorbs the dust, offering an efficient cleaning procedure.
Rainbean has built-in large 6000mAh lithium batteries, allowing it to run about 30 to 90 minutes with a single charge. The unit is compatible with a charging USB port, making charging easier. For instance, you do not need to fret if you lose the charging cord. Instead, you can use your Android cellphone's USB, and your air duster will be charged and ready for use, enhancing its convenience.
Compared to the common gas duster, this electric air duster is highly reusable with its rechargeable function.
Furthermore, this unit is eco-friendly, with no chemicals, as it only uses the air we breathe. Also, the unit cannot negatively affect the solid-state electronic components and integrated circuits such as conventional canned air dusters. Thus, Rainbean upgraded compressed air has integrated safety features that add to its convenience.
What's more? The air duster has a HEPA filter to maintain healthy and clean indoor air. It can capture fine particles, allergens, and dust, preventing them from being released into the environment. This is an excellent choice if you are sensitive or allergic to allergens.
Pros
High-pressure compressed air provides powerful, high-pressure air blasts critical to dislodge dust and dirt from hard-to-reach or intricate areas.
Efficient vacuuming with effective suction to collect debris and particles that the compressed air dislodges.
Long-lasting battery that provides an extended runtime
Its vacuum mode has a dust collection canister that's easy to empty and clean, guaranteeing a seamless cleaning experience.
The unit is portable and lightweight, making it easy to carry and maneuver.
Quiet operation, reducing noise and disturbances during use
Cons
Buy On Amazon
The VMOK Compressed Air Duster with 3 Gear 100,000 RPM Electric Vacuum Cleaner and LED Light is a versatile and efficient tool designed to keep your electronics, workspace, and delicate items clean and dust-free.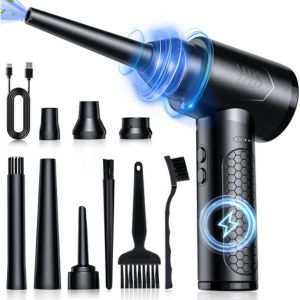 The unit has a 3-gear adjustable speed with an upgraded 1000000RPM motor, allowing you to exercise deep cleaning. The three wind speeds will enable you to clean different equipment depending on how delicate the equipment and its parts are to avoid damage.
Besides, the VMOK compressed air duster is environmentally friendly and energy-efficient, producing no chemicals during cleaning. While cleaning, you are sure it will protect your electronics and their parts from liquids. It has a runtime of between 20 and 30 minutes, deriving its power from the built-in 9000mAh rechargeable batteries. It uses a type C charging design, meaning your USB cable can charge the phone.
You do not need to worry if you are working in a dimly lit environment or in a dark corner. The unit has an LED light to illuminate your working area, bringing great convenience to your cleaning environment. In this unit, the first button controls the light switch, which adds to its energy conservation. It is also more environmentally friendly compared to other air dusters.
Pros
Eco-friendly and energy-efficient. It can be recharged and used repeatedly.
It has three adjustable speed gears to switch between three different airspeeds (low, medium, and high).
It is integrated with an LED light to illuminate your cleaning area.
It has a rechargeable battery that eliminates the need for disposable batteries and guarantees that the device is always ready for use.
Cons
Buy On Amazon
The Fulljion 3-Gear 51,000 RPM Electric Air Duster Portable Air Blower with LED Light is another versatile unit for your electronic parts cleaning job.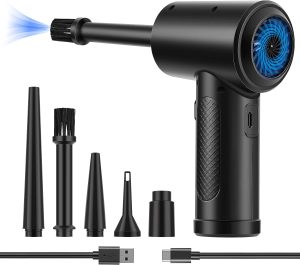 Fulljion is integrated with three adjustable gears, allowing you to select three different airspeeds (low, medium, and high) and have precise control over the strength of the air blast. The adjustable speed settings are essential to tailor your cleaning process to a given task. For instance, if you have an electronic system or items, you may apply a gentler airflow while stubborn dirt and debris can be efficiently removed with a high-speed setting.
Also, the unit has a powerful 51000 RPM motor that can generate high-speed airflow to dislodge dirt, dust, and particles from different surfaces and hard-to-reach areas. The feature is essential to ensure that even the most stubborn and embedded particles can be effectively removed, making cleaning efficient and thorough.
Like VMOK's compressed air duster, Fulljion 3-Gear 51,000 RPM also has an in-built LED light to illuminate your work area. If you are working in dimly lit areas or intricate objects, the LED will provide you with the needed light to work in the areas without causing any damage to the delicate parts. You can spot the hidden dirt and thoroughly clean it with the LED light.
Fulljion 3-Gear 51,000 RPM has a portable design for easy handling and maneuverability. Since it is lightweight, you can easily carry the unit around and maneuver it, making it a user-friendly tool for large and small cleaning tasks.
Pros
Adjustable 3-speed modes guarantee super airflow for deep cleaning.
Rechargeable and fast charging with a built-in 6000mAh battery that can run continuously for up to 30 minutes with a single charge.
The unit has five nozzles suitable for dust removal of computer cases, cars, fans, lily windows, and keyboards.
LED lights illuminate your work environment automatically and allow you to quickly clean up dark corners, creating convenience.
Cons
Buy On Amazon
Best Cordless Air Duster Buying Guide 2023
 Identification of the best cordless air duster units in the market is one thing, but knowing what you want to consider before you settle on a given unit is paramount. Most of the units we have picked and reviewed have considerable similarities in their features. But how do these features aid them in their operations, and what exactly do you need to consider before you settle on a given unit?
Let's explore the world of cordless air dusters.
 Cordless Air Duster vs. Canned Air: Making the Right Choice.
 Contrary to popular belief, cordless air dusters are not synonymous with traditional canned air. While canned air typically contains aerosol, cordless air dusters use regular air, just like what we breathe. So, what makes cordless air dusters a better choice over canned air?
Canned air is a fixed amount of air compressed into a canister, necessitating frequent repurchases as it depletes. Additionally, the aerosol nature of canned air contributes to pollution, and the highly flammable gases within these products pose safety concerns. Moreover, using air cans at high temperatures can lead to explosions; hence, they are dangerous for use in households and offices with other residents.
While using air cans, users must employ short bursts to prevent frostbite. Despite their initial affordability, air canisters are unsafe for users, delicate electronic devices, and the environment.
On the other hand, Cordless air dusters offer an upgrade, free from these perils. For instance, the units are eco-friendly as they do not employ chemicals or hazardous greenhouse gases. Also, they contain non-flammable gases, ensuring user safety, and can be recharged, reducing waste.
Moreover, cordless air dusters are more versatile than canned air. Unlike their canned air counterparts, the units are suitable for use in high-temperature environments. Also, the cordless air dusters are highly adaptable since they can be used at any angle, making them more versatile for different tasks.
Perhaps another essential element with cordless air dusters is energy efficiency. The units are power-saving, reducing the long-term costs. Their small and lightweight size ensures you can use them for a long time without fatigue.
Hence, choose the cordless air dusters any time over the canned air due to their inherent advantages.
The video below compares the electric air duster and canned air: Can electric air duster replace canned air? Find out in the video.
What to Consider when buying the best cordless air duster
Variable Speed
Look for cordless air dusters with adjustable speed settings. Choosing units with two variable speeds will give you precise control for both the light and heavy-duty tasks.
That is, variable speed control will allow you to adjust speed to fit the nature of the task you have at hand. For instance, if you are working on a light task or on an electronic device with fragile components that can be destroyed by heavy blowing, you reduce the speed.
However, when working on heavy debris, you can increase the speed to suit the nature of your task. Essentially, the variable speed helps you precisely control your tool and work.
Design and Construction 
Design and construction are imperative when buying your best cordless air duster. Go for the models that are lightweight and easy to handle. The light models will ensure you can work with the tool for a long time without getting fatigued. Also, with a compact design, you can use the tool even in tight spaces.
 Also, for the nozzle designs, seek models with detachable nozzles for efficient handling and storage. Consider the nozzle's size, choosing smaller ones for navigating tight spaces. Nozzle length is crucial for reaching hidden debris. Some units even feature two nozzles – a round one for light particles and a brush nozzle for stubborn debris.
Power Source /Runtime
Perhaps the most essential consideration before you purchase a cordless air duster is its power source. The units we have reviewed uses rechargeable batteries as the primary source of power. The option is essential as it eliminates the need for cords and outlets.
As a result, go for models that come with a long-lasting battery to guarantee that you do not worry about constantly charging it during use. The batteries have mAh ratings. Batteries rated 6000mAh or more can give a continuous run of between 30 and 90 minutes.
If you plan on extended cleaning sessions, battery runtime is essential. Many cordless air dusters offer around 30 minutes, but opt for models with up to 90 minutes of runtime for more extended use to minimize interruptions. Thus, look at the mAh rating when choosing the air duster and consider at least 6000mAh.
Besides, ensure the batteries are removable and can be replaced when dead or lost their charging capacity.
Are Electric Air Dusters Worth It?
 Yes. Electric air dusters are both efficient and a worthwhile investment. They are highly effective in cleaning computers, electronics, DVDs, CDs, books, and even hard-to-reach places like walls, ceiling fans, and light fixtures.
Electric air dusters also excel at cleaning window blinds and curtains, making them a valuable addition to your cleaning arsenal.
Precautions for Using Cordless Air Dusters
Ear Protection: Some models produce loud sounds, so consider ear protection, especially during long or dusty cleaning tasks. Also, noise may disturb pets and children, so maintain a safe distance.
Static Charges: Most cordless air dusters are made from ABS plastic with a minimal static charge. To prevent static issues, ground yourself by touching a metal surface before cleaning electronic devices. Avoid areas where static builds up quickly.
Frequently Asked Questions-FAQs
Q1. Can air dusters deplete their air supply?
Yes. The longevity of an air duster largely hinges on the specific unit in use. Traditional compressed air cans are known to run out of air fairly quickly, mainly as they cool down. This reduction in pressure can occur within a very short period, sometimes mere seconds.
In contrast, cordless air duster can maintain their air supply for extended durations before recharging or before the supply is depleted.
Q2. Is an electric air duster effective?
Yes. Electric air dusters are a highly efficient tool to remove dust and dirt from your devices and their parts, offering convenience and eco-friendliness, hence valuable investments.
Electric air dusters provide a simple and safe means to dislodge dust from various devices, including printers, device ports, cameras, keyboards, and computer motherboards. Their eco-friendly nature makes them superior to traditional dusting brushes and compressed air canisters.
Q3. What causes compressed air to become cold?
Compressed air turning cold can be attributed to the gas expansion process within canned air.
Compressed air cooling occurs due to a thermodynamic process known as adiabatic cooling. During this process, a gas initially held at high pressure experiences a cooling effect when pressure is released. The high pressure and compression that cause the gases to transition into a liquid form allow for the collection of substantial gas volumes within limited spaces. When these gases are released into more extensive areas, they expand, absorbing heat from their surroundings and rendering the air within the can cold.
Conclusion
The world of cleaning electronics and workspaces has evolved, and cordless air dusters have taken center stage. They outshine traditional canned air with their powerful motors, rechargeable batteries, and eco-friendly operation.
Our in-depth guide introduced you to the best options on the market, offering versatile cleaning solutions for various tasks. The shift towards cordless air dusters ensures efficient and precise cleaning and contributes to a cleaner and safer environment.
By making the switch, you'll enjoy the convenience of these devices while saving money in the long run. Elevate your cleaning game with the best cordless air dusters available today.