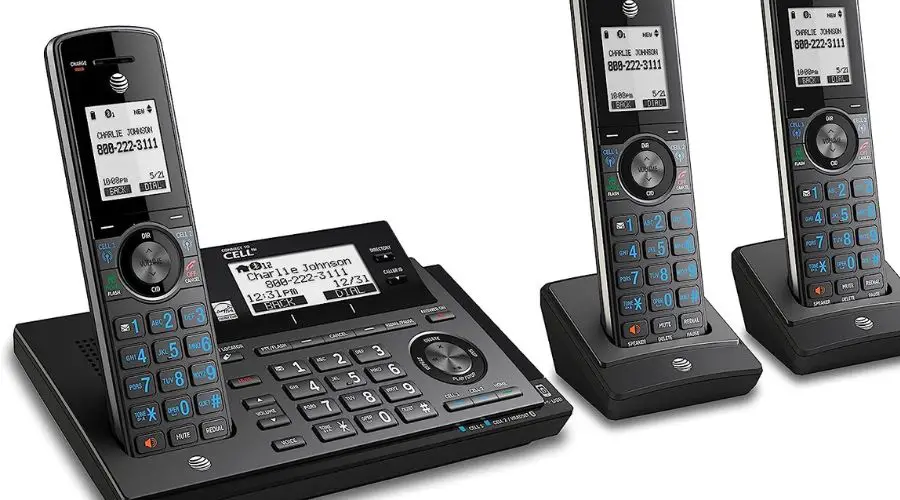 Are you wondering whether there is a means to systematically make announcements, give instructions, and send memos or other messages in your home or office without shouting or always being on the move? The simple answer is yes.
This article comes bearing the good news. You need simply one of the best AT&T cordless phones to put the kibosh on such headaches. These units are the acme of landline phone connection, conveying landline advantages like heightened privacy.
To make it even better, besides having landline merits, they also convey cordless convenience, meaning you can manage calls from anywhere in your home or office as long as the batteries are charged. Interesting, right?
For more details on the Best AT&T cordless Phones in the market today, read on.
Best AT&T cordless Phone of 2023 at a Glance
Also Read:
Best AT&T cordless phone Reviews
This cordless phone from the estimable AT&T brand brings life to over-the-phone conversations. The spectacular speakerphone integrated into this unit allows both parties to speak and get heard simultaneously at utmost clarity, thus avoiding straining.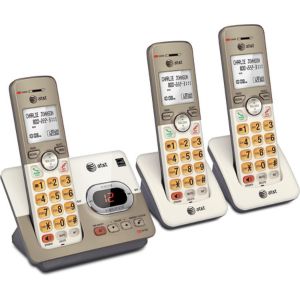 The AT&T EL52313 package comes with three handsets to get you started. However, if those will not be enough for you, you can expand it to accommodate up to 5 handsets that utilize only one jack.
You will enjoy using this phone as it is designed with enlarged backlit keys with a large font making it favorable for use even in dark spaces.
It also brags of having a recording capacity of up to 4 minutes, meaning you will not miss any information even when you cannot receive a call. Additionally, it has been customized with other advantageous digital recording traits like message timestamp, call screening, message retrieval from the handset, call intercept, and remote access.
Pros
High-contrast black text for ease of reading.
You can mute the base unit or handset ringer for the desired time.
Quite suitable for the visually impaired.
Inclusive of a digital answering system fitted with a lighted message counter.
Allows recording of outgoing and incoming messages for up to 14 minutes.
Features ECO mode technology for power conservation.
Phonebook capacity of up to 50 contacts.
Cons
Buy On Amazon
The AT&T brand raised the bar in engineering this unit by integrating the auspicious DECT 6,0 technology in this model. The technology conveys an unequaled long-range coverage, expanding the perimeter you can converse. You will even enjoy taking a stroll in your garden while on a call without compromising the clarity of the conversation.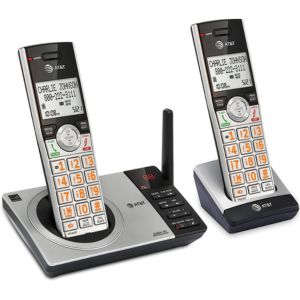 Interestingly, even in a noisy background, you will still enjoy this technology's clarity, seeing that the noise is suppressed. In addition, the hassle of rushing to the other end of the room to see who is calling is eliminated, as this unit will audibly announce the caller's details.
The beneficial digital answering machine is not an exception to this bargain. It allows you to record up to 22 minutes of outgoing and incoming messages. Additionally, it features a voice guide to help you through the setup process.
Pros
Bears a lighted message counter denoting the number of messages received
Messages are timestamped.
Big backlit keys with an enlarged font
Extra-large handset screen.
High-contrast text on a white background
Four preset audio profiles to choose from
Allows customization of audio profiles via the equalizer.
Full-duplex handset speakerphone.
Cons
Only come with two handsets. Extra handsets are purchased separately.
Buy On Amazon
Here is yet another reliable cordless phone from the competent AT&T brand. BL102-2 stands out for possessing the smart call block feature. You no longer have to tolerate unwanted calls waking you up in the middle of the night, as such calls will be automatically blocked from ringing through, even if it's the first time.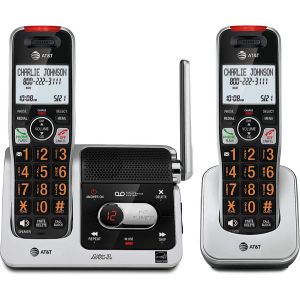 Additionally, with a single touch on the call block key on the handset, you will permanently block any contact you wish. BL102-2 has a call block directory capacity of up to 100 contacts. The caller ID feature brilliantly announces the particulars of the caller, making screening even easier.
This bargain includes two handsets and a base unit with a digital answering machine. Each handset is meticulously designed with a large screen (2-Inch) displaying big text for easy readability. In addition, an exemplary full-duplex speakerphone integrated into the handset will deliver life to your conversations.
Pros
Audio assist feature for enjoyable communication
Inclusive of handset intercom feature.
Supports the expansion of up to 5 handsets with just a single phone jack
Unparalleled long-range coverage and clarity.
Excellent noise-filtering technology.
Features a digital answering machine with a recording capacity of up to 22 minutes
Bears a flashing right to signal an incoming call.
Cons
Extra handsets opted for expansion are purchased separately.
Buy On Amazon
This quintessential bargain will unquestionably give value to your money. Cementing its magnificence is the thoughtful connect-to-cell feature. This feature allows you to connect up to 2 cell phones or one Bluetooth headset and one cell phone allowing you to enjoy making and receiving calls from your cellular plan while retaining the merits and convenience of a cordless phone.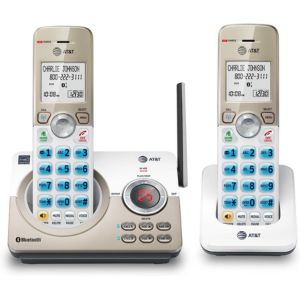 You will no longer be bothered by Robocalls, a nuisance, as they will automatically be blocked from ringing through. Convenient, right? The call-block directory can impressively store up to 1000 contacts.
Another fascinating trait of this unit is its virtual multi-line operation feature. This means you can link a landline and a cellular line to your cordless system. This will subsequently enable you to enjoy the convenience of making and receiving calls on two lines simultaneously.
Pros
It can be expanded to accommodate five handsets.
Bears an inbuilt simulated full-duplex speakerphone.
Conveniently large screen (1.8″) displaying high-contrast texts.
A large handset keypad simplifies dialing in unilluminated conditions.
Features a digital answering machine with a recording capacity of 22 minutes.
Easy to set up courtesy of the voice guide feature.
Conveys unsurpassed long-rage and clarity.
Abolishes potential cellular signal dead zones.
Cons
Accessory handsets are purchased separately.
Buy On Amazon
This exemplary bargain will complete your busy home or small office. This deal provides two cordless handsets and a base unit. These handsets will efficiently display details of an incoming call, including the time, name, number, and date.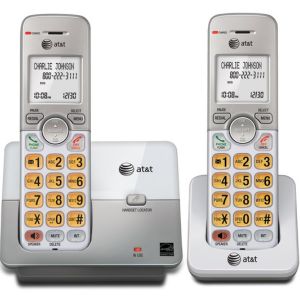 Additionally, the integrated voicemail indicator is purposed to signal you of any existing voicemail messages. EL51203 supports the expansion of up to 5 handsets via one phone jack, further demonstrating why it is an absolute deal for your busy home. The cordless handsets are fitted with enlarged backlit keys bearing a large font for easy keypad usability, making them appropriate even for the visually impaired.
You can easily mount the unit on the wall with a bracket in the delivery package. ECO mode technology has been adopted in this unit's fabrication and plays a remarkable power conservation role, optimizing the battery performance. There is a quick access key that simplifies access to the voicemail box.
Pros
Phonebook directory capacity of 50 contacts.
Bears a last 10 number redial feature
Allows retrieval of messages from the handset.
Call screening is enabled.
9-number speed dial feature.
Exquisite speakerphone for audible and clear conversations
The cordless handset bears an easy-to-read LCD.
Cons
Voicemail services will need a subscription from your telephone service provider.
Buy On Amazon
AT&T DECT CL84107 is quite a unique deal compared to the other featured cordless phones from the renowned AT&T brand. This is because it conveys both corded and cordless convenience. This bargain comprises one corded handset and another cordless handset.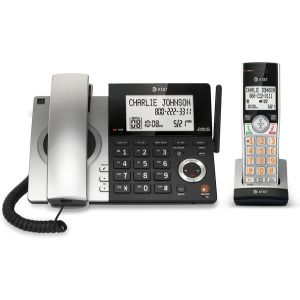 That is not all. CL84107 can be expanded to 12 handsets, making this unit quite exquisite. After you have procured this tool, setting it up will be a walk n the park as the voice guide feature will walk you through the setting up process. It is also equipped with a digital answering machine with a phenomenal capacity of recording up to 22 minutes.
Due to the incorporated DECT 6.0 technology, you will taste impeccable long-range coverage. The thoughtful, unique antenna design and enhancements in noise-filtering technology will have you enjoying the clarity of your conversations to the fullest.
Pros
The caller ID history feature stores up to 50 names and numbers.
Exhibits compatibility with AT&T cordless accessory speakerphone.
Also compatible with AT&T cordless headset
This unit bears nine-speed dial locations.
Utilizes power sourced from the telephone to effectuate calls on the corded handset in case of a power outage
Doubles as a multiple-handset walkie-talkie to immediately converse with up to four units at a go.
Cons
The digital answering machine does not work during an outage (only the corded handset).
Buy On Amazon
CLP99387 model is yet another dependable cordless phone that will fully fulfill the roles of a home phone. It features the magnificent connect to cell feature via Bluetooth. The feature lets you link two or one cell phone and one Bluetooth headset or connect four cell phones to the base unit.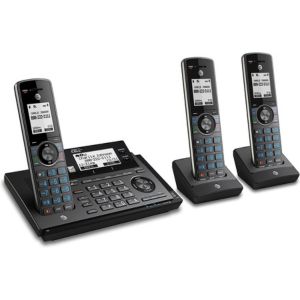 Doing so will allow you to make and receive calls on all three lines simultaneously. You also get notified if a message or email is received via either of the handsets on your Android mobile phone.
Interestingly, cellular calls can be managed while simultaneously charging up to two compatible mobile phones via the inbuilt USB port. You can also easily tap into your mobile phone's S Voice, Siri, or Google Now service through your home phone by just pressing a button.
Pros
The digital answering machine can record up to 22 minutes of announcements.
Call screening is enabled.
Features smart call blocker
Unmatched long-range coverage with utmost clarity
Inclusive of the connect to cell feature via Bluetooth.
In an outage, power your system by positioning a full-charged handset in the base charging cradle.
Allows customization of audio profiles.
Cons
It seems to have a shortcoming in blocking calls.
Buy On Amazon
The AT&T DECT CL83207 is another classic option from AT&T's vast array of cordless phones. CL83207 model deal provides a solution to saying goodbye to shouting in your home by allowing you to set a handset in almost all rooms. Demonstrating this is its sensational expandable feature whereby you can expand it up to 12 handsets.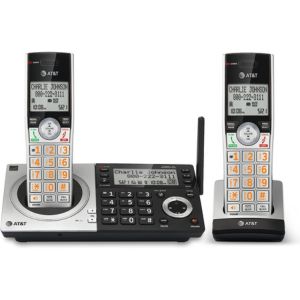 If the bass, natural tones, and treble do not satisfy your personal needs, this unit offers you the freedom to customize the audio elements via the equalizer. This way, you get to obtain a pleasant tone to your ears. Furthermore, the keypad is backlit, thus encouraging this unit's use in gloomy conditions.
The caller ID feature is no exception to this unit and brags of a phenomenal capability of recording up to 50 numbers and names. Get rid of robocalls and other unwanted calls via the smart call blocker feature that saves up to 1000 contacts.
Pros
Bears a high-contrast LCD
Voice guide feature to simplify the setup process.
Inclusive of a digital answering machine with a recording capacity of 22 minutes.
Caller ID feature for audible announcements of caller's details
Supports quiet mode
Allows conference calls
It can be mounted either on the wall or on the table.
The intercom feature is supported between the handset and the base unit.
Cons
It only comes with two handsets. Accessory handsets are purchased separately.
Buy On Amazon
AT&T TL97273 is a premium model from the AT&T brand that can be regarded as the eidolon of unicity. This is because it possesses distinct traits that make it stick out. One of these outstanding features is its ability to store 6000 directories sourced from up to 4 varying cell phones.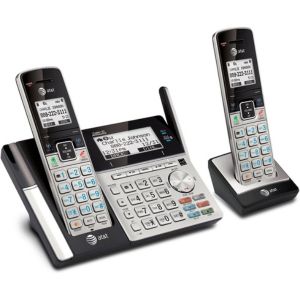 Another notable feature is this unit's ability to be expanded to accommodate 12 handsets for added convenience. However, it is relevant to note that the purchase package only includes two handsets.
As if the above features do not make it unique enough, it graces you with a connect-to-cell feature via Bluetooth, allowing you to oversee calls through your home or cell phone. The fitted digital answering system allows the recording of messages and memos for up to 14 minutes.
Pros
Call screening is enabled.
Supports virtual multi-line operation
Received an unread Android mobile phone notification signaled via the handset.
Allows you to receive calendar reminders via the system.
Supports pairing up of your mobile phone to the home phone via Bluetooth.
A quick start guide and owner's manual are provided.
Cons
The requisite of charging the batteries for 16 hours before use may be missed.
Buy On Amazon
Best AT&T cordless phone of 2023 Buyers' Guide
Despite cell phones being a ubiquitous means of communication that is highly adopted by many, the essence of cordless phones for use in our homes and offices has not withered away. On the contrary, cordless phones have held out over time and are devices of paramount significance.
For this reason, this article delves into the best AT&T cordless phone systems available today. This means that the featured cordless phones particularly belong to one brand. However, these phones possess varying features that make them dissimilar. Therefore, you ought to look for some consideration factors to bag yourself a deluxe model from the best at&t cordless phone array.
What to Consider when choosing the best AT&T cordless phones
Expandable feature
Do you have a busy home or office? This means that communication is crucial for things to run smoothly. Therefore, this factor is of absolute essence as it determines the availability of a cordless phone in all rooms for boosted flexibility.
You should settle for units that allow expansion to a logical number of handsets while utilizing a single phone jack. Some AT&T phone models have raised the bar even to allow expansion up to 12 handsets. If you have more rooms in your home, it is recommendable that you settle for a highly expandable cordless phone unit.
Incorporated technologies
Adding a certain technology will only advance the serviceability of a unit. Some of these technologies include;
DECT 6.0 technology – This technology ensures that you enjoy supreme long-range coverage without compromising the clarity of your conversations. This means you can even stroll in your backyard while practically conversing. It also ensures you can successfully manage calls even in a noisy background, courtesy of the noise-suppressing feature.
ECO-MODE technology – this phenomenal technology optimizes power conservation, thus prolonging the talk time. In addition, it also oversees the consumption of power to ensure optimized battery performance.
Ergonomics
Checking for elements that make the usability of a cordless phone easy is of critical essence. Fortunately, most, if not all, of the featured products boast of having included these elements in their design. Some of these elements include;
Lighted keypad – a backlit keypad allows you to make calls even in low-light conditions.
Screen size – A large screen on the cordless handset contributes to easing readability. Displays ranging from 1.8″ to 2″ are considered appropriate.
High-contrast text – A unit displaying texts (black) with large font on a different colored background (white) creates a contrast, thus augmenting readability.
Enlarged keys with a large font – The extra-large size makes a unit quite easy to operate. This element also makes a cordless unit more favorable for use, even for the visually impaired.
Digital answering system
This component of cordless phones is salient as it is responsible for answering calls when you cannot. All digital answering systems will allow you to record incoming notifications and outgoing memos, announcements, and other messages.
What is of interest is the recording capacity of these systems. Bargains offering cordless phones with a capacity ranging between 14 to 22 minutes are highly regarded. Additionally, this feature enables selective save or delete, repeating or skipping of messages, and instant playback.
Through this system, you can change an outgoing announcement while granting you remote access enabling the hearing of messages. In addition, some bargains have brilliantly featured a voice guide in the digital answering machine that will walk you through the setting up process.
A video showing how to Reset AY&T or V-tech cordless Handset
Conclusion
Are you tired of shouting instructions in your home or office? Any of the best cordless AT&T phone models will have sorted and eliminated this hassle. Most of the featured bargains will allow you to place a cordless handset in most, if not all, your rooms, simplifying information passing to other members.
Even during a power outage, the deal that has your back takes it home for me. It is fascinating that with a fully charged cordless handset, you can power your system by placing it in a base charging cradle if there is an outage.
Despite the products being of a similar brand, it is important to note that they possess some distinctive features. Therefore, it is up to you to carefully scrutinize the best at&t cordless phone models and settle for one with features tailored to your preference.