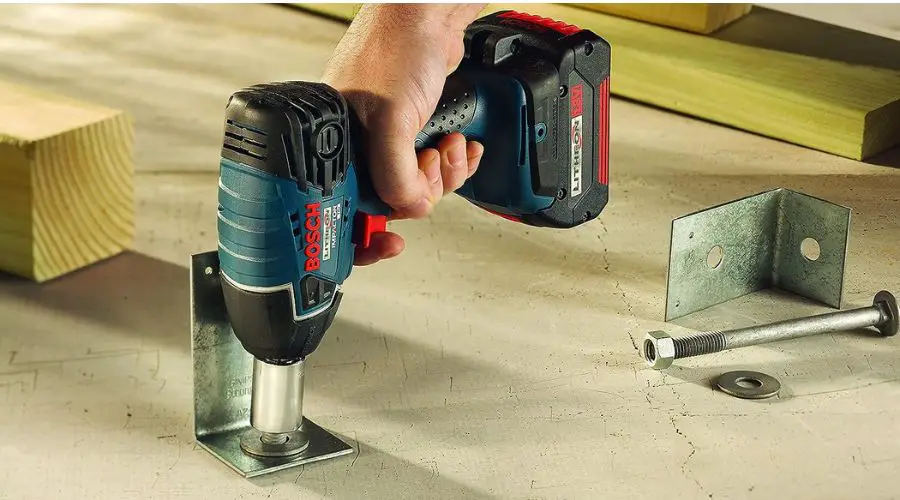 Stuck or rusted nuts and bolts can be a nuisance during repairs and upgrades. They are either too hard or too many to unfasten manually, and most of the time, you end up with skinned, bleeding knuckles and blisters all over your hands.
There are several power tools that you can use instead of standard wrenches, but the best 1/2 cordless impact wrench takes the cake. These tools have higher torque power than most powered wrenches and can take care of stuck fasteners in minutes.
If you are looking for a tool that will make you work faster with added comfort, read on for the complete guide to 1/2 cordless impact wrenches and an elaborate and informative buyers' guide that will help you make the best and timely purchase decision.
Read on!
Also Read:
What is an impact wrench?
An impact wrench or gun/air wrench is a power tool to tighten or loosen bolts, lug nuts, and stuck or rusted fasteners. The impact wrench is your best choice if you have construction, automotive repair, and other mechanical applications with high torque requirements.
The tool provides a higher torque power compared to regular power drivers. Impact wrenches achieve this high power through an internal hammering mechanism that transfers kinetic energy onto the output shaft. The tool can deliver a string rotational force or torque in short bursts.
Besides, impact wrenches use a motor to generate rotational energy, which is then transferred to the output shaft. The impact wrench is integrated with a mechanism to deliver the torque in rapid, repeated bursts known as "impacts." It is from these impacts that the tool derives its name.
Impact wrenches can be corded or cordless. The cordless impact wrenches operate without a direct connection to an air compressor. Instead, they are powered by rechargeable batteries. As a result, the cordless impact wrench allows you to move freely without being restricted by hoses or cords, making them convenient for different applications in outdoor or remote settings.
The cordless ½ cordless impact wrenches have specific components that increase efficiency. The tool has an embedded motor to generate the rotational energy that delivers the torque for its operation. Besides, the cordless impact wrench uses rechargeable batteries as the primary power source. The batteries have capacities that vary based on the model and brand. The higher the battery capacity, the longer the run time. That is, a battery capacity of 20V will provide more power and a longer run time than a 12V battery.
Moreover, like other impact wrenches, the cordless type has an impact mechanism to convert rotational energy into short, powerful bursts of torque.
Types of impact wrenches
There are three impact wrenches types based on the power used to produce torque. These are air-powered(pneumatic), corded, and cordless electric-powered wrenches.
Air-powered impact wrenches are the most traditional since they were the first to be designed. As their name suggests, they use compressed air to power their motors.
The main advantage of air impact wrenches is that you can always use them even without power. They are often smaller than the other impact wrenches, making them perfect for use in tight, unreachable spaces.
The main disadvantage of pneumatic impact wrenches is the lack of torque control. Usually, they don't come with power adjustment mechanisms, which makes them difficult to use in situations that require less power.
They often deliver excess torque, which damages the nuts and bolts.
Corded-electric powered wrenches
These wrenches are powered by connecting them directly to an electrical source (usually a socket) using an electrical cord. They are quite rare as manufacturers are leaning more towards cordless ones.
Corded electric wrenches have longer bodies than pneumatic ones because of the extra length added by an electric motor that produces the torque.
You can use corded wrenches non-stop where there is a constant power supply. They come with power regulation components that make them handy in tasks that require low torque. Their main disadvantage is that they are useless in remote locations without electricity.
Cordless-electric powered wrenches
Batteries power the motors of the best 1/2 cordless impact wrench. Most use rechargeable lithium-ion (Li-ion) batteries with 18-28 volts depending on the tool's model.
The main advantage of these power wrenches is that they are portable. Since they don't require an external power source, they are ideal for on-the-road repairs where there is no available electrical outlet.
On the downside, they are less powerful than corded and pneumatic impact wrenches. The batteries cannot store enough power to produce enough torque for tough tasks.
Also, the cells tend to run out, causing constant work interruptions to charge or replace them.
Why choose impact wrenches?
The best 1/2 cordless impact wrench is specially designed to tighten and loosen various hexhead bolts, nuts, and lag screws. They use rotational force (torque) and short-burst concussive blows (impacts) to deliver unmatched power.
For instance, most cordless drills/drivers produce about 50 ft-lbs of torque, and the standard impact driver can deliver about 125 ft-lbs.
On the other hand, cordless impact wrenches can effortlessly produce torque outputs of over 250 ft-lbs, which is more than enough force to fasten the fattest lugs and loosen stuck and rusty nuts.
All the power held by an impact wrench won't be beneficial if you have no control over the tool.
Luckily, these power tools are very comfortable because the impacts smoothly transfer most of the torque directly to the fastener instead of your hand, wrist, or arm. This way, the twisting motion (reactionary torque) that you feel when using an electric drill is nearly phased out when using the impact wrench; hence, the best choice.
Best 1/2 Cordless Impact Wrench Reviews 2023
The Milwaukee 2767-20 impact wrench ensures maximum productivity as it tightens and loosens stubborn nuts and bolts up to two times faster than most tools on the market.
It has a brushless motor that delivers 1000 ft-lbs of fastening torque and 1400 ft-lbs of nut-busting torque to help you get your job done faster, keeping you productive throughout your day. The brushless motors ensure no energy loss through friction.
This tool is powered by a powerful REDLITHIUM battery that lets you work long hours without worrying about recharging. It features REDLINK PLUS intelligence that prevents damage to the gadget and its battery due to overloading or overheating.
This cordless wrench is only 8.39 inches long, making it compact enough to fit in tight spaces.
It also has four drive control modes, including a bolt removal mode, which slows the tool's RPM to 750 once the fastener has busted loose to give you total control of your torquing tasks. The 4-mode is considered the highest in the industry and helps you have control of the drive with bolt removal mode, allowing for ultimate control.
The tool is one of the best durable 1/2 cordless impact wrenches today due to its premium rubber over mold that can withstand corrosive materials.
The Milwaukee 2767-20 impact wrench allows easy and fast socket changes. The tool features a friction ring design allowing you to change the sockets quickly and conveniently.
Besides, you do not have to worry about the visibility of your working surface. The tool is equipped with LED lights that allow for the illumination of your working surfaces.
Pros
High torque power
Compact design
It uses long-life REDLITHIUM-ION batteries
It has an LED light that illuminates dark work areas
It has a durable rubber over mold
It has a brushless motor.
Cons
The batteries are bought separately.
Buy On Amazon
The DeWalt DCF899HB is a powerful and versatile impact wrench ideal for several torqueing applications.
The tool boasts superior performance due to its brushless motor that can rotate with speeds of up to 1900 RPMs to produce 700 ft-lbs of maximum torque and 1200 ft-lbs of maximum breakaway torque. The high efficiency is due to reduced energy losses through friction.
DEWALT DCF899HBIt allows you to choose the right torque speed based on the project you want to execute. The tool features a 3-speed selector switch that will enable you to exert the right torque speed that suits your work.
You can effectively work with this tool even in dimly lit places. It is integrated with an LED lighting system with a 20-second delay that illuminates the working surfaces.
It also has a ½ inch anvil with a hog ring that offers quick and effortless changes for mechanics who swap socket sizes frequently.
This 20-volt impact wrench is battery-powered, has an ergonomic handle grip, and weighs only 5.8 pounds.
It has a durable gear casing that is resistant to chemicals and grease and can withstand a 6-8ft drop, reducing the frequency of maintenance and, thus, low maintenance costs.
Pros
3-speed selector switch
LED light with a 20-second delay
It can handle a 6-foot drop
½ inch anvil with hog ring
Cons
The battery and charger are bought separately.
Buy On Amazon
The Ingersoll Rand W7150 is a lightweight tool, weighing only 6.8 lbs but producing high power of 1000ft-lb nut-busting torque. Thus, it has the best power-to-weight ratio in its class.
It has a brushless motor that rotates at up to 1900 RPMs to produce 780 ft-lbs of torquing power to get your job done faster and with ease.
If you need a more durable tool that will serve you to the maximum realization of the value of your money, then Ingersoll Rand W7150 provides the perfect fit. The tool gets characterized by a high-efficiency rare earth magnet motor, high-capacity variable speed trigger, all-metal drive train, and metal-reinforced housing; hence it can stand up to the toughest jobs.
This 20-volt cordless impact wrench has an ergonomic soft-touch grip that minimizes vibrations from impact and reduces arm fatigue to enhance comfort when you use it for long periods.
It also has a sturdy steel-lined aluminum hammer case that provides maximum protection for all the internal tool components.
In addition to that, it is powered by a durable lithium-ion battery that provides more work per charge. The discharge also takes a while so that you can work for as long as possible without frequent tool downtime.
The tool provides power level and current control from the battery to the switch to the motor for maximum efficiency since it is integrated with an intelligent battery management system (BMS.
Pros
Battery-powered
Lightweight hence portable
Compact design allows it to fit in tight spaces
High torque and impact power
Durable hammer case
Cons
The battery and charger are bought separately.
Buy On Amazon
The Dewalt DCF880HM2 wrench kit features an impact wrench, two 20-volt premium Li-ion Batteries, a fast charger, and a kit box.
The wrench is 5.70 inches long and weighs only 3.4 lbs, making it compact and lightweight enough to fit in tight spaces.
Three LED lights stay on for 20 seconds after trigger release to illuminate work surfaces without shadows.
It also features a ½ inch anvil with a hog ring that allows you to change sockets easily, and the textured anti-slip grip provides maximum comfort and control as you work.
This Dewalt impact wrench has a 152 ft-lbs torque power, considerably lower than the other impact wrenches on this list.
Pros
Lightweight and compact
Three LED lights with a 20-second dim delay
3-year limited warranty
Two lithium-ion batteries offer 33% more run time.
Cons
Torque power is low compared to most impact wrenches
It is pricey
Buy On Amazon
The Milwaukee 2763-22 cordless impact wrench packs several features and stands out among other competing brands.
It features a powerful POWERSTATE brushless motor with no wearable components and can deliver up to 700 ft-lbs of fastening torque and 1,100 ft-lbs of nut-bursting torque. The brushless motors also minimize wear and tear, reducing maintenance costs.
This power tool features REDLINK PLUS technology, allowing you to choose between two fastening modes. The first mode delivers 100 ft-lbs of maximum fastening torque, and the second mode delivers 700 ft-lbs maximum torque; hence you can put it to many uses.
In addition, this impact wrench is powered by two Li-ion batteries, giving it two times more run time than standard battery-powered power tools.
Its a 1/2 Inch Anvil with a friction ring for fast, enhances, easy, and convenient socket changes.
Like cordless ratchets, this tool's package includes a REDLITHIUM XC 4.0 battery pack that has two M18 Li-ion batteries, an M18 and M12 multi-voltage charger and carrying case, and this gives it the power to be applied to diverse uses.
Pros
Powerful brushless motor
½ inch anvil with friction ring for fast socket changes
High fastening torque power
Two long-life Li-ion batteries
Multi-voltage charger
Cons
Buy On Amazon
Tradespro 837212 is another vital tool worth investing in because it brings more significant value to your work.
Since it is lightweight, you can use this device all day without fatigue or work consistently without tiring out quickly.
Its handle grip helps ensure you have control of the tool when you execute your roles while also giving you the needed comfort. The comfortable grip ensures you maintain a steady hand on the tool as you work on your projects, enhancing the efficiency of use.
Moreover, the tool gives you the advantage of lengthening the battery life, hence more run-time through applying the right torque while preventing over-tightening. The device can generate enough torque, producing up to 240 ft-lbs, ensuring you put it to different uses.
The tool boasts high durability due to the all-metal construction of the gear housing.
Pros
Lightweight
Comfortable Grip
It comes with a storage case
A longer battery life
Cons 
The torque is relatively low compared to other models
Buy On Amazon
The Makita XWT08Z is useful for heavy-duty work due to its high speed and torque.
A brushless motor delivers 740 feet of Max Torque and 1,180 pounds of breakaway torque, facilitating high productivity. The brushless motors ensure sufficient energy in the tool to be put to different uses since energy loss through friction is minimized. The motor is thus energy-efficient, and this provides a longer run time.
Working with this machine, you can choose between three different speed settings: 0900/01,000/0 1,800 RPM & 0 1,800/0 2,000/0 2,200 RPM). It helps provide precise fastening control. You can use the model due to the varied speed settings.
The tool allows for convenient and fast socket changes due to its 1/2 inches anvil with a friction ring.
The diversity of this tool and the speed variation makes it one of the most appropriate devices in the market today. You can put it to various challenging and daunting tasks and, thus, a greater choice for your projects.
Pros
Brushless motors
1/2-inch Avril for easy socket changes
Variable speed setting
High torque
Cons 
Buy On Amazon
The Ryobi P261 produces 300 ft./lbs torque and up to 3,200 impacts per minute (IPM), making it possible to be applied in various projects. The tool is a more excellent choice for contractors.
The tool is equipped with LED light systems that enable you to work even late at night. The LED lights help illuminate your work surfaces, improving the visibility of dimly lit areas.
Working with this tool, you can perform various projects since you can choose from three different speed systems. Its 3-speed selector switch offers greater control over various fastening applications.
Secure socket connections are a guarantee with Ryobi P261 since it comes with a square anvil system that allows you to make safer socket changes or connections for more accurate and efficient work.
Pros
Varied Speed Settings
LED lighting systems
Square anvil for safe socket changes and connections
High torque
Cons
Buy On Amazon
The tool offers satisfaction as it can challenge nuts and bolts regardless of the tightness level.
The long battery life offered by the powerful 4Ah XCP lithium-ion batteries ensures a longer run-time and sufficient power for the execution of diverse projects as it provides up to 300 ft-lbs. of torque.
This great tool is workshop friendly,  integrated with an inbuilt LED lighting system with a 20-second delay that illuminates the working surfaces enabling you to work with it even under dim light conditions effectively.
You will love the ease by which this powerful tool unscrews nuts and bolts, saving time while ensuring maximum efficiency.
You will never regret your experience with this excellent tool because it will give your workshop a new look as it saves energy for unscrewing nuts and bolts.
Pros
Built LED lights
High torque
Long life battery
Battery included
Cons
Buy On Amazon
Bosch 24618 is lightweight and compact, and this enhances its maneuverability. You can efficiently work with this tool even in tight places. It is the most compact tool in the market, 23 percent shorter than competitors and only 6-Inch long.
With the tool, you will enjoy the highest BPM in the category – over 3,200 BPM.  The high BPM ensures that you conveniently and easily execute your projects. It is a powerful tool.
The model is equipped with LED lighting systems that ensure you can work even in dimly lit areas due to the illumination of the working surfaces.
Thanks to its flat anvil design, you can effortlessly change the sockets with this tool. The design facilitates easy socket changes, enhancing the machine's safety.
Anyone who has used the products from Bosch can testify to the longevity of its products, and you can be sure it is an experience with this model. If you want convenience and efficiency in using a tool, you can never go wrong with Bosch 24618-0-08 Volt-ion impact wrench.
Pros
Lightweight
LED system
Free battery and tool protection plan
Long battery life
High speed
High torque
Cons 
Weak material making latch holding pin
Buy On Amazon
Best 1/2 Cordless Impact Wrench Buyers' Guide of 2023
What to Consider When Choosing the best 1/2 Cordless Impact Wrench
The battery power is imperative before you decide on the best ½ cordless impact wrench you want to buy. Cordless tools run on rechargeable batteries; the higher the battery capacities, the longer the runtime.
High-voltage batteries deliver more power than low-voltage batteries. However, the units with a high battery capacity may be heavier than low-voltage units.
When choosing a unit, consider the intended usage and how long you need the tool to operate on a single charge. If you have time-consuming projects such as working in a construction plant, consider a tool with a battery with a higher ampere-hour (Ah) rating to provide longer runtimes. However, if you only need to work on small projects around your home, you can choose models with a battery voltage of 12V. Such units will have a lower Ah.
Moreover, while deciding on the battery capacity, ensure you have also considered the battery type. The two common battery types used in cordless tools are nickel-cadmium (NiCd) and Lithium-ion (Li-ion) batteries.
Choose the best ½ cordless impact wrench model with lithium-ion batteries as they are lighter, have no memory effect, and can hold a charge for longer, providing a longer run time. Generally, lithium-ion batteries also offer better performance than NiCd. Hence, choose the impact wrenches with Li-ion batteries over the NiCd if you want to work on large projects or handle nuts and bolts with the greatest resistance.
Cordless impact wrenches have two distinct body styles: inline and pistol grip. The inline-style wrench looks like a large screwdriver, with a grip behind the hammer and anvil, while a pistol-grip wrench looks like a handgun with the grip resting underneath the motor.
Inline wrenches are lean and work best in spaces where a pistol-type wrench won't fit. On the other hand, Pistol-style wrenches are bulkier, but their grip style is more ergonomic to prevent work-related strains. Because of this, you can work for extended periods without feeling fatigued.
Some models have side handles that allow you to use your weight for better leverage to maintain a proper working angle. So, if your task does not require the particular fit of an inline wrench, the pistol grip wrench would be a perfect choice.
Choosing a durable impact wrench requires careful research and consideration. Impact wrench tools can be put to numerous applications that vary in intensity and resistance. When selecting the best impact wrench, choose a model with elements such as construction material and brand reputation.
For instance, you should look for impact wrenches from robust materials like high-grade steel, aluminum, or composite materials. The models should have sturdy housing and well-protected internal components to withstand rough usage and impacts better.
Thus, look for tools with design enhancements that help prevent damage caused by drops and tool impact. These could be all-metal construction for the gear housing or premium plastic over-molds.
Also, before you make the purchase decision, research reputable brands and models known for producing high-quality and durable power tools. You can check this depending on the customer reviews and ratings on the major commercial stores such as Amazon to determine their performance and reliability.
Furthermore, consider the Ingress Protection (IP) ratings for the reliability-associated issues. For instance, if you purchase your impact wrench outdoors or in challenging environments, first check if it has an IP. An impact wrench with a higher IP offers better protection against dust and water, making your tool more durable in adverse weather conditions.
Torque refers to the force that causes rotation (τ = F × r). The torque power of an impact wrench is the most crucial feature to consider before deciding to purchase. The best cordless 1/2 impact wrenches on the market have multiple torque settings, making them more versatile than those with only one torque setting.
The torque in an impact wrench represents a rotational force that directly translates to its power and performance. A higher torque implies high rotational force and shows that your cordless impact wrench can handle more demanding tasks like effortlessly removing tight bolts or lug nuts.
The high torque is ideal if you work on heavy machinery, construction projects, or automotive repairs, as it will ensure an effective and efficient result.
Besides, an impact wrench with a high torque can be used in various applications. You can use the tool for both light and heavy-duty tasks or applications, providing greater versatility and eliminating the need for multiple tools.
Also, if you are working on rusted or over-torqued bolts, you would want a significant torque to overcome the resistance and complete the job. An impact wrench with higher torque ratings is built to withstand more challenging conditions. The internal components of high torque impact wrenches are often designed to handle the enhanced stress, making them more durable and long-lasting.
Impact per Minute (IPM) and Revolutions per Minute (RPM)
The IPM and RPM determine a cordless impact wrench's loosening and fastening capabilities. Often, the higher the RPM and IPM values, the higher the ability of the tool to loosen or fasten the nuts or bolts, hence the faster completion of tasks.
The IPM describes the number of hammer strikes or impacts the impact wrench delivers per minute. IPM determines how fast the tool will be loosened or driven. A tool with a higher IPM implies faster operation and enhanced productivity.
Besides, the cordless impact wrenches with higher IPM values are ideal for heavy-duty applications and tasks where speed is crucial. For example, working on an automotive repair or construction project, you will need a higher IPM to tighten or loosen the bolts or nuts. Generally, cordless impact wrenches with IPM values ranging from 2000 to 3500 will be appropriate and ideal for most applications.
On the other hand, revolutions per minute (RPM) describes the number of rotations the wrench's motor makes in one minute without delivering impact blows. The RPM is necessary to control speed and offer smooth operation when driving fasteners. A higher RPM is crucial for fast starting and positioning the fastener, especially since impact wrenches require precision and control during the initial phase. However, impact wrenches significantly depend on the IPM to deliver fastening and loosening power.
The RPM for the cordless impact wrenches can range from 0 to 500 based on a given model. However, for the impact wrench, the IPM value is not a crucial selection factor as with the IPM.
Nevertheless, when choosing the best ½ cordless impact wrench, go for an IPM value between 2000 and 3500 and RPM values between 0 and 500.
Impact wrenches can use brushless or brushed motors. For cordless impact wrenches, brushless motors are the most efficient. Unlike brushed motors, brushless motors eliminate friction and voltage drop. Therefore, impact wrenches with brushless motors will consume less power, preserving battery life and enhancing runtime. The brushless motors produce less heat and require minimal maintenance as the lack of friction reduces wear and tear, offering longer life to the tool.
Besides, the brushless motor produces more power with less weight than the brushed type, hence an increased power-to-weight ratio. Thus, when choosing a cordless impact wrench, go for one with brushless motors, compact, lightweight, and easier to handle.
The brushless motors contribute to a higher efficiency and power output, adding to the tool's performance. With high-performance efficiency, you will surely realize better performance and faster work completion, making them ideal for heavy-duty tasks.
Furthermore, with brushless motors, there is reduced maintenance. Unlike brushed motors, prone to wear and tear, brushless motors lessen the need for frequent maintenance and replacement practices, saving you both money and time in the long run.
A cordless impact wrench's size and weight are instrumental factors when making a purchase decision, especially when using the tool for a long time. If you will be using the tool for a long time, choose a compact and lightweight model since it will be easy to maneuver and less tiring. However, you must know that compact and lightweight tools have reduced power.
First, define your needs if you want to choose a cordless impact wrench with the right size and weight. These requirements will include the primary tasks and work conditions to which you will put the tool. You must consider the various applications and the materials you will work with. Such considerations will help you understand the tool's level of power and size for your specific needs.
Secondly, you must choose the correct drive size. The impact wrenches come with different drive sizes, with 1/3 inch being the most popular option for industrial and general automotive use. However, other sizes like 3/8-inch or ¾-inch might also be suitable if you have different roles that suit their applications.
The torque requirements determine the size and weight of the cordless impact wrench you purchase. You may consider the maximum torque output required for your different tasks. For the different applications you will put the tool to, consider one that will require the maximum torque and use this value to determine the tool you will buy.
Generally, higher torque is helpful for heavy-duty applications, while lower torque models will suffice for lighter tasks. Consequently, tools with high torque are always heavy duty, hence bigger in size and weight and vice-versa.
If you want to work on different projects or materials, you want to choose a tool with variable speed settings. A cordless impact wrench with variable speed settings provides versatility, allowing  adjustment of the tool's speed and torque output based on the task you want to execute. You can use the same tool for many applications, from heavy-duty projects requiring high torque output to more delicate tasks demanding precision. These tasks will require differential speed settings to achieve your desired results.
Besides, with the variable speed settings, you have maximum control of your projects. The different fastening or loosening tasks may need varying levels of control. You can use the variable speed settings to tailor the impact of the wrench's speed to match the requirements of every job. Lower speeds are vital for initial positioning and gradual tightening; if you need rapid loosening and driving, you will need a higher speed. All this you can get by having a model with variable speed settings.
Mainly, variable speed settings are crucial when working with softwood, delicate materials, or hard metal. You can change the speed of your impact wrench depending on the material you are working on to avoid damaging the material or fasteners. For instance, soft materials will require low speed, while hard materials like metals may require high-speed settings.
Which is better, air or electric impact wrench?
Choosing between an electric and air impact wrench will depend on your preferences and specific needs. The two types of impact wrenches share advantages and disadvantages. However, you can choose any of the two depending on some of the parameters described below.
The air impact wrenches are characterized by high power output, hence suitable for heavy-duty applications and professional use. The air impact wrenches can generate a lot of torque. Therefore, you can use them to tackle stubborn bolts and nuts. Compared to electric impact wrenches, the air impact wrench is more powerful. Hence, the electric impact wrenches may not be used for heavy-duty applications.
Power: Choose an air impact wrench
The air impact wrenches are lighter than the electric impact wrench. The air impact wrenches do not have heavy batteries to add to their weight. As a result, they reduce user fatigue during extended use. Particularly, since there is a continuous supply of compressed air, you can use this tool in industrial settings.
Weight: Choose air impact wrench
Electric impact wrenches are more portable than air impact wrenches as they do not need an air compressor. As such, you can use the electric impact wrench anywhere as they suit mobile mechanics or DIY enthusiasts.
However, the air impact wrenches require an air compressor to function. The addition of the air compressor can also add to the cost of running the tool. Also, the air impact wrenches have an air hose that will limit your mobility as they are restricted by the air hose's length and the air compressor's location.
Portability: Choose an electric impact wrench
Maintenance and Safety Tips to Remember When Using Your Cordless Impact Wrench
Don't leave your batteries charging for too long. Also, keep them dry, and if they overheat during operation, stop working immediately.
Store your impact wrench properly in dry places to avoid rust damage to the parts made of metal.
Clean your cordless impact wrench after every use.
Don't use the impact wrench if any of its accessories are damaged.
Don't use the impact wrench in wet conditions because you will be prone to electric shocks.
Always use your cordless impact wrench with impact sockets.
The design of Standard sockets can't handle the high torque output of an impact wrench.
Frequently Asked Questions- FAQs 
Q1. Which impact wrench has the highest torque?
The impact wrench with the highest torque is Ingersoll Rand 2235QTiMAX 1/2-Inch Air Impact Wrench. The Ingersoll Rand's W9000 series 1-inch cordless impact wrenches are perhaps the most powerful units in the market today. No impact wrench comes close to them with over 3000ft-lbs of breakaway and 2200ft-lbs of fastening torque.
Mainly, Ingersoll Rand 2235QTiMAX boasts high performance. It is compact and quiet and has superior control.
Q2. How much torque does a 1/2-inch impact wrench have?
A good quality ½-inch impact wrench should have a torque of 300 to 1000 lbs, less or more, depending on the brand and model. The industrial duty impact wrenches or those involved in challenging tasks should have impact wrenches with a torque of up to 1000 lbs. However, a torque of between 300 and 500lbs will be sufficient for the light-duty tasks.
Thus, high-end industrial grade ½-inch impact wrenches will have more torque as they are heavy-duty, while the light-duty models will have a relatively lower torque of about 300 lbs.
You should note that, like speed, torque can be adjustable in some models. This will allow you to vary the torque depending on the material or task you are working on. Such a model may present an ideal option when choosing your impact wrench for industrial use.
Q3. What is a good PSI for an impact wrench?
The appropriate pounds per square inch (PSI) for an impact wrench is 90. However, this value may vary based on the tool size. Some heavy-duty impact wrenches may need a higher pressure of up to 120PSI.
The PSI shows the air pressure require to operate the impact wrench. Always refer to your manufacturer's manual to determine the proper PSI for your impact wrench. Besides, you must ensure that the air compressor you are using can supply the needed PSI for your specific impact wrench model.
Conclusion 
Whether you are a maintenance and repair professional or like doing DIY repairs and upgrades at home, you can never go wrong with a cordless impact wrench in your tool collection.
Follow the guide above to understand all there is to know about these tools, then browse our list to find the best cordless impact wrench that suits your needs.