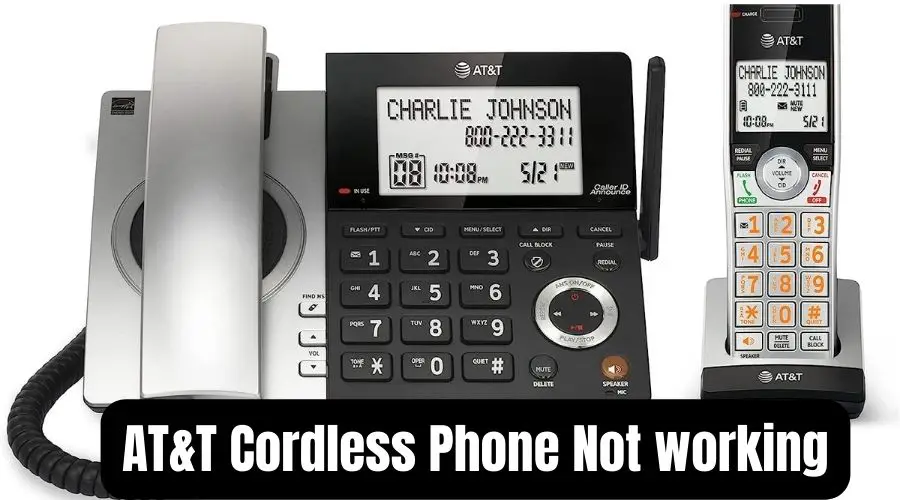 AT&T prides itself on being among the most popular cordless phone brands owing to its outstanding features that offer the utmost convenience. The brand provides the best wireless network in its class, offering its users ideal voice quality and accessibility. Due to these and more outstanding aspects, AT&T cordless phones tend to be a sought-after preference for consumers since the brand offers value for money.
Unfortunately, just like most technological equipment, your AT&T cordless phone handset will likely break down at some point. During such instances, you may experience problems such as your AT&T cordless phone handset not working or lacking a dial tone.
However, you don't have to freak out because such issues are often minor and can be resolved quickly. This article evaluates the possible causes and solutions to your AT&T cordless phone not working.
Also Read:
AT&T Cordless Phone Handset Not Working
The AT&T cordless phone may fail to work if its batteries are not charged or due to an unregistered handset. Also, cordless phones have a range within which they can operate. If you go out of the range or there is an interference, mainly by electronic devices like Wi-Fi routers, microwaves, or baby monitors, your AT&T may not work.
Read on to discover why your AT&T phone is not working and the possible troubleshooting tips to restore your cordless phone's functionality.
Low or Defective Battery
If your cordless phone seems completely dead or fails to power on, you may want to focus on its battery. The battery is an integral part of cordless phones and could be the source of the problem. However, consider charging the device first before rendering the battery defective.
AT&T cordless phones require up to sixteen hours to attain a full charge for optimal performance. That said, charging the device to full capacity before powering it on again is advisable. The AT&T cordless phones are fitted with an LED light to indicate whether the device is charging or when it is fully charged. Ensure you check if the LED light illuminates to confirm that the handset is charging.
Failure of the battery to charge may signify that the battery or charger is defective. In such a case, you may be obliged to replace the battery or charger; this is where your AT&T cordless phone's warranty should come into play. Do not worry if the handset lacks a warranty. You can purchase corresponding accessories as they are readily available.
Therefore, charge the batteries if they are low on charge or replace them if they are defective or dead in case they are the problem with your AT&T phone not working.
Poor Network Coverage
Inadequate network coverage is another significant reason your AT&T cordless phone handset does not work or lacks a clear dial tone. Network connectivity issues could originate from your home or the AT&T network itself.
To confirm if network connectivity is the problem, try using other phones in the building to test whether they exhibit a similar issue. If not, your AT&T cordless phone's network is most likely the problem; resetting it should resolve it. If resetting the phone does not help solve the problem, contact your network providers for assistance.
Phone Out of Range/Interference
The AT&T cordless phones, like other phone models, have a range within which they operate. The range within which the AT&T cordless phones operate may vary based on the environment they are used and the model. However, when used outdoors, most AT&T cordless models operate within a range of up to 500 feet (about 150 meters). However, the range may be reduced for indoor use due to the walls and other interferences from the electrical devices in your room.
If you move out of this range, the phone may lose the signal or fail to connect with the base and will fail to work. As a result, ensure you are within the operating range of your handset's base station.
Besides, check for the interference of the signals, especially from other electronic devices such as microwaves, computers, or baby monitors. If you have these components near your handset, try moving the phone and the base away from the devices or turn them off temporarily and check whether your handset will work.
AT&T Phone Outage
Put in mind that network or service outage differs from network coverage. A phone outage is a network disruption that simultaneously affects many phone users in a given area and is primarily due to technical breakdowns.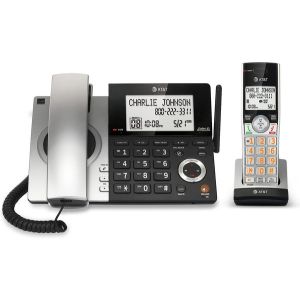 You can know whether this is the cause of the problem by selecting the 'Voice' option on the AT&T support website, then signing in using your username and password. Navigate to the 'Can't Make/Receive Calls' option, whereby you should see a notification if an AT&T phone outage is the problem.
You can buy these exemplary cordless phones at amazon.com. One of the top models among the best AT&T cordless phones is AT&T CL84107 DECT 6.0 Expandable Corded/Cordless Phone with Smart Call Blocker. 
This model has a 50 name and number caller ID history, and it is fitted with a high-contrast Backlit LCD and lighted keypad to enhance visibility while using it.
Click the link below to purchase the model at amazon.com.
Buy On Amazon
Reset the Phone
A simple reset may resolve most of the problems associated with AT&T cordless phones. There are phone models with a reset function or button. Try resetting the phone to default settings and re-register the phone to the base and see whether the temporary problems have been resolved.
If you are unfamiliar with the AT&T reset process, follow the steps below to reset your phone.
How to Reset  AT&T Cordless Phone
Disconnect it from the power source
The first step to reset your telephone system is ensuring no power supply. You can do this by unplugging the base unit from the power source.
Remove the battery
Subsequently, remove the handset's battery despite disconnecting the base unit to ensure it is entirely powered off.
Restore the power supply to the base unit.
Give the system at least five minutes before reinstating its power supply. This gives the system ample time to reset, after which you can plug it back into the power source.
Restart the handset
Restart the handset by first re-installing the battery, then turn it on. Give the handset a few minutes to allow intercommunication with the base station. Be sure to update the date and time for the handset to function effectively. You can then test whether it has a  clear dial tone and works correctly.
A video showing how to reset an AT&T or V-Tech handset
Alternatively;
If the steps mentioned above don't solve the problem, you may be obliged to seek professional help, preferably from AT&T customer service. This way, you can quickly establish the problem and find a solution specific to your phone's model.
Proper Maintenance Practices for Cordless Phone Systems
The best cordless phones in the market, such as AT&T cordless phones, often cost a fortune, and having to replace them constantly could be a deal-breaker. For this reason, it is essential to acquaint yourself with proper maintenance practices to enable you to take the necessary precautions.
Below are some of the proper maintenance practices for cordless phone systems:
Always reinstate your handset to the base unit after use.
Ensure you charge the device entirely using its original charger without interruptions during its first charge.
Consider removing your handset's battery and storing it in a cool environment when not in use.
Also, consider replacing your cordless phone's batteries at least once a year.
When purchasing replacement batteries, consider those that feature a high energy density, preferably Nickel Metal Hydride batteries (these include AA and AAA rechargeable batteries)
Frequently Asked Questions-FAQs
Why is my AT&T cordless phone not ringing?
The most probable cause for the problem is the absence of a power supply to your AT&T cordless phone system. Therefore, It would be best to consider checking whether the base unit has been appropriately connected to a working power source. Consequently, check whether the handset's battery has been properly installed, which should resolve the problem.
How do I find a battery for my AT&T cordless phone handset?
Cordless phone replacement batteries are readily available in the market. However, ensure you purchase batteries compatible with your AT&T phone's model.
It is advisable to contact AT&T customer service or go through the user manual to know the most suitable batteries. Alternatively, you may visit your local electronic retailer but be sure to carry your old battery for accuracy.
How do I find my AT&T model number?
Cordless phone system model numbers are usually located at the back of the base station, and your AT&T handset shouldn't be an exception. The model number is essential when purchasing replacement batteries, chargers, or other relevant accessories. Also, whenever you seek AT&T customer service assistance, you must fill in your device's model number for convenience.
How do I connect my AT&T cordless phone to the base?
First, identify the 'Find Handset' button on the system's base unit. You can then long-press this button until an LED indicator light illuminates the base station.
Subsequently, identify and press the pound button on your handset, after which you should see the word 'Registered' displayed on the screen, and you're good to go. Alternatively, read the user manual for a detailed guide specific to your phone's model.
AT&T EL52313 3-Handset Expandable Cordless Phone with Answering System is another exemplary AT &T cordless phone you will fancy having at home or office. The model has an easy-to-read LCD on the cordless handset, and enlarged font, and extra-large, backlit keys, making the keypad easy to use.
Besides, with this unit, you can add up to 5 handsets. This makes it top of the market's ordinary AT&T phones. Click the link below to buy at Amazon.com.
How do I get a live person at AT&T?
 Before getting connected to a live representative or person, the wireless networks, like the cable providers, will require you to have an account for device information ready. For the AT&T phone, you will be required to call 1-800-331-0500, then press 0, and then wait to be connected to the live person.
How do I link my AT&T accounts?
 This is yet another common question among AT&T users. To link the phone to the AT&T accounts, you first go to your profile and sign in using your profile information. Go to 'my linked accounts," then select link account. Once selected, enter the AT&T phone number or the account number and the billing ZIP Code of the account you intend to add. In some instances, you may be asked to verify your identity. In that case, be sure to include the additional information requested by the providers.
Conclusion
Ultimately, it is typical for technological equipment such as cordless phones to break down, and your AT&T cordless phone handset is not an exception despite featuring outstanding aspects.  This should lessen when confronted with your AT&T Cordless Phone Handset Not Working. However, before you jump out of your skin and end up worsening the situation, consider evaluating the source of the problem, which could be minor.
As stated above, resetting your phone using the steps provided should resolve the problem and get your AT&T cordless phone handset up and running quickly. However, if this fails to be the case, opting for AT&T customer service assistance should be your ultimate solution.